Magazine
EL Miraestels (The Stargazer) by Robert Llimós
On April 30, sculpture network, coordinated by Neus Bergua, organized a visit to the studio of Robert Llimós (Barcelona 1943) located in a historic house in one of the oldest and most emblematic neighbourhoods in the downtown of Barcelona.
Robert Llimós has worked throughout his artistic career in different stylistic fields, from conceptual experimentation to lyrical figuration to expressionism. Apart from being a painter, engraver, muralist, illustrator, he is also a sculptor.
The large studio was the ideal place to observe, analyse and enjoy his work installed on the walls and in the space of three floors where we could move guided by the hand of Teresa, niece of the artist who provided us with precise specifications.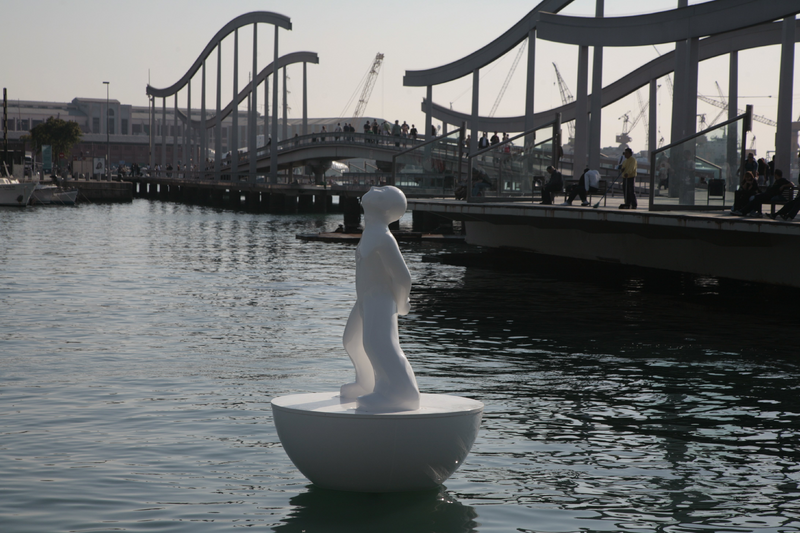 Among the pieces on exhibition are various versions, materials and measures of the sculpture entitled Miraestels (The Stargazer).
There are since 2010 two Miraestels floating in the water at the port of Barcelona from the area the Maremagnum next to Rambla del Mar. They are two large white human figures placed on a white hemispheres in the open sea.
The origin of these two sculptures in polyester resin and fiberglass and 3, 50 m high is a tribute to the poet Joan Brossa (born in 1919 in Barcelona and died in 1998 ibid.) on the occasion of the Saltamartí poem. In addition to grasshopper, the Catalan word saltamartí also means tentetieso, that toy that cannot be knocked down. Joan Brossa defines saltamartí as "A doll that carries a weight at the base and that, deviating from its vertical position, always stands up again. Like the people".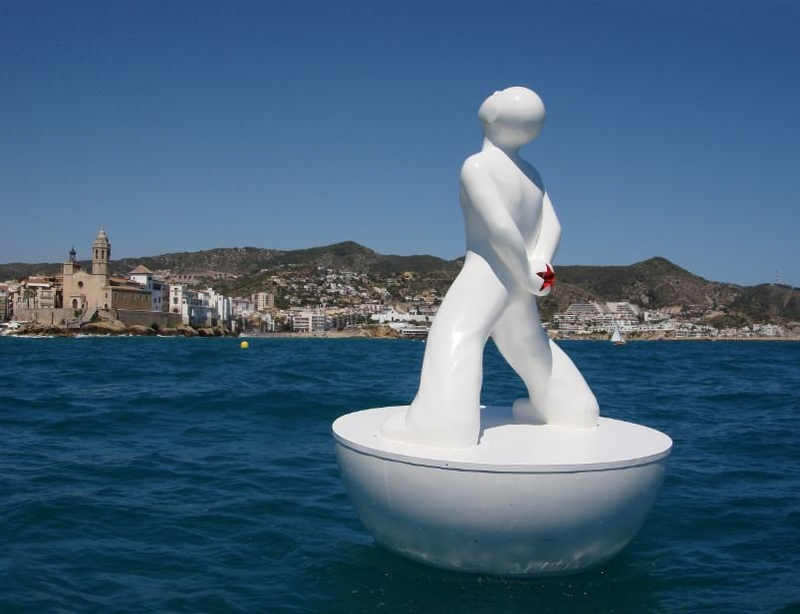 Robert Llimós created the small format Miraestels which happened after a large size to expose it during the 2006 in Barcelona and Sitges. The sculpture represented a young man looking to the sky hiding behind him firmly in his hands, a red star caught in a dream. The artist conceived the figure as a symbol of the human capacity to face adversity. 
Watching the figures sway gently for a while on one of the benches on the Rambla del Mar can have a hypnotic and relaxing effect. 
Author: Imma Pueyo, Art historian and critic
Cover picture: Miraestels, Robert Llimós Foundation, Barcelona