Magazine
Melting Art
While the first snow is falling in Munich just in time for the Advent season, the United Nations 24th Climate Conference started in Katowice (Poland) on 3 December. In London, Olafur Eliasson, the advocate for climate change in the art world, causes a stir with his installation 'Ice Watch'. With a total of 30 blocks of ice, the artist creates a giant melting clock at two locations in the city, making climate change tangible for visitors. On view from 11 December [From our Archive].
For the third time in a European capital, Olafur Eliasson's project draws attention to the fatal effects of climate change. His installation Ice Watch is always connected to a major climate policy event. In 2014, his installation was shown in Copenhagen on the occasion of the UN 5th Assessment Report on Climate Change by the Intergovernmental Panel on Climate Change (IPCC). In 2015, Ice Watch experienced its second incarnation in Paris, against the backdrop of the climate conference that ultimately led to the Paris Agreement. As of today, the Ice Watch continues ticking in London, shortly after the 24th climate conference in Katowice – as a public installation reminding us that climate change affects us all. 24 blocks of ice are waiting in front of the Tate Modern to melt in the hands of thousands of visitors, and 6 more in front of the Bloomberg Philantropies headquarters, which, depending on the weather, are expected to last until 21 December. The ice as an unstable material, over which the artist has little influence, illustrates the urgency of Eliasson's concern.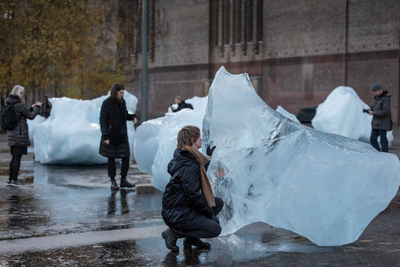 Ice Watch by Olafur Eliasson and Minik Rosing. Supported by Bloomberg
Installation: Bankside, outside Tate Modern, 2018. Photo: Justin Sutcliffe © 2018 Olafur Eliasson
We talked to four artists from our network about the challenges connected with creating art using the melting and temporary materials of snow and ice: Ilka Raupach, who combines performances with the giant ice and snow sculptures in northern Europe, the artist duo Frank Nordiek and Wolfgang Buntrock, who take advantage of one of the few cold days in their home of Lower Saxony to work with ice blocks and Rainer Jacob, who makes short-lived statements in Paris, Berlin and Moscow with his ice stickers.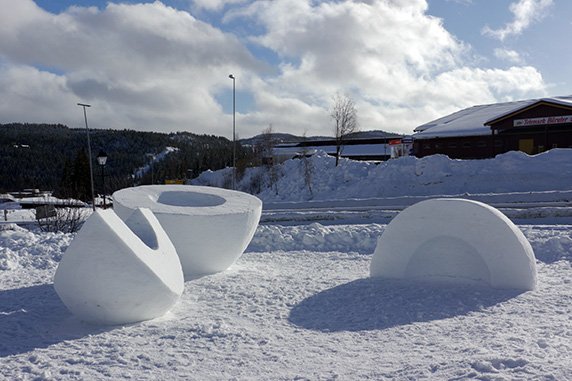 Ilka Raupach, Arctic Landing – Laika (2011), S
now
,
160 x 700 x 900 cm, Vinje Snow Festival, Norway
Ilka Raupach discovered her love for ice in the course of her training to become an ivory carver. A four-month long internship took her to the west coast of Greenland, where she worked with experienced horn and bown carvers. There she also encountered huge glaciers and giant icebergs for the first time. During her studies in Halle she then spent an exchange semester in Bergen, Norway, where a snow seminar, which included an overnight stay in a snow cave, was another significant step on her way to ice sculpting. When asked about the special features of snow and ice in her art, she said to us, "Snow is a material with inherent duality: on the one hand, it is cold; on the other hand, you can use it to build protective caves that will keep you warm. It is inviting and hostile, changing and fleeting and yet it can conserve several thousand years worth of earth's history."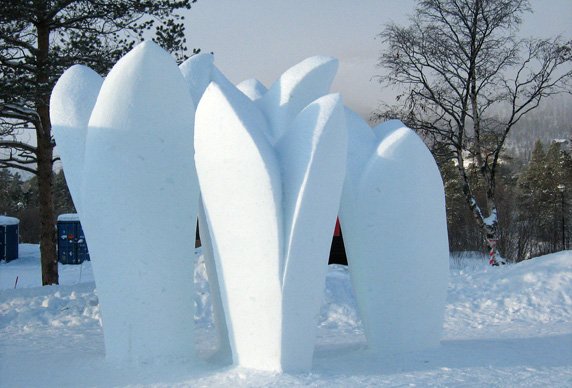 Ilka Raupach, Wildwuchs (2010), Snow, 300 x 300 x 300 cm, Hovden Snow Festival, Norway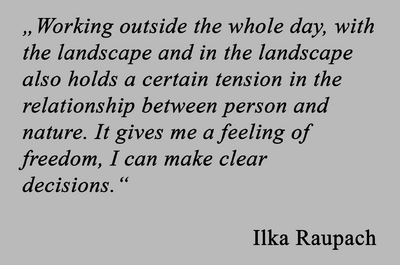 The creative process for her pieces usually begins with compressing the snow to a large block in order to create the form with different tools to chisel, cut and plane.
But she doesn't stop there and also uses large blocks of ice for her art. For a performance in Jukkasjärvi, Sweden, she had Snow White awaken in a life-size casket made of ice.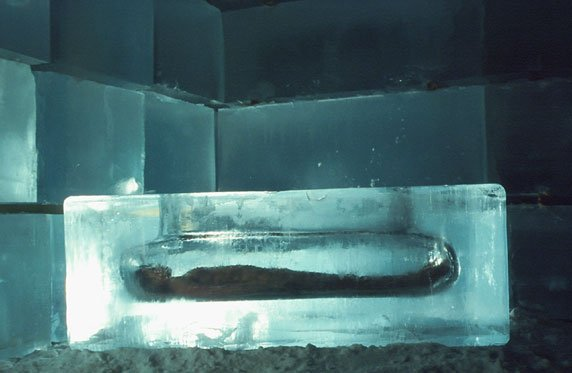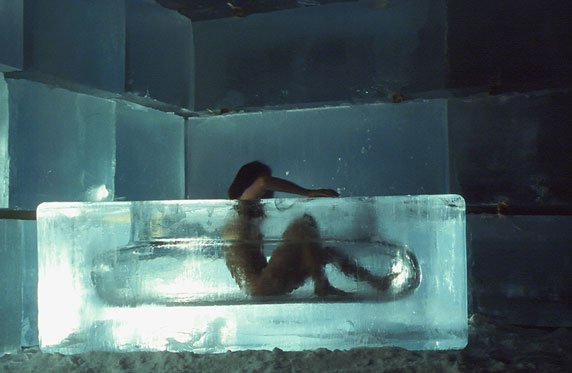 Ilka Raupach, snövit vaknar (erwachen) (2005), I
ce from the Torne River
, 200 x 90 x 80 cm, S
culptur and Performance at the
Gefrierhaus ICEHOTEL Jukkasjärvi, Sweden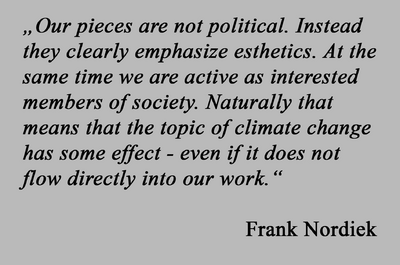 For more than twenty years Frank Nordiek and Wolfgang Buntrock have been working together on Land Art projects. The trained mineralogist and the landscape architect met in a choir and started creating artistic landscapes in a series of experiments.

Meanwhile, both of them are full-time, and full-blooded, artists. They mainly work with materials in their home region of Lower Saxony, where snow and ice are usually in short supply. "We had had the idea for Ice Virus for more than a year when in 2016 there were finally a few days cold enough for us to realize the project,", explains Frank Nordiek. "We built a half-sphere from chunks of ice and hazelnut rods. The individual chunks were 'glued' together using snow and slush and then froze together due to the low temperatures. The next day Wolfgang got up early in the morning to return to the sculpture and experienced a magical moment: the temperature had risen slightly and caused the surface of the lake to melt. The reflection made our piece look like a globe floating in water."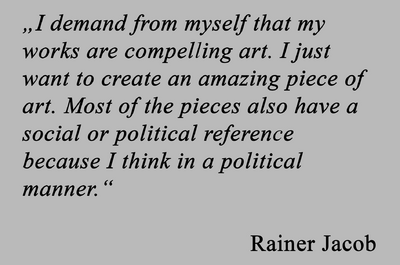 Rainer Jacob's pieces made from ice create clear statements in public areas. These statements are often made with an amused smile or hidden in a play on words. Nonetheless global and political topics are clearly visible. After his training and studies in Dresden Rainer Jacob moved to a small town located between Bremen and Hamburg. There he began his first attempts, creating silicon molds of individual radiator elements, which he then filled with water and let freeze. Bit by bit his pieces grew and he acquired a large freezer to store them. In the meantime he adjusts the size of the radiators to fit the different buildings and locations and deliberately installs them in public spaces.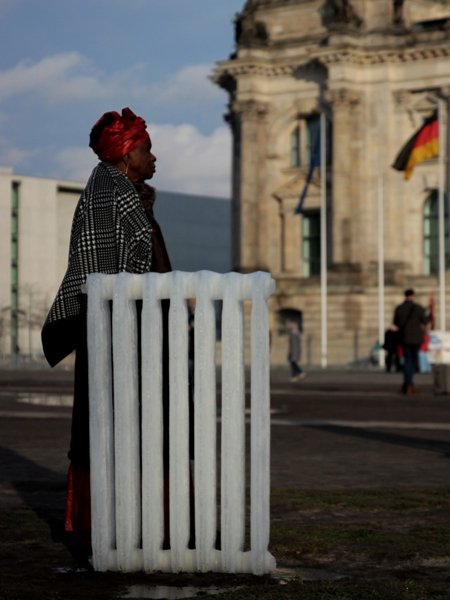 Rainer Jacob, at the reichstag (2015), Radiator made of Ice,
110 x 70 x 32 cm, Berlin
"For Paris I actually had several radiators out of ice in styrofoam boxes in the car. One of the heaters even stood in front of the Louvre. In Moscow it was more difficult because of the boarders I had to cross. After a long discussion with my hosts I decided to travel with just the silicon molds and to create smaller pieces on location." True to the street art manner, these smaller pieces, called ice stickers, are attached to walls in cities throughout Europe and beyond. Just like Frank Nordiek and Wolfgang Buntrock, Jacob uses slushy snow as his glue. Ideally the pieces don't just fall off the wall while melting, but shrink slowly.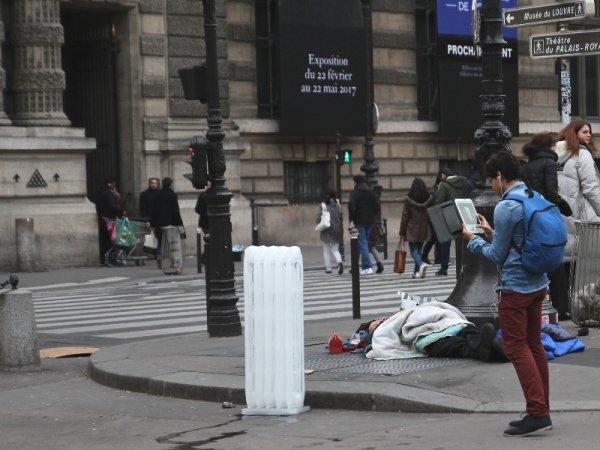 Rainer Jacob, at the louvre (2016),
Radiator made of Ice
,
115 x 50 x 32 cm, 
Paris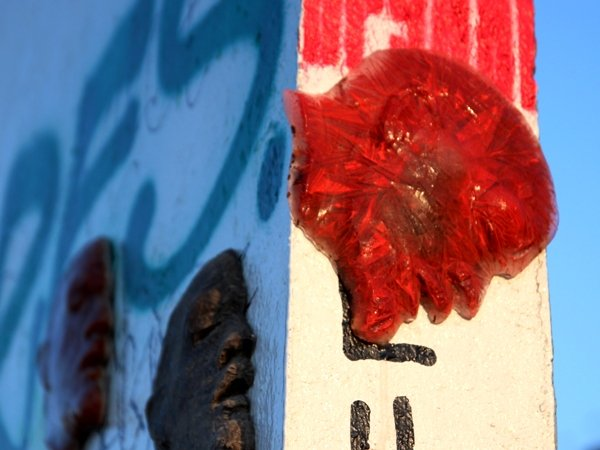 Whether as an unambiguous and giant sculpture like Olafur Eliasson's global political statement Ice Watch which, after Copenhagen and Paris, can be experienced in London from 11 December, or as a silent and magical moment on a lake near Hannover as with Frank Nordiek's and Wolfgang Buntrock's Ice Virus: Art makes certain things visible and perceptible. It is a thought made physically tangible. It can help us to appreciate the world we live in more – and that is an important step in finding a common approach for topics like climate change that are incomprehensibly huge and thus also overwhelming. 
In regards to his own work Olafur Eliasson sums it up thus: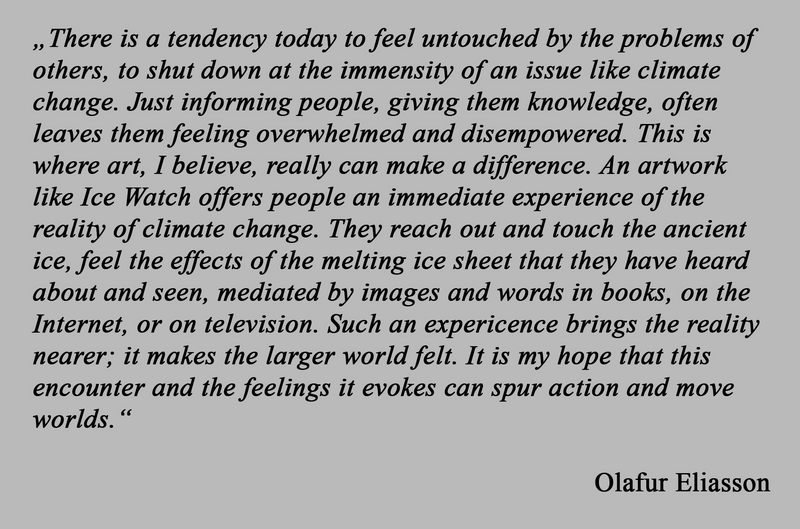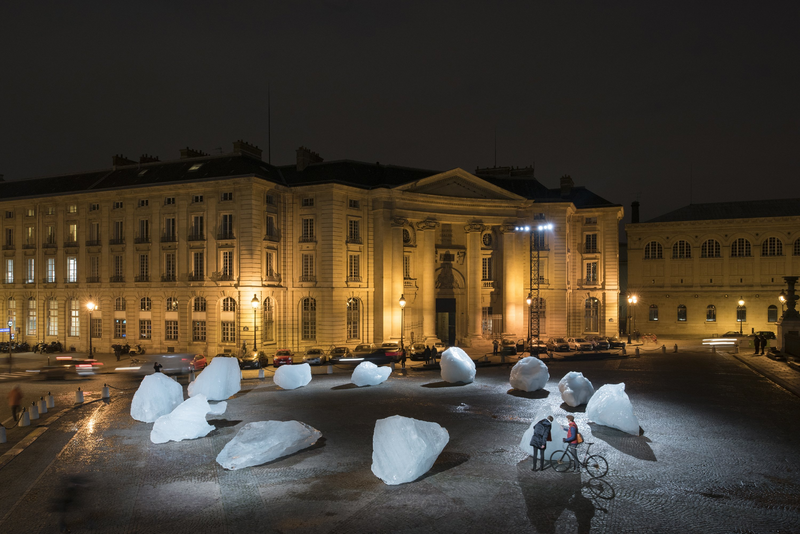 Author: Elisabeth Pilhofer
Elisabeth Pilhofer is a freelance editor and curator based in Munich. Even though she is not a big fan of cold temperatures she spent quite some time talking to the artists about snow sculptures and their favourite ice cream flavours.