Magazine
Sculptures in Dutch Oisterwijk
Art tours! Sculpture routes! What could be more delightful than strolling and looking at art, while in the meantime discovering a city or village? This June Oisterwijk in the Netherlands, a picturesque place, a stone's throw from Tilburg and 's-Hertogenbosch invites its guests to do just that.
Art in Oisterwijk is a concept by Bert Huls, who works as a garden and landscape architect. Usually, in his practice, nature gets priority over houses, but this month of June, art got a stage, where sculptures played the leading role. In Lindeveld, Kiosk and Trouwlaantje – a green zone in the heart of the municipality – art bursts it out. 
Quality works of art with Dutch, Belgian, German, English, Spanish and Italian identity cards, adorn the green heart. Overseas toppers of recent art history are also in for a treat here. The eclectic exhibition mobilizes works from the collection of major institutions, museums, and private collectors. There is no attempt to find a common thread between the sculptures, nor is there a concept, although the topic 'Talk to me' has been chosen as a starting point. This shouldn't get in the way of the humor and witticisms, as well as the serious items of the sometimes almost shoulder to shoulder exhibited sculptures. 
I would like to address the sculptors on duty, with an emphasis on Dutch and Belgian artists and some international top artists.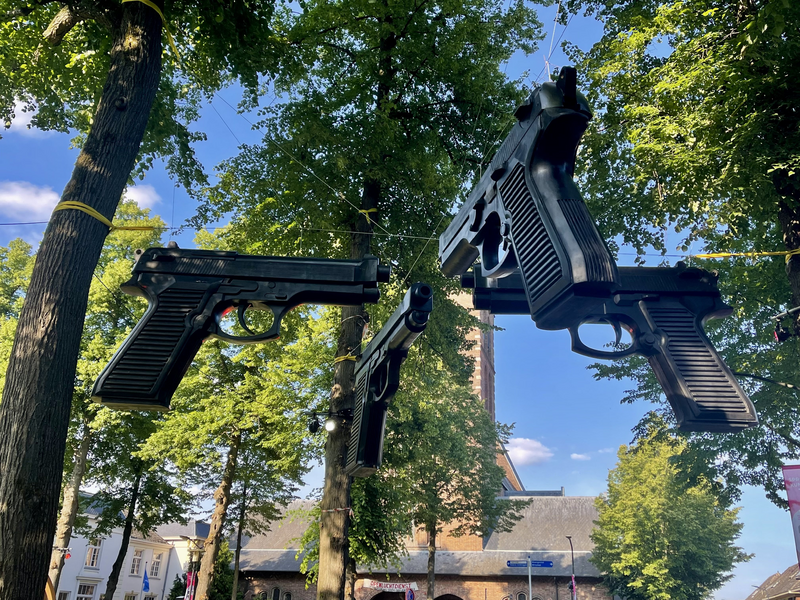 Talking about top players: artist David Černý welcomes us along both sides of the sculpture trail, with a literal blast and a big middle finger. Born in the former Slovakia, his work is marked by oppression. With his confrontational in-your-face works, he holds up a mirror to us. With his Guns, a work from more than 25 years ago, he places four black rifles opposite each other. They pelt one another, but fortunately not with shooting noises. A petition from the villagers against the 'aggressive' work of art was already ready. Until the curator explained to them that the work is in fact stands for anti-violence, that the artist wants to wake up people. The "Fuck the president"-middle finger needs no explanation. Luckily, he left his pink-painted tank at home. 
Man hanging out, also a work by Černý – think and see Freud – shares 'the sky' with Jonas, by the Belgian all-round artist Sofie Muller, known for her mental sculptures, which mainly depicts the condition humaine.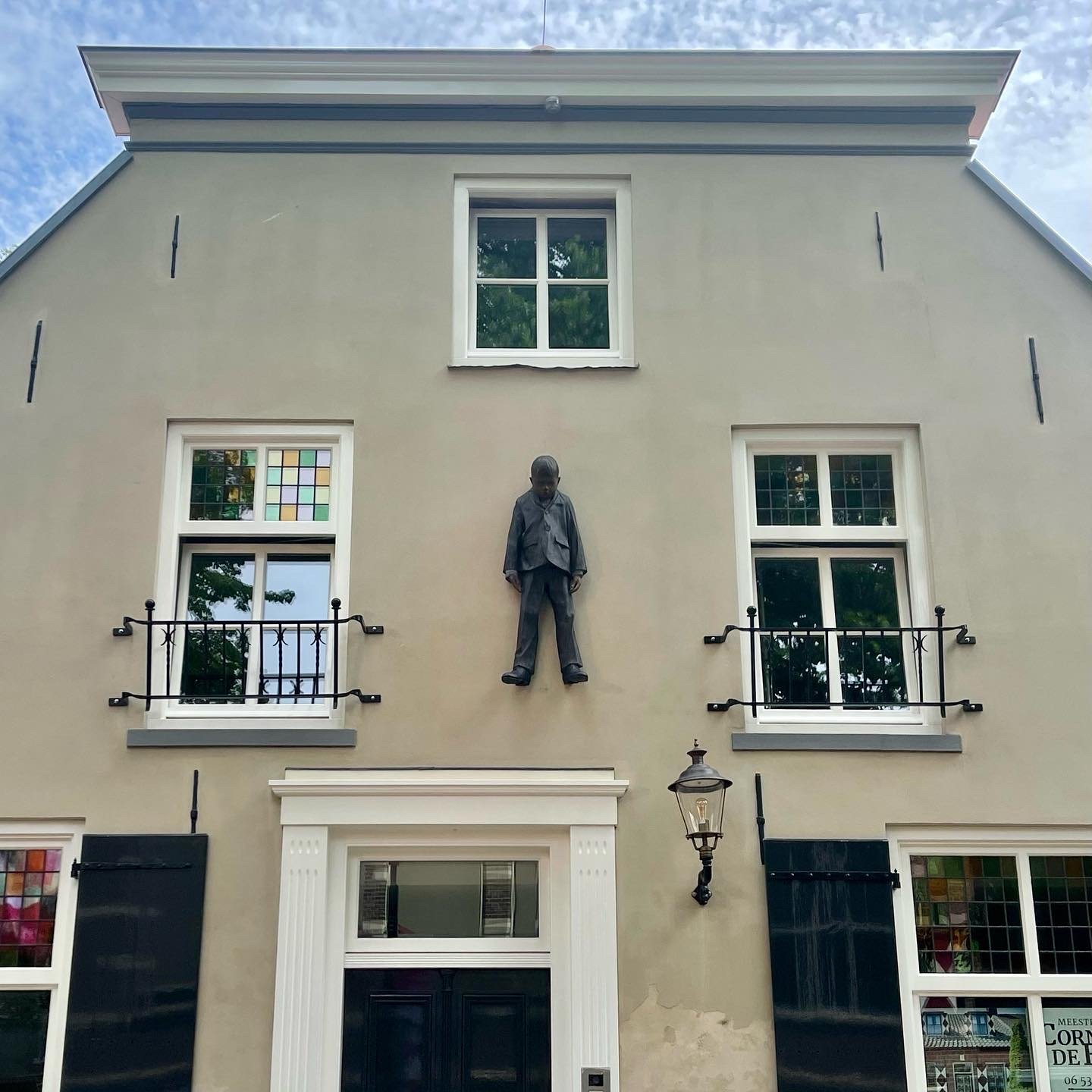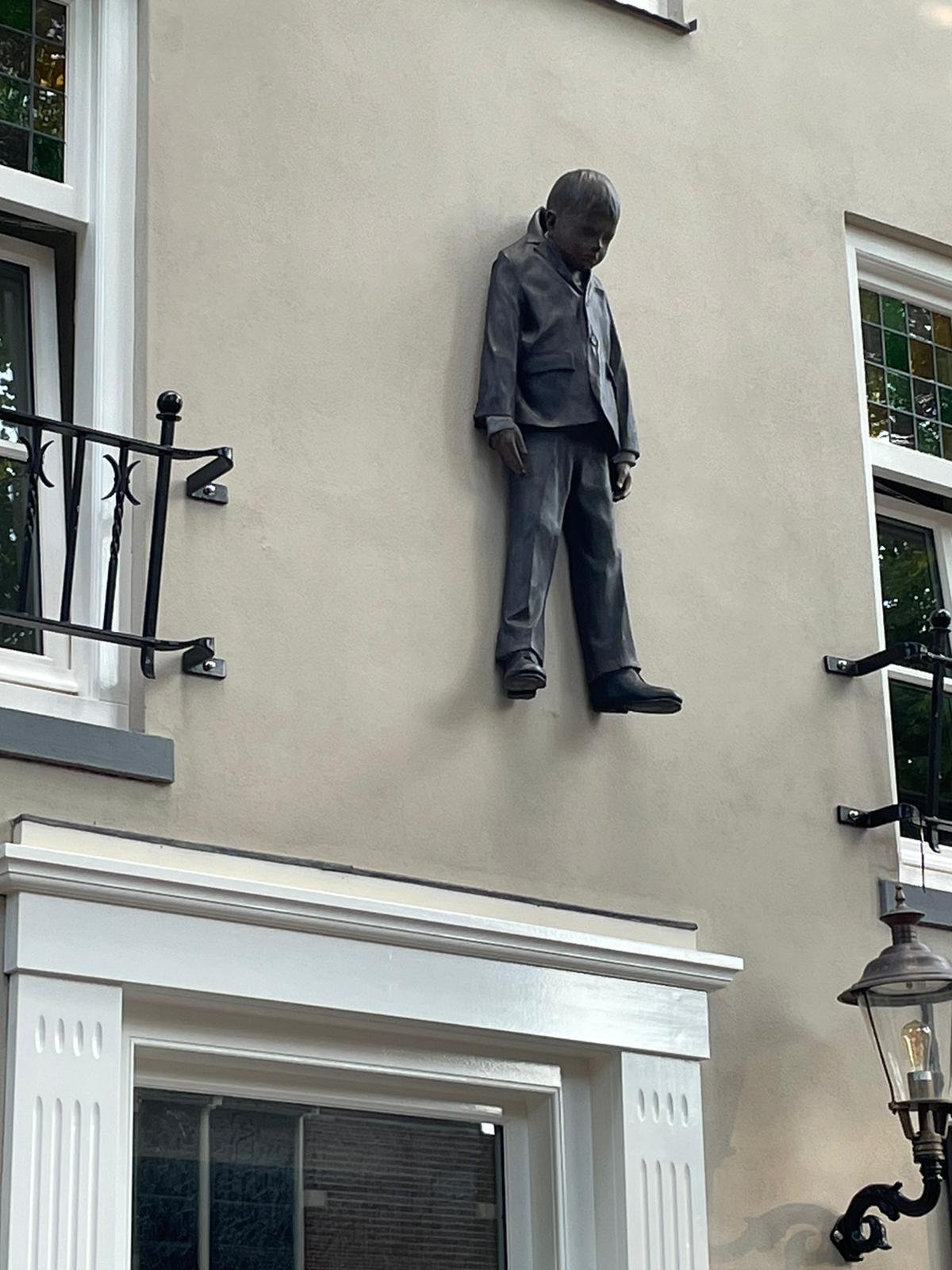 Sofie Muller at Art in Oisterwijk, Photo: Hilde Van Canneyt
This artist likes to work in the tradition of classical figurative sculpture. The vulnerable phase from child to adult, is one of the universal themes in her work. Her alabaster 'mentals', animated caped heads, broke quite a few records in the art world. Her patinated bronze hanging boy Jonas seems to look from above with some suspicion at the violence of colors and shapes below. Jonas is a little boy the Ghent native artist modeled in 2011, inspired by Ray Bradbury's book Fahrenheit 451. She modeled a series of young people who find themselves in uncomfortable situations and victims of their own or someone else's psyche, as with Jonas, who has been literally hung there by someone: he can't leave. He has been punished and hangs there dejectedly on a hook. This juggernaut is one of the subtle hotspots of the expo. Or how a minimal intervention can grab you by the scruff of the neck.  
As befits a worthy sculpture tour, we collide with a classic element of art history: the column.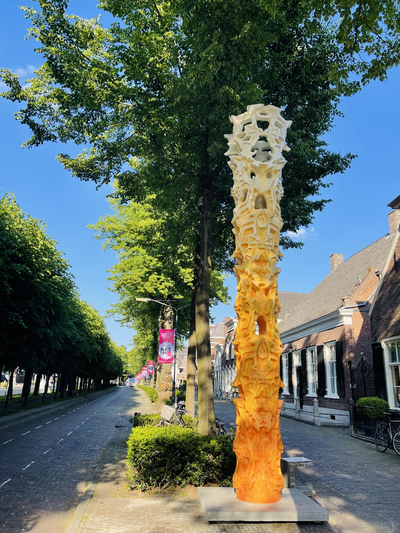 Belgian Nick Ervinck is mostly celebrated for his bright yellow polyester sculptures that grotesquely adorn public spaces, with many openings and negative spaces, offering the viewer a frivolous freshness. What fascinates him as an artist is the evolution of sculpture and how techniques and materials have evolved with it. His Thilap, a totem, is based on ornaments and symbols of the Celts and rises stately among the trees. It is a triumphal column that floats between Indian totem poles and a futuristic column that escaped from a Stanley Kubrick film. It is his first statue, sculpted by robots: sculpted in foam and covered in polyester. The color finish evolves from orange to yellow/white. It is hand painted, so you can feel the paint touch in it. 
Especially for Art in Oisterwijk he created Tephien, a human figure, as an invitation to the title of Art in Oisterwijk: 'Talk to me'. Even those who walk around with their eyes closed cannot miss his impressive sculptures.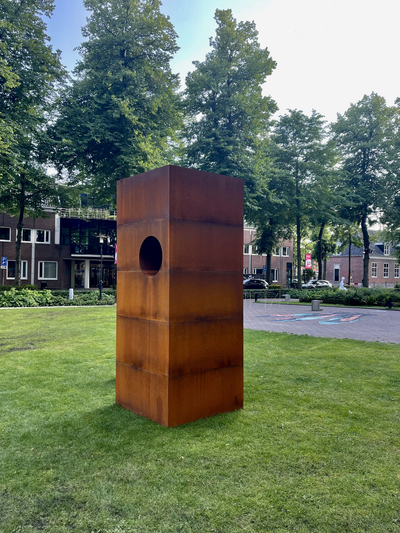 The work of Ireland's Sean Scully evolved from minimalism to (emotionally) abstract. And the art world loves him, as he was twice nominated for the Turner Prize. The corten steel Tower with hole 4, seems to be 'cool', but on the contrary, Scully invites us to find out what we feel, and takes us by the hand to lead us on the spiritual path. The tower absorbs the light between the trees of its surroundings, giving the stately and minimal form of the sculpture, something lively on the surface.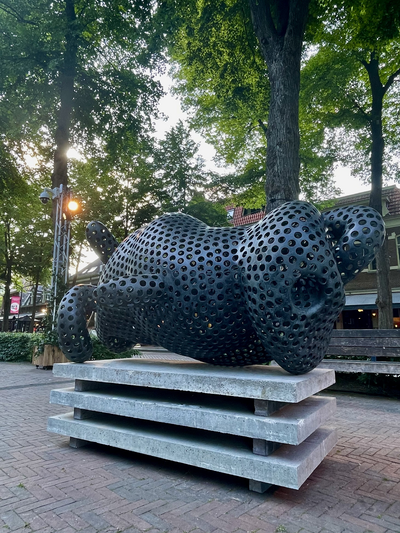 Organic forms abound. Tony Cragg's Ferryman is a dynamic tumbling perforated black bronze with organic and curving, almost moving protrusions. It seems to be 'a being', with playful curves that envelop the work with a sensual charge. Though it is up to the viewer to make associations as to content and form. Cragg plays with the viewer, challenging him to pry loose rigid patterns. This dynamic work has already been exhibited at the Venice Biennale, so this 25-year-old playful hollow and convex sculpture has earned its place. 
Size does matter, according to the Dutchman Ronald Westerhuis. With his Life, an imposing and energetic outdoor sculpture in highly polished spheres, he reflects the world and us in a spherical form. A successful combination!
Cut out of the landscape, as it were, we see a few white figures pulling a cart. The Dutch artist Joep Van Lieshout created Slave City, a city where everyone is a slave, an ideal turned into one big prison. As an idealist, Lieshout strives for a sustainable society. This white polyester sculpture Waterwagon is an allusion to the human that is lost. These figures are pulling a tank wagon that is supposed to provide the city with water. In De Pont in Tilburg, he designed a real science fiction exhibition with the same chilly, eccentric imagery, where he went further than we would like. His question: what can I do for society through art? He does that by creating friction.
The Dutchman Jeroen Henneman lets his dog out, an almost white cut-out graphic 3D drawing, which he himself calls a 'standing drawing'. By playing with dimensionality, the sculpture looks like a still from a film and also generates an alienating experience.
And where Geert Koevoets, with his combination of hanging sculptures and neon, reaches back in content to the vulnerability of mankind in WWI, where Oisterwijk was one of the first to receive refugees and continues to do so to this day, the other fellow Dutch citizen and environmental artist Will Beckers designed the interactive spherical seating sculpture Refuge for Art in Oisterwijk: 'Come, sit down and be quiet or talk to me'. 
The sky is the limit.
The pair Kabakov are born in Ukraine, but Ilya studied in Moscow, where he was part of the Moscow Conceptualists. Worldwide there are more than 150 installations of his in various forms of expression, which mainly encourage reflection. In 2017, they were even allowed to adorn the Tate Modern. Here they show the installation – think: an inclined plane – Fallen Sky, which refers to the Russian sky. Or how a work from fifteen years ago, can lean close to the present and prove once again how art can open eyes.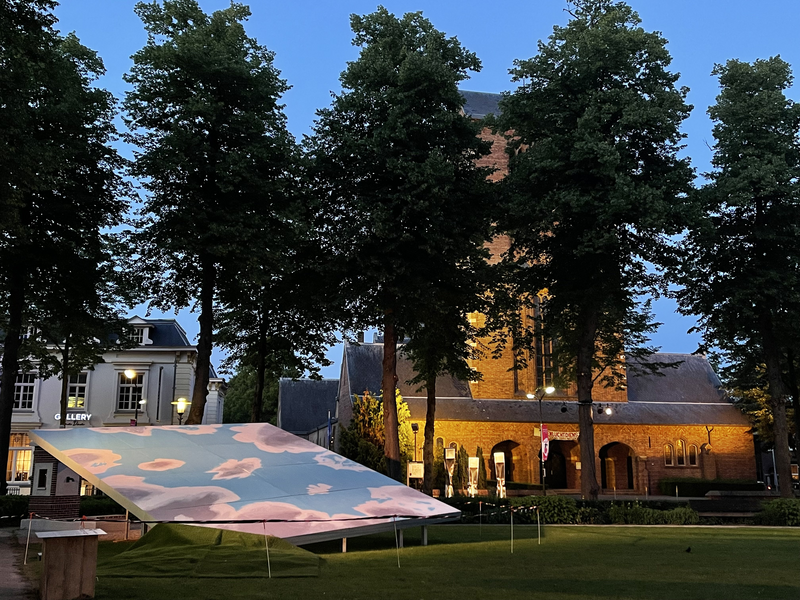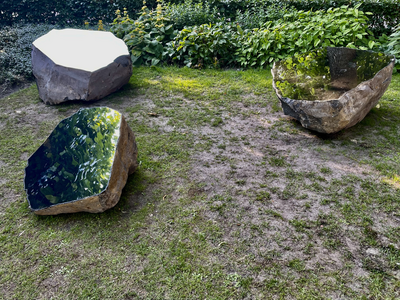 With L'autre ciel – du rocher souriant jusqu'au ciel, un continent commerce, the Frenchman Jean Denant shows us how art can open our eyes. Art in public space is his dada. In 2016, President Hollande even gifted an artwork of his to the Moroccan King Mohammed VI. Three volcanic boulders, got mirrors, looking at the sky. The artist wanted to emphasise the contrast between the heavy earthly stones and the elusive lightness of the sky.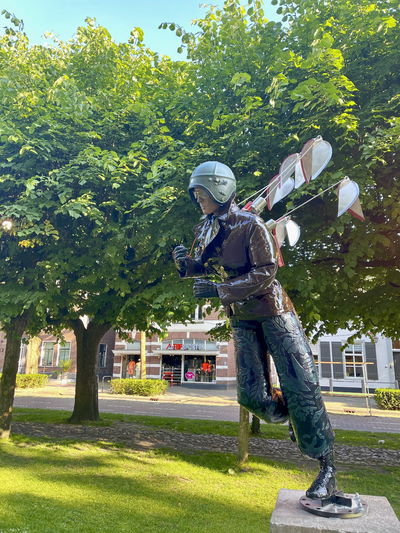 We see realistic work by the Belgians Panamarenko and Johan Tahon. Panamarenko's bronze Batopillo – translated: 'clapscrew-backpack-with-flyer'. The artist really wanted to spread his wings! No idea was too crazy for this Professor Barabas, with his diverse oeuvre of winged and motorised assemblages and space and water vehicles. Whether his works could really ride, sail or fly was of no concern to the artist. Even if it was his intention when he created them. 
Tahon, known for his modest plaster figures, here presents his kneeling female figure Virgin sun. His sculptures represent the imperfection and loneliness of being human. 
The (hyper)realistic and the (sometimes more than) life-size painted bronze figures by the Englishman Sean Henry, make you shrink backwards for a moment by their almost 'living' physical appearance – called sophrosyne in Greek – just by popping up in unexpected places. These are playful literal and psychological interventions that break through the obviousness of the sculpture route. 
The German Stephan Balkenol is mainly known for his human figures in everyday guises, which he roughly carves in wood with chisels. With his outdoor sculpture Mann und Tänzerin, which is adorable in its simplicity, he has no grand plans. It is up to us to fill in their story. 
Corten steel: a material that is both loved and derided by connoisseurs of better sculpture. Frenchman Bernar Venet just won the Artist of the Year Award from the American Friends of Museums in Israel. He was also a guest at Documenta 6 and in 1978 the Venice Biennale invited him. With his dynamic massive steel sculptures – which served as inspiration for many a posterity – the internationally renowned artist plays a logical and mathematical game of mass and volume. 
The Dutch Pieter Obels also resolutely opts for the same industrial rust-coloured steel, although his organically sinuous forms, inspired by nature, jump around like an organic dance.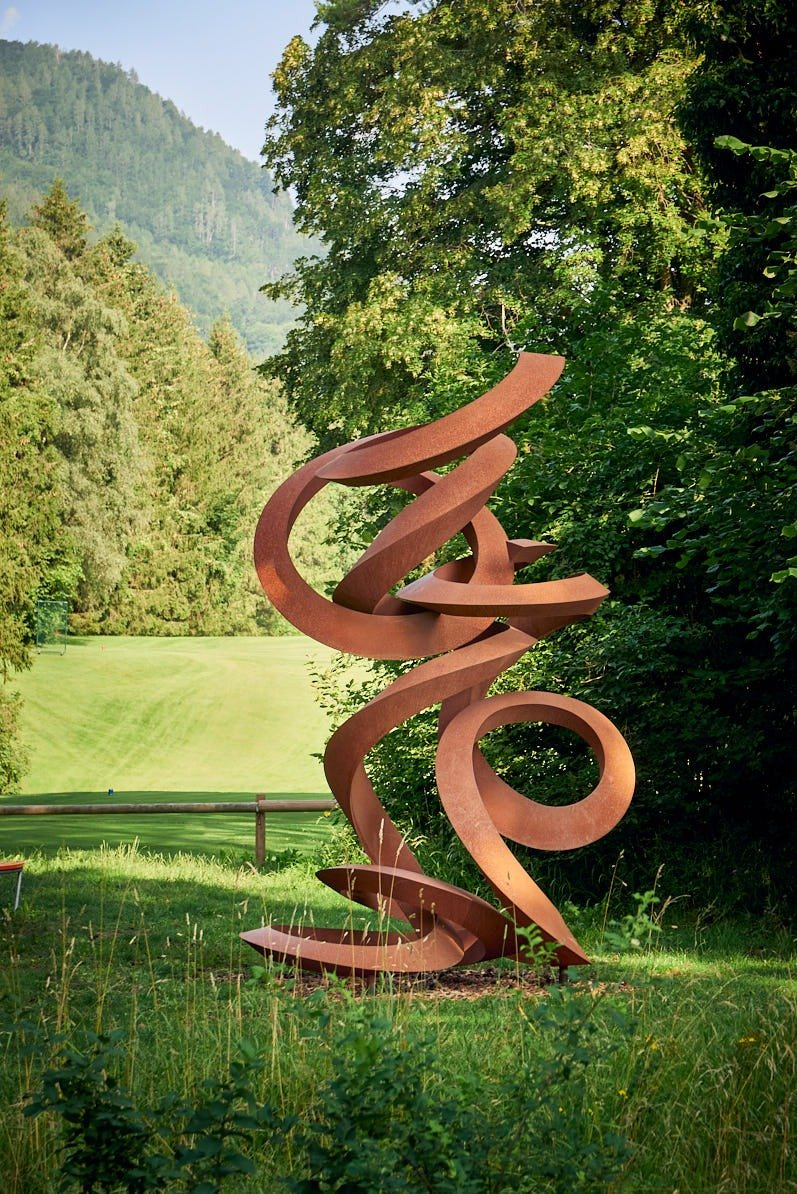 Young talents such as the Dutchman Tom Haakman with his 'mobile phone tower of Babel' and the up-and-coming German Leon Lowentraut with his colourful 'bronze head', squeak in between the great violence. 
To finish, a dash of music with The guitar played by the wind by English artist Chris Dobrowolski. This kinetic sculpture 'should', as soon as the wind whispers, play a song from Once upon a time in the West by Ennio Morricone, in order to generate the synergy of the landscape, typical of Westerns. A tongue-in-cheek, as we find in this garland of sculptures.
An art route may not be able to provide only class. In an ideal world, it could all be even more transverse, and sometimes the sculptures are a little too easy to read, but art is for everyone, isn't it? Certainly, here in charming Oisterwijk, where everyone is welcome. The organizers aimed for a low-threshold art festival, albeit not without top-class works. A very fresh introduction to art, in my opinion! All in!
https://www.artinoisterwijk.com
Author: Hilde Van Canneyt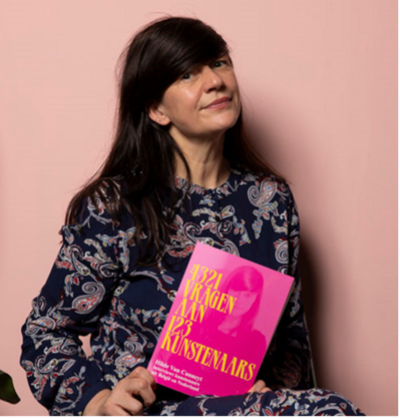 Hilde is an art journalist working mainly in Belgium and the Netherlands. She is sculptor network coordinator and furthermore works as a curator, sits on art juries and is a member of various art committees. https://www.hildevancanneyt.be
Published: June 2022