Magazine
Looking behind the facades of cultural order
start '19 in Munich. On Sunday, January 27, 2019, starting at 11.00 a.m., the artist Peter Riss will open the doors to his studio and private home. Read more to find out what you can expect to see there.
Children's eyes begin to sparkle and adults also consistently associate positive feelings with it - a carousel. Peter Riss's installation The Carousel (2017) initially arouses exclusively positive emotions in the viewer. A round, two-storey platform, decorated with colorful fairground motifs, connected by a red two-legged pillar, supports an oversized globe with attached arms that in turn carry gondolas which are attached by means of chains. In one of the gondolas there are even two people - one might even assume it is a father with his child. The merry-go-round is decorated in complementary colors and thus looks very simple and bright. The delicate light blue of the carousel, which is used extensively in the background, is particularly dominant. This reinforces the positive feelings with a sense of calm ... if there were not - sitting on the center of the globe - an oversized bird figure, which itself seems threatening. But that is not all, the threat is further intensified by the fact that this figure is wrapped in a black cloth. Black of all colors - a color that we mainly associate with death, darkness, ruin and disease. Thus our beautiful, cheerful, colorful world is destroyed in one fell swoop and we are left with feelings of doubt, malaise and even fear.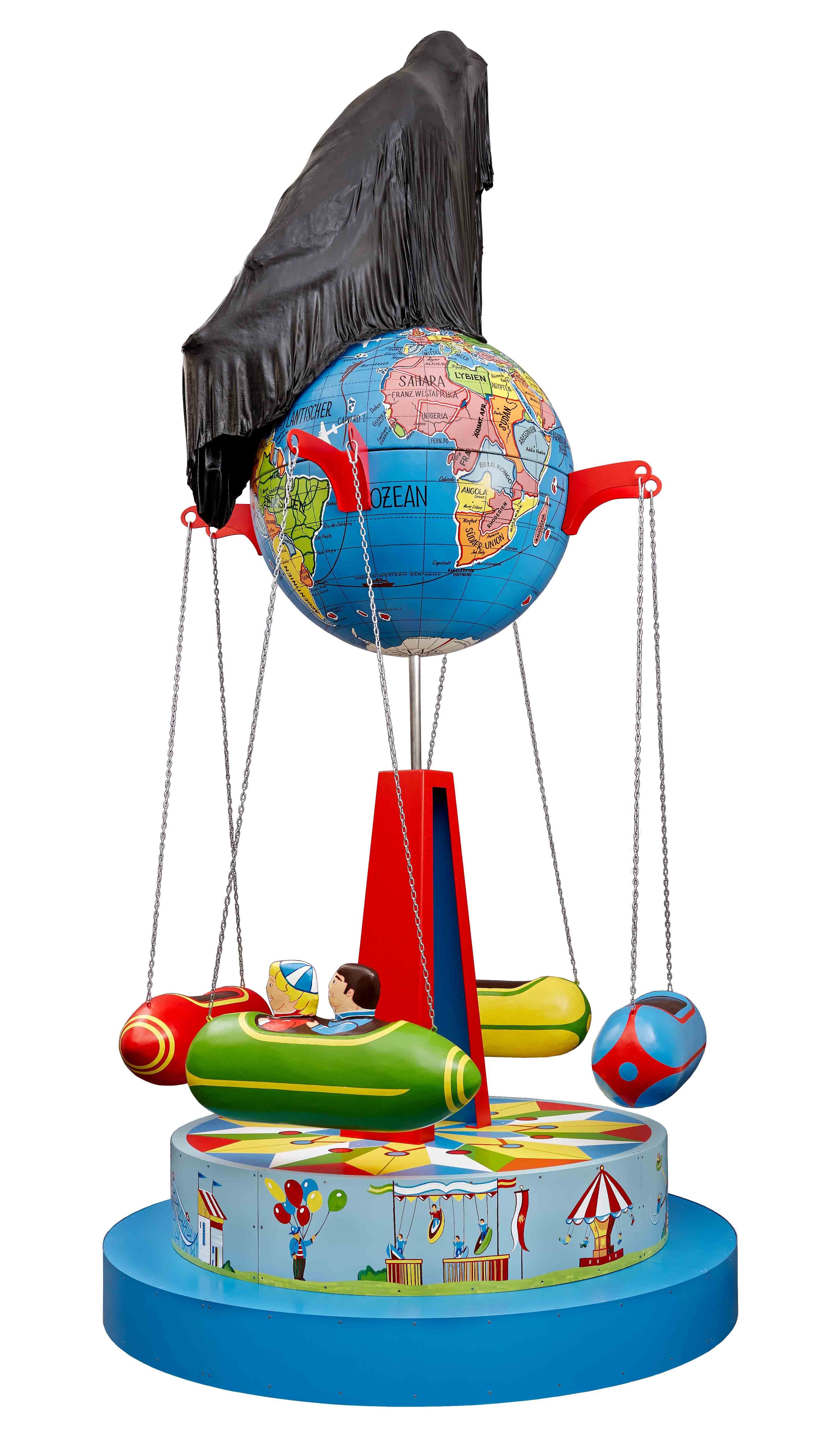 Peter Riss: The Carousel (2017); Metal, polyester, acrylic paint, electric motor,
loudspeakers; 470 × 225 cm; Photo: Philipp Mansmann.
On the merry-go-round of time
"My spatial works and installations comment on the dual nature of mankind. The apparent natural order is disturbed by the organic, raw forms of the stuffed animals. The natural disturbs the culturally constructed order," says Peter Riss. The artist used a tin toy produced in Germany in the 1960's as a model for the chain carousel, which he elaborately translated into monumental dimensions, even including the smallest detail. The globe floating above the gondolas was already considered obsolete at the time of its production, and shows the cartography of a global power structure in motion: the Soviet Union no longer exists as marked, colonial violence dominated a large part of Africa, and when a distinction is made in the Southern Arctic Circle between unclaimed and controversial regions, it becomes clear that the earth is by no means just a planet in space, but a place where power is claimed. "The contrast between smooth and raw, order and chaos, culture and nature is inherent in humanity. We all carry a "dark side" within us. My sculptures represent this tension between adjacent inner forces that also complement each other at the same time. I try to represent these contradictions in the form of a three-dimensional object as a seemingly self-contained unit," comments Riss. In the globalized 21st century, this western-centered view of the world thus radiates a nostalgic, controversial charm. In addition, the carousel is reminiscent of childlike light-heartedness. But like the two passengers, we, humanity, are sitting in the constantly moving gondola of history. Like a sign of approaching misfortune, a black-clad, oversized bird sits enthroned above the continuously spinning world. But the finch, which in English stands for "informer", is perhaps only a silent observer, a witness of the human spectacle of power.
start'19 with Peter Riss in Munich
Born in 1962 in Kaufbeuren, the artist has lived and worked in Munich since 2001. He has a very special relationship with sculpture network. As we previously reported, he found the Call for YICCA 2017 award on the sculpture network website. This was a great success for him, because his exhibition in Rome resulted in new contacts to curators, which in turn generated other opportunities to participate in exhibitions. As luck would have it, the event repeated itself twice! He won the Biafarin Honor Award with his installation Persuit of Demons (2015) as part of the call for opportunities for Arte Laguna 17.18. And, in addition,with his work Brutus (2017) he also won the Padova Art Prize which included a presentation of his works at the Arta Padova.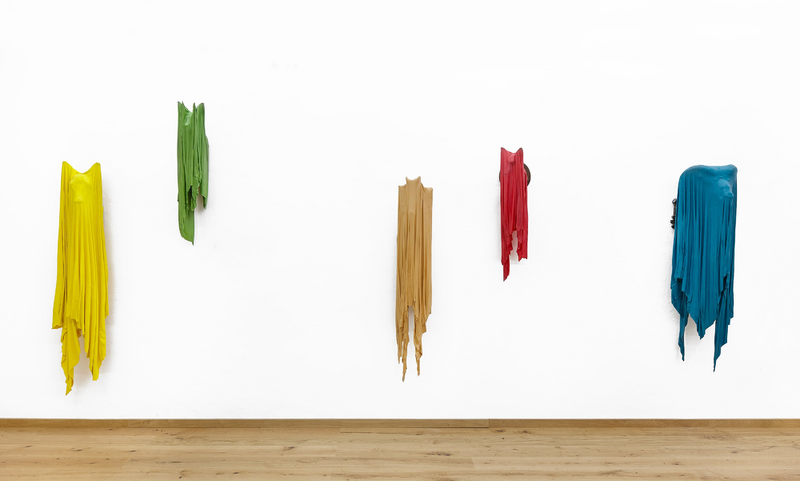 This year we are happy to introduce him as one of our start'19 hosts! On January 27th, starting at 11:00 a.m., Peter Riss cordially invites you to his event at the Wiede-Fabrik in Munich. Visitors will gain intimate insights into his true working and living environment. "I have been working in the Wiede factory for over 20 years and live here with my family. Most of my work was created here. Friendships with other artists on the site are essential for me," says Riss. For that reason visitors can enjoy a great insight into the sculptor's way of thinking and living, as well as into the pros and cons of a life within an art factory. Riss will personally describe his large three-dimensional works in the course of a lecture on his working method. The highlight of the event will be the on-site presentation of The Carousel (2017) and The Hunt (2016). Furthermore, the owner of the art factory, Mr. Andreas Wiede-Kurz, will introduce himself and give a guided tour through the Wiede factory. Naturally gallery owners and curators will also be present, such as Michael Heufelder or the Rosemeyer Art Advisors, to give insights into the trade and collecting of art.
start'19 - sculpt the world with us
Wiede Factory Munich
Rambaldistr. 27
81929 Munich, Germany
Sunday, January 27, 2019 from 11.00 a.m.
In addition to Peter Riss' event, more than 70 other hosts will also be offering great events on 27th January, all about three-dimensional art - certainly also in your area! Take part and celebrate with us.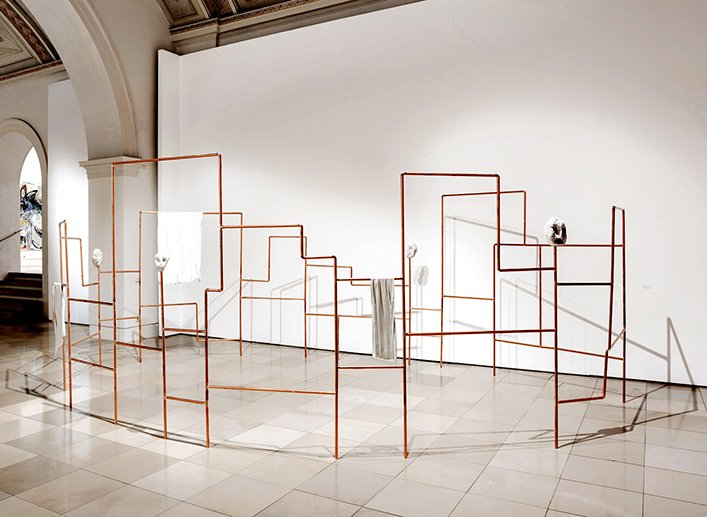 Author: Claudia Thiel
Claudia Thiel is an art historian and likes to pose her questions to the subject area in a journalistic style.