Magazine
In the Footsteps of Antoni Gaudí
Pilar Aldana-Méndez Werk ist Teil der Basilika Sagrada Família in Barcelona
How Pilar Aldana-Méndez sculpture became part of the Sagrada Família in Barcelona
Pilar Aldana-Méndez is a Columbian artist who has been living in Barcelona for more than 30 years. During her long and productive career, she has won many awards and has placed more than 40 monumental sculptures in natural areas and outdoor museums. Her works are part of many public and private collections in Spain, Columbia and the U.S.A.
One of the highlights of her career was surely the chance of working on the Basílica i Temple Expiatori de la Sagrada Família – a gigantic unfinished Roman Catholic Church in Barcelona. This Basilica is one of the great treasures of the world's cultural heritage and with its 3.2 million visitors per year it is the most visited monument in Spain. Started in 1882 under architect Francisco de Paula del Villar, the construction of the basilica was taken over a year later by Antoni Gaudí, who transformed the project with his architectural and engineering style, combining Gothic and curvilinear Art Nouveau forms. Gaudí devoted the remainder of his life to the project and at the time of his death in1926, at the age of 73, less than a quarter of the Basilica was completed. Since then this ambitious project has kept growing and it is slowly drawing to a close thanks to the thoughts and actions of a coherent group of architects, industrialists, artisans and artists.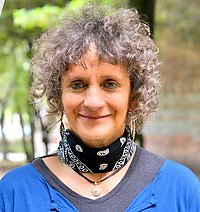 One of the artists in this group is Pilar Aldana-Méndez who was contacted directly by the architects of the Basílica i Temple Expiatori de la Sagrada Família and was asked to realise a glass sculpture for the higher part of the Sacristia Tower (34 m). In 2014 the architects of the Basilica were looking for someone who could provide an artwork made of glass and incorporating light for the tower. Various people recommended Pilar Aldana-Méndez to them. She then had the difficult task of starting to work on someone else's project. She was able to make the architects agree to some major changes and had the chance to bring in her own ideas. The planning phase lasted two months as Pilar completely changed the inner part of the former project and before the artwork was put in place it was necessary for her to work in situ on some adjustments. The result was definitely worth all the hard work and as it is visible from the street, each and every visitor can see the admirable sculpture. This commission gave Pilar the possibility to start investigating deeply into Gaudí's work, especially in respect to all the glass elements integrated in the Basilica Sagrada Familia. 
Join us at the sculpture network Dialogue on May 25! Pilar will tell us more about this one-of-a-kind project and also give us a short overview of her other works – from monument sculptures to land art interventions. 
More information and registration: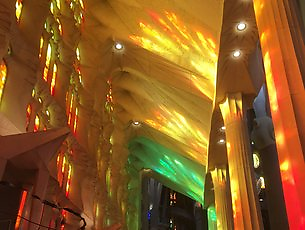 Pilar Aldana-Méndez: "Light and Colour in the Temple of the Sagrada Familia". Lecture
Barcelona, Spain
Friday, 25 May 2018
16:45 - 18:45
Arxiu Fotogràfic de Barcelona
Author: Ilaria Specos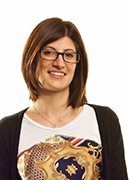 Ilaria Specos is the charming Italian 
Project Manager at sculpture network, 
who keeps the Munich Office well-organized 
and functioning