Magazine
The Hannah Peschar Sculpture Garden
The Hannah Peschar Sculpture Garden is the creation of the late Hannah Peschar, whom purchased the grounds and 17th century cottage some 40 years ago with her husband, world renowned landscape designer Anthony Paul. Celebrating our thirty-ninth birthday this year, we now exhibit 160+ pieces every summer by over 50 artists.
In the 1970's, landscape designer Anthony Paul and his Dutch wife Hannah Peschar were living in London. Anthony was just starting his landscaping business having built and owned a botanical photographic library, and Hannah had been working as a political journalist for a number of years. Hannah is originally from Holland, but moved to the UK to be with Anthony and to work. They were looking for somewhere outside of London to develop, and for Anthony to make his mark on the landscape - to become his own patch of greenery. They found Black and White Cottage advertised in a Sunday paper, and immediately saw the potential. The grounds were originally landscaped in 1915-1920, but had fallen into huge decline over the next 50 years. There were fallen trees, it was completely overgrown with weeds, and used to flood every spring from the large stream that forms the backbone of the Sculpture Garden.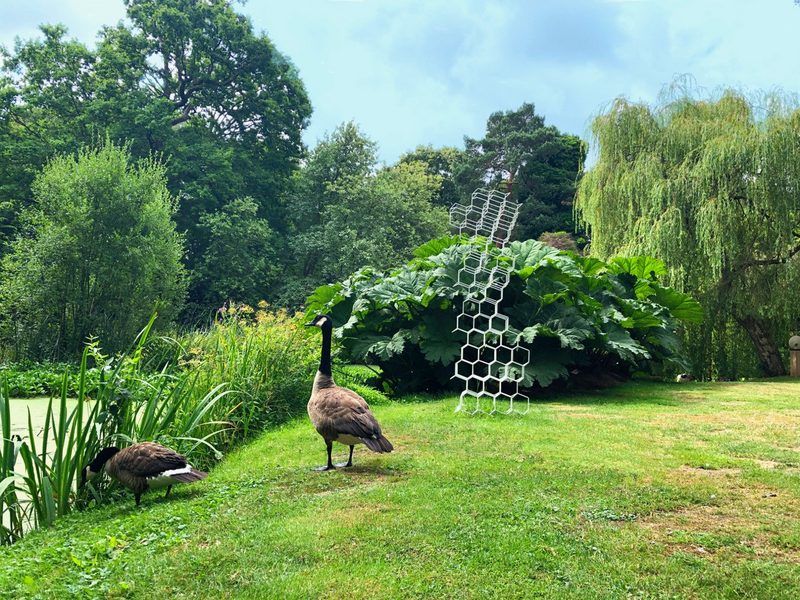 Over the next five years, Hannah and Anthony worked tirelessly to revive, restore and bring new life to the garden. They began the enormous task of taming the garden and the stream, restoring the weir to control the waters and forming large ponds surrounded by mature trees and broadleaf plants. The water adds movement, texture and light: fast-flowing watercourses, a cascade and quiet expanses that reflect trees and other plants. 
Anthony's childhood in New Zealand has inspired him to use magnificent architectural plants such as Gunnera Manicata from Brazil and Giant Hogweeds from the Caucasus Region. Unlike traditional British gardens, there are no flowering plants (apart from the rich carpet of wildflowers in spring), no borders or beds – nothing is contrived.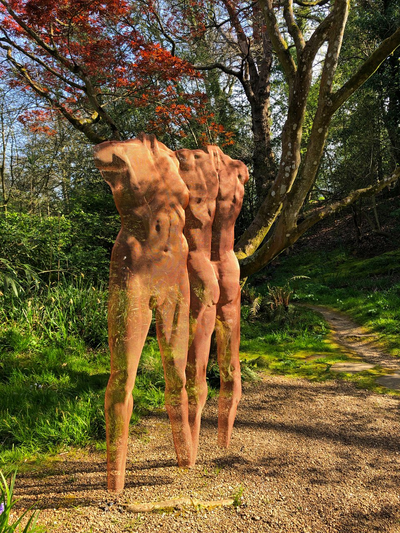 Instead, Anthony uses a limited palette of plants in bold groups, focusing on shape, structure and infinite shades of green. A carpet of wild spring flowers bathes the woodland in blues and whites, and there are flashes of colour throughout the summer…but overall this garden is a lush green environment. The valley in which the garden is located is quite damp and dark, so Anthony used this to his advantage. He introduced more ponds, and moisture-loving plants that thrive in such a location. Visitors would be more than forgiven for thinking that they had been transported to anywhere other than Surrey – less than an hour away from London. The garden itself is just as important as the art on display – it is this harmony between the two that creates such an inspiring and unique environment.
Meanwhile, Hannah was itching for a new venture. Growing up in Holland, Hannah always had a strong interest in art – and in particular, sculpture. She was not an artist herself – but always had a huge passion and interest. As all of us have felt at some point, Hannah used to get terribly frustrated when visiting galleries and museums as she would get reprimanded when she tried to touch anything. In the early 1980's Hannah visited a curator friend in Holland, who was hosting an exhibition of contemporary ceramics in a barn. The artist bought so much work with him that it literally wouldn't all fit, so they placed a piece outside by a shrub – and hoped no one would really pay attention to it. It wasn't the fashion at the time for outdoor sculpture. There were artists such as Henry Moore and Barbara Hepworth creating pieces for outdoors – but they were usually fairly monumental in style (or price!), and weren't particularly accessible for the average viewer or buyer.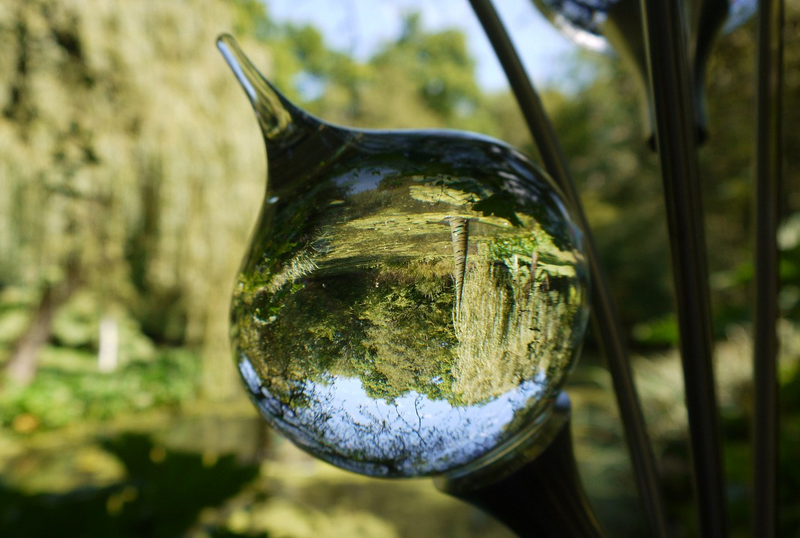 They were also working in a limited range of materials – bronze, carved stone and carved wood. More contemporary materials (for sculpture) such as ceramic and glass were not shown outside. Hannah was immediately captivated by the contrast between art and nature: the way light and shadows danced across the surface, and the relationship between the material and its surroundings. It was an epiphany for her: she knew what they should do with their garden.
Hannah came back to the UK, and started approaching London art schools to see if anyone would be up for the challenge of creating sculpture to be exhibited outdoors. Thankfully, some artists were interested – and the first exhibition took place on the Cottage Lawn with around 20 pieces on display.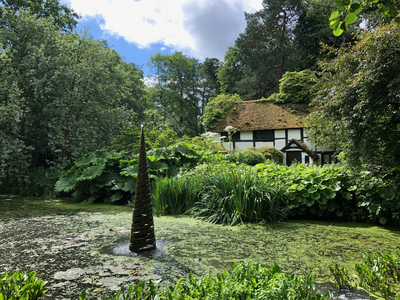 Over the 39 year history of the Sculpture Garden, Hannah Peschar and the other curators have exhibited hundreds of artists from across Great Britain and Europe. Ranging from artists just at the start of their career to those enjoying true success in their field, the variety of sculpture, materials and themes has always been truly impressive. The key point that makes The Hannah Peschar Sculpture Garden so unlike most others is the relationship between art and nature. In the curation of the yearly exhibition, it is vital throughout that neither one outshines the other. It is this single idea that creates synergy, and unique environment felt throughout the Sculpture Garden.
Visitors travel from across the globe to visit The Hannah Peschar Sculpture Garden – to enjoy the garden itself and the spectacular artwork on display.
In 2015, Hannah Peschar made the hard decision to retire from running the Sculpture Garden. Anthony Paul and curator Victoria Leedham, who had worked with Hannah for a number of years, took over the gallery and continue to curate as a creative partnership. Victoria first visited the Sculpture Garden 30 years ago with her school – and clearly it shaped her life in ways she could not have imagined. "I can't remember any of the artwork", she says, "But I remember how vividly green the garden was; the height of the plants, and the general sense of wonder. I often teased Hannah that she must have put a spell on me – or a very long piece of elastic - so that I might come back in later life!"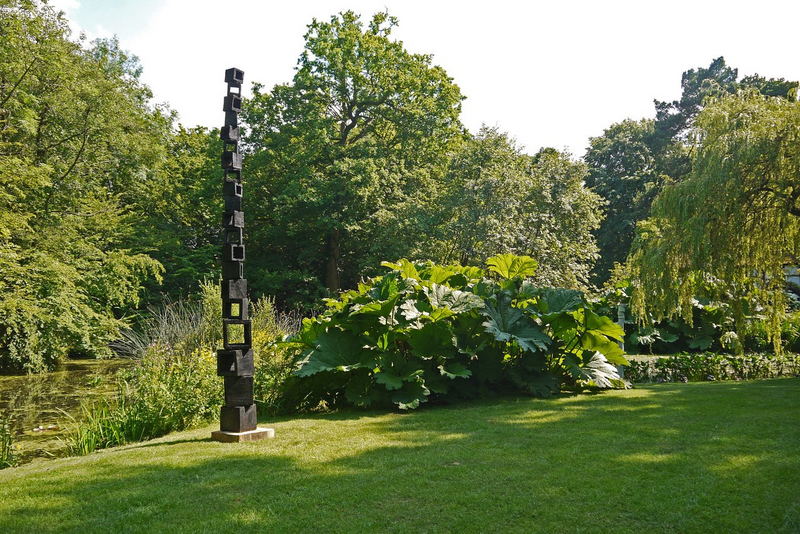 Sadly, in the summer of 2021 Hannah Peschar herself passed away. Her vision is one too enormous to be forgotten. Anthony and Victoria have been working tirelessly to extend Hannah's legacy - with the opening of a brand new indoor gallery, and the launch of a student award project in her name. Graduating sculpture students from Camberwell College of Art are offered the opportunity to work to a set brief and exhibit their pieces in the Sculpture Garden for 6 weeks - with a winner being chosen at the end to be mentored by the team and exhibit new work within next year's collection.  The Sculpture Garden is proud to announce the launch of 'The Indoor Gallery' for summer 2022 – a beautiful, custom built space nestled beneath the tree canopy – showcasing smaller sculpture and high-end craft. Designed outside and in by Anthony himself, with Victoria's input throughout, the space is designed to feel calm, tranquil, and most importantly welcoming.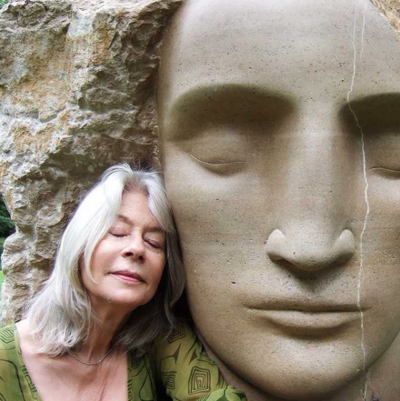 "I've always been interesting in art – it rubs off on you, and then you find you can't live without it" 
- Hannah Peschar, 1939 - 2021.
The Sculpture Garden is open for 7 months a year – from the first weekend in April until the last Sunday of October. We are open Thursdays, Fridays and Saturdays from 11am to 6pm, and Sunday afternoons from 12 noon to 5pm. We also open for appointments for groups on Tuesdays and Wednesdays, and host evening events throughout the summer months.
https://www.hannahpescharsculpture.com
Author: Victoria Leedham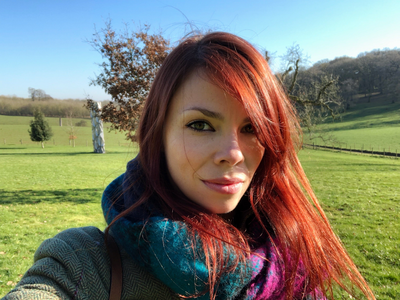 Victoria is passionate about art in the great outdoors. Having grown up in the English countryside and constantly being creative, her two passions in life have come together to form her career. As well as now managing The Hannah Peschar Sculpture Garden, Victoria consults on public art through Surrey (UK), sits on arts boards, and guides student sculpture projects.
Published: August 2022
Cover picture: 'Belonging' Deborah Davies