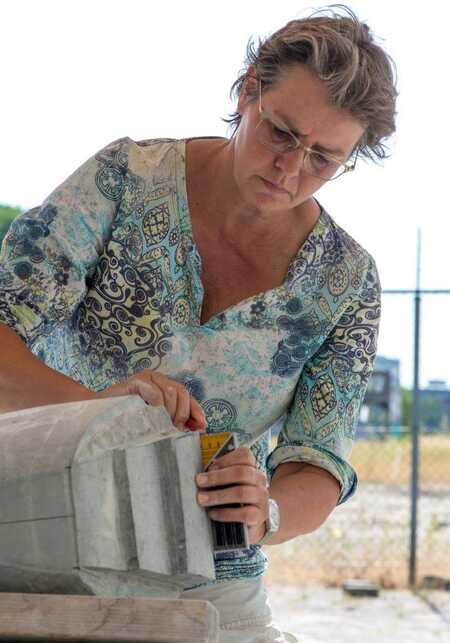 Fieke de Roij
An unending fascination with sculpture and stone

The material stone continues to inspire and challenge me, now for more than 25 years. The ever-new quest for sculptures that want to fascinate, not impress.

With my company "Werk in Steen" I have created a place to convey my love for the profession and to offer people the opportunity to discover stone sculpturing for themselves. To achieve this, I organize a varied range of sculpting courses, among other things.

Abstraction by removing everything that is not essential

My sculptures are clear and abstract. They are created intuitively, by combining shapes and materials. While working I search for simplicity, tension and balance. The traces of the manufacturing process remain visible, sometimes in the structure of the chisel stroke, but also in fractured surfaces or the finish of the surface. This gives the sculptures a personal signature.
I tries to evoke an atmosphere or association and give room for individual interpretation.

The form language I use is universally recognizable, and appreciated worldwide. You can find my sculptures in private collections in many countries.