Magazine
History Meets Modern Art
The centre of Leiden has much to offer all year round. Although, it becomes particularly interesting in summer when it hosts the sculpture exhibition "Beelden in Leiden". sculpture network was there and experienced the exhibition first hand.
Since 2011, the Hooglandse Kerkgracht, a central street in historical Leiden (NL) and former canal, has served as a picturesque backdrop for the annual contemporary sculpture exhibition "Beelden in Leiden". The exhibition offers young sculptors, in particular, a chance to present their work. Each year, ten young sculptors get a commission for an outdoor sculpture. At our Dialogue, which was fabulously prepared by our coordinator in the Netherlands, Anne Berk, we had the chance to talk to some of these young talents.
Three young artists joined our group on the tour through the colourful and fascinating exhibition in the former canal that, today, bustles with life. Each shared their own view of the exhibition, their work and its significance for contemporary Dutch sculpture as well as answered questions from their curious audience. The young artists represented the diversity of styles, materials, and techniques that were deliberately chosen for the exhibition. Each of the ten newcomers had their own story to tell about their work.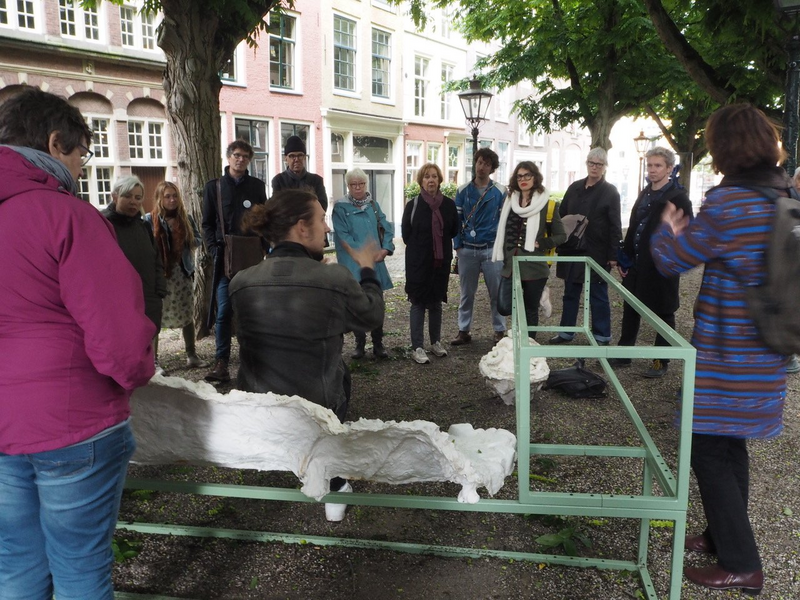 Koos Buster (*1991), who recently graduated from the Ceramics Department of the Gerrit Rietveld Academy in Amsterdam, took a humorous approach. Regarding his sculpture De omgevallen Scooter (the tipped-over scooter) he jokingly said, "I hate scooters, therefore I created a scooter that had fallen on the ground." Although we couldn't quite bring him to answer the question about where this hatred for the two-wheelers stemmed from, the work made most people smile. It's an homage to the trivial things in life and a reminder not to take ourselves, as well as our surroundings, too seriously.
Tim Mathijsen (*1987) looked upon his work a little more seriously; with his sculptural installation Park Liaison, he questioned tradition in the process of sculpting. Tim physically interacted with an existing sculpture by making a print in clay, which then became the starting point for a new sculpture. This interesting technique simultaneously connects and separates him from the tradition of public sculpture. It proved to be particularly thought-provoking for the audience because everyone started to wonder- how we ourselves see public sculpture and how traditional we are in our own points of view.
The third artist we had the pleasure of talking to was Romy Yedidia (*1990). Her sculpture was a naked, tied-up woman titled Fighting the Pedestal. The work made passers-by stop dead in their tracks. Standing right in the middle of a very public place, the piece looks vulnerable, insecure, and a little out of place – and therefore reflects the social pressure on women to have the perfect body. We later learn that Romy created this sculpture by making a cast of her own body as a basis. Overall, a very brave and thought-provoking sculpture.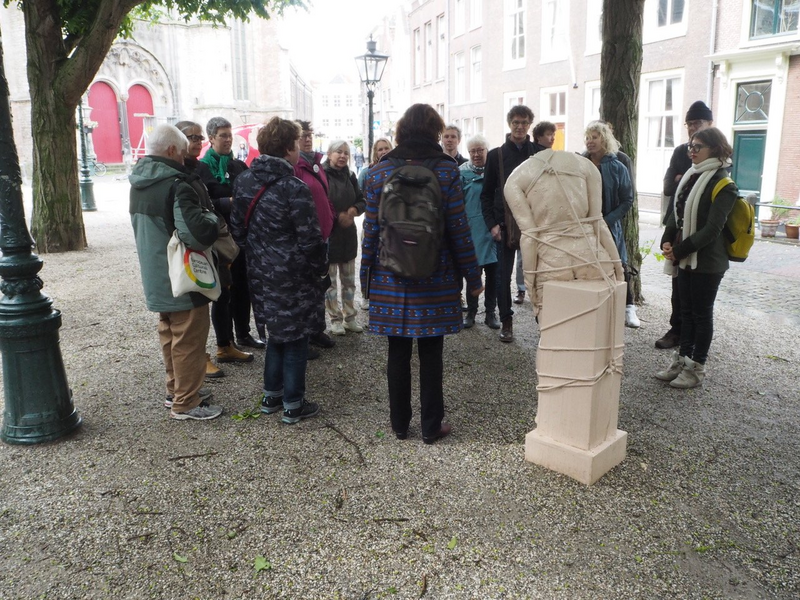 Our tour ended in a restaurant with multiple topics to think and talk about. As per usual, this part of the Dialogue, when we can share our thoughts with each other, is considerably the most important: refreshing, interesting, and with lots of new ideas to take home.
Cover picture: Romy Yedidia, Fighting the Pedestal. Photo: Yke Prins