Magazine
The Life-Sized Works of Patrick Villas
Patrick Villas (b. 1961) is an internationally recognised artist, known for his sculpted animals, but there is so much more to it than that. How is this artist positioned within the European art world?
ART
Villas is known as the animalier within contemporary art. His imagery, where he pushes the limits of figuration versus abstraction, and where he searches for his forms in a rough style, makes him unique in his genre. His bronzes – in which the clay hand and modelling is still clearly alive – are highly sought after. He has been called 'one of the leading (animal) sculptors of his generation'. His formal and substantive passion for the animal kingdom, and felines in particular, are seen in a loose modelling style, masterfully brought to life in suggestive sculptures with palpable tension. 
From an inner strength, he creates insanely expressionistic art. As viewers, we see and feel the instinctive, the mood, the nature of the wild animal. A good reader immediately understands what he wants to tell us.
What does the master's studio day look like? Does he wait for the muse to grab him by the neck, or is it mostly hard work? It is the latter, affirms the artist. A studio day is mainly hard work: get up, take the clay, tear open the suit and start working on it. The muse rarely comes along. It is mainly experimenting, feeling through and fathoming. And mostly rooting for 20 years. 'Soyons courageux, soyons fous!', as Jean Cocteau put it. 
How does one begin such life-sized works? First, the artist sketches casual poses and movements of animals. These set-ups sometimes become full-fledged drawings – he is a gifted draughtsman, by the way – that contain what has been observed with a few nervous lines. Villas works little with pictures; he wants to suggest it creates itself, until the story stops. The final image does not have to be flush with reality. The artist masters the anatomy of his animal and human models, but with eagerness he lifts the boundaries of the anatomical. If you zoom in on the material, the sculpture becomes abstract; if you look at it from a distance, it becomes figurative. As an artist, you create a semi-finished product anyway, the viewer fills in the rest.
Is his work contemporary or timeless? He is first and foremost an aesthete. Villas loves beautiful things, and beautiful things, according to the artist himself, are timeless.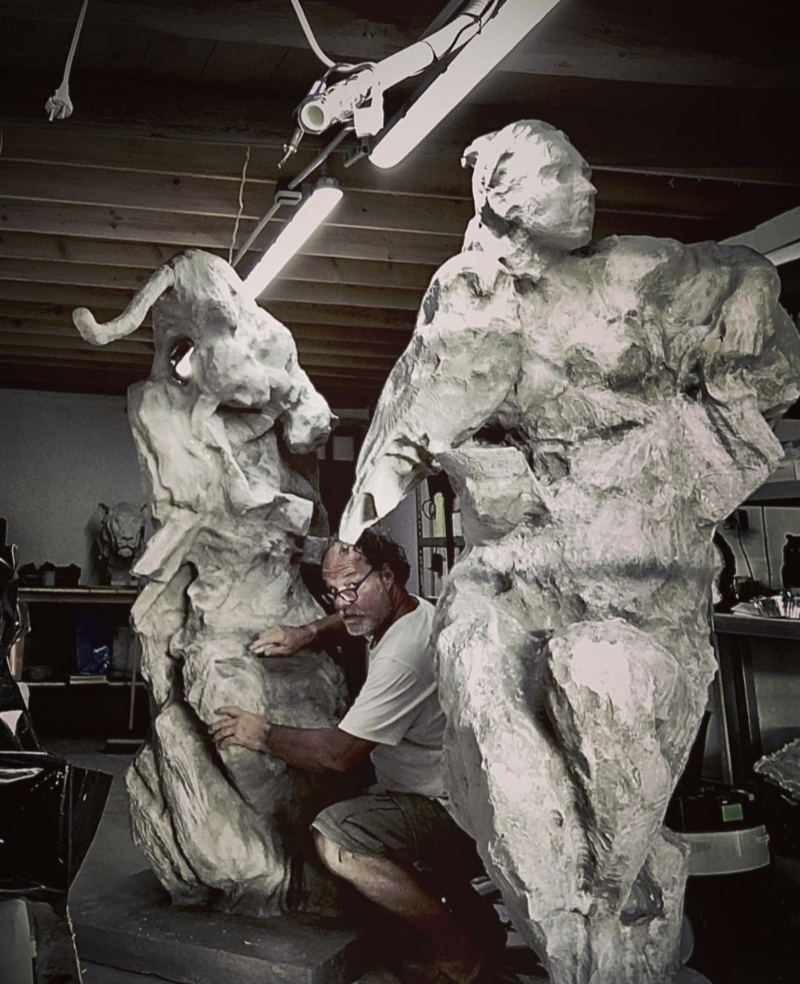 While searching – isn't every good artist a searcher? –,  Villas is always testing his limits, likewise in his curiosity for new processes. 
Before starting his career as a sculptor, he had been painting for 15 years, and he still does so in between, both with oil paint, acrylic, and mixed media. Recently he also discovered 2D digital techniques, which have translated into a series of digital works on diasec on the theme of 'the woman'.
Besides clay and bronze, his sculptures are also in new techniques: he works with a bronze workshop, with which he tries out the latest 3D techniques. The mass is important, he has already made sculptures in paper, wax, clay, fabric, etc. In itself, the material is less important – as long as there is movement in the material – all means are appropriate to make an interesting sculpture. 
FRANCE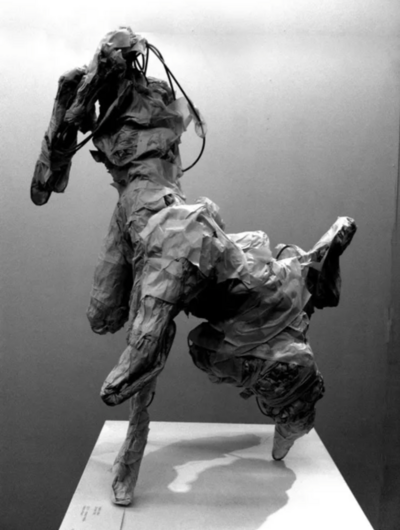 Versatile artist Patrick Villas, traded the Belgian big city of Antwerp for French tranquillity in a village in Haute-Marne 12 years ago. The peace and quiet in France had a major impact on his career; he could now create in silence, without influence or feedback.
Also at that time, he was able to collaborate with the French Galerie Bayart. In Belgium, he has been cooperating with The Latem Gallery Lochristi for years, with the asset of a large beautiful sculpture garden in which Villas sculptures come to life perfectly. In his collaborations with galleries, long-term thinking is one of the key components.
France soon embraced him, as he was soon included in the collection of the Musées de France. He was also shown at PAD and the Paris Biennale, as well as receiving many public commissions. 
The sculpture Chiens en course, for example, is a purchase from the DRAC Orne, a public institution that builds a collection of contemporary art. 
What else does this artist have on his French record?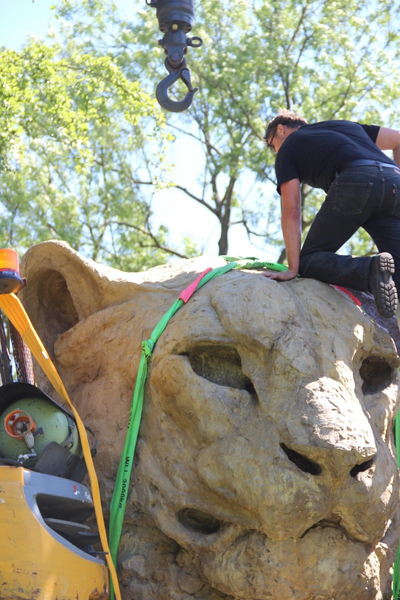 From the Taylor Foundation, he already received the Evariste Jonchère Prize in 2014, and in 2016 the Centre d'Art Contemporain de la Matmut organised a retrospective, after which they bought a monumental panther head. Also; a life-size tiger for Cologny, a monumental panther head for the Foundation Matmut pour l'Art, a fountain for the French village of Robécourt,... 
The French fashionable ski resort of Megève created a trail for the artist with six monumental pieces. These will be presented there from November 22 to May 23. 
Thus Patrick Villas is slowly conquering the hearts of the French. Besides his gallerists, his wife and agent Edwina is also helping him with this.
MONUMENTS
Two recent monuments are important in the Belgian-French artist's career. 
You can read The Broken Bowl as a consolation monument for abused children. The monument is three metres high. We see a beautiful young woman holding a bowl in her hand, but it is broken. Why? Because she will never really recover inside. You feel that despite her beauty, something is forever broken. Her face is inspired by a personal friend of the artist. It depicts respect for someone who rebuilt herself.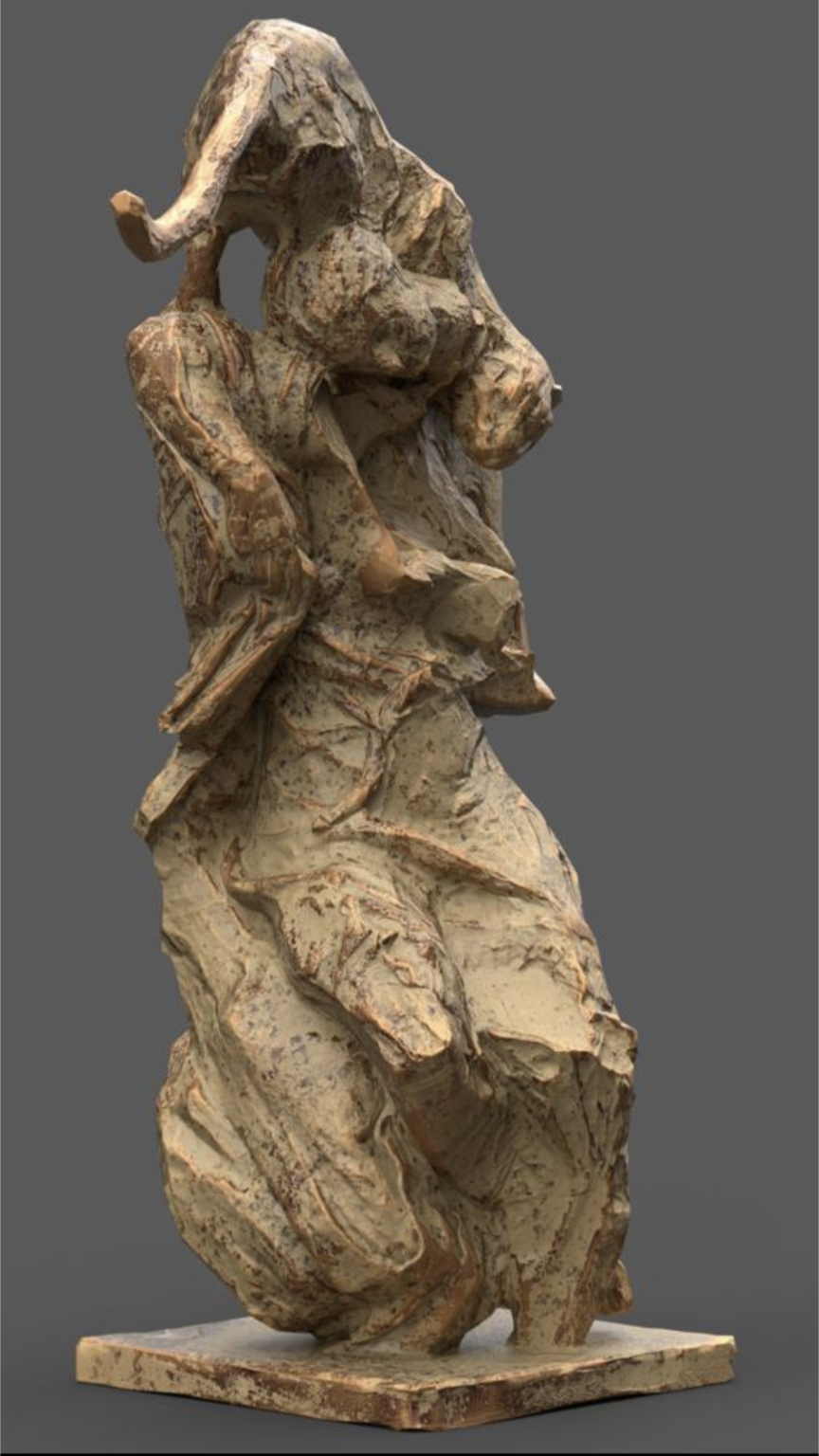 "Maquette of the Monumental
Affinity IV," dedicated to those
who work for animal rights
(tribute to Julie Lasne), 2021
Note: A portion of the first bronze sold from this monument will go to a care home for mentally and physically disabled people. The fact that Patrick Villas' brother was disabled has always been a great motivation for the artist. 
The second monument Affinity was made for all those who work for animal rights. We see a woman with an animal on her shoulders. She represents Julie Lasne, a French ethologist working for animals worldwide. She is literally depicted with one leg in the concrete; like a Don Quixote fighting windmills.
Because the artist as a person is never on the barricades, he likes to create monuments, to do his bit.
With Patrick Villas, for instance, a panther is never just any panther, but stands as a symbol of our planet. As viewers, we see the external appearances of the beautiful artworks, but the commitment appears through the fact that the artist creates animals. For instance, he tries to draw attention to "more animals in the city" by putting them there. He advocates. When you see that in a hundred years, 70 per cent of the fauna and flora has been destroyed, it is important to draw permanent attention to it. 
BOOK
A new book called The Broken Bowl is coming out soon. Author Marc Pairon wrote an art book about his oeuvre. Do not expect a book with 'works by Patrick Villas', but rather the subjects the artist dealt with in his art practice, in short 'the global work' of the artist.
Author: Hilde van Canneyt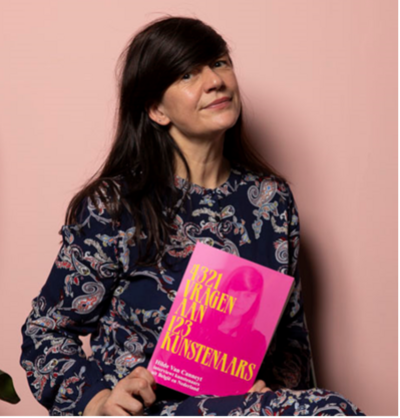 The Belgian art journalist Hilde Van Canneyt (Ghent, BE) is best known for her more than 250 interviews with Belgian and Dutch artists, which are published on her website and in different media. As a freelancer, Van Canneyt writes reviews, texts for artists and catalogs. She is in high demand as a curator, member of juries and art commissions.
Cover picture: "The Broken Bowl," consolation monument for abused children, 2021