Magazine
Sculpture by the sea - The exhibition in paradise
This year for the 15th time, the famous white sand of Cottesloe Beach in Australia became the setting for a sculpture exhibition of a special kind. An insight into 3D art in paradise: Sculpture by the sea.
From March, 1 to 18, over 70 sculptures by 71 international artists from 17 countries including the USA, Israel, China, Japan, South Korea, Sweden, Norway, Finland, Italy, Slovakia, Austria, Greece, Germany and Andorra will be exhibited.
Cottesloe Beach, Perth, Australia, 29 degrees and sunshine. Right in the middle of it: The sculpture exhibition sculpture by the sea. Every year, an estimated 240,000 visitors travel to Australia to attend the largest free public event in Perth.
Three of our sculpture-network members will also be there again. But before we present their work, we would like to tell you the origin of these unique exhibitions: Founding director David Handley, who at the age of 30 had the idea of creating a publicly accessible and free art event that would bring people closer to the world of sculpture. 15 years later, people from all over the world travel to Australia to enjoy the sun between the sculptures every day.
Our members in Cottesloe
Now to our three exhibiting members: Peter Lundberg, Heike Endemann and Isabela LLeó Castells.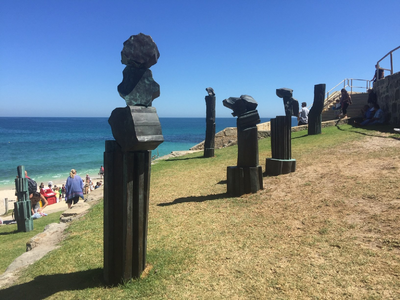 The artist Peter Lundberg from the USA is not there for the first time. Already in 2017 we met him personally at sculpture by the sea in Bondi Beach. 
This year he presents his work Poets, Scholars and Thieves in Cottesloe.
He himself says about his art:
"My works are made with a very direct approach towards the materials, often implying sophisticated and crude techniques in a single work. The bronzes are a continuation of my interest in nature and man made patterns. They are almost classical in nature. Columns, wood and figurative qualities prevail in many of these totem like sculptures."
Every single sculpture in this work, according to the artist, takes the name of a notorious Australian figure.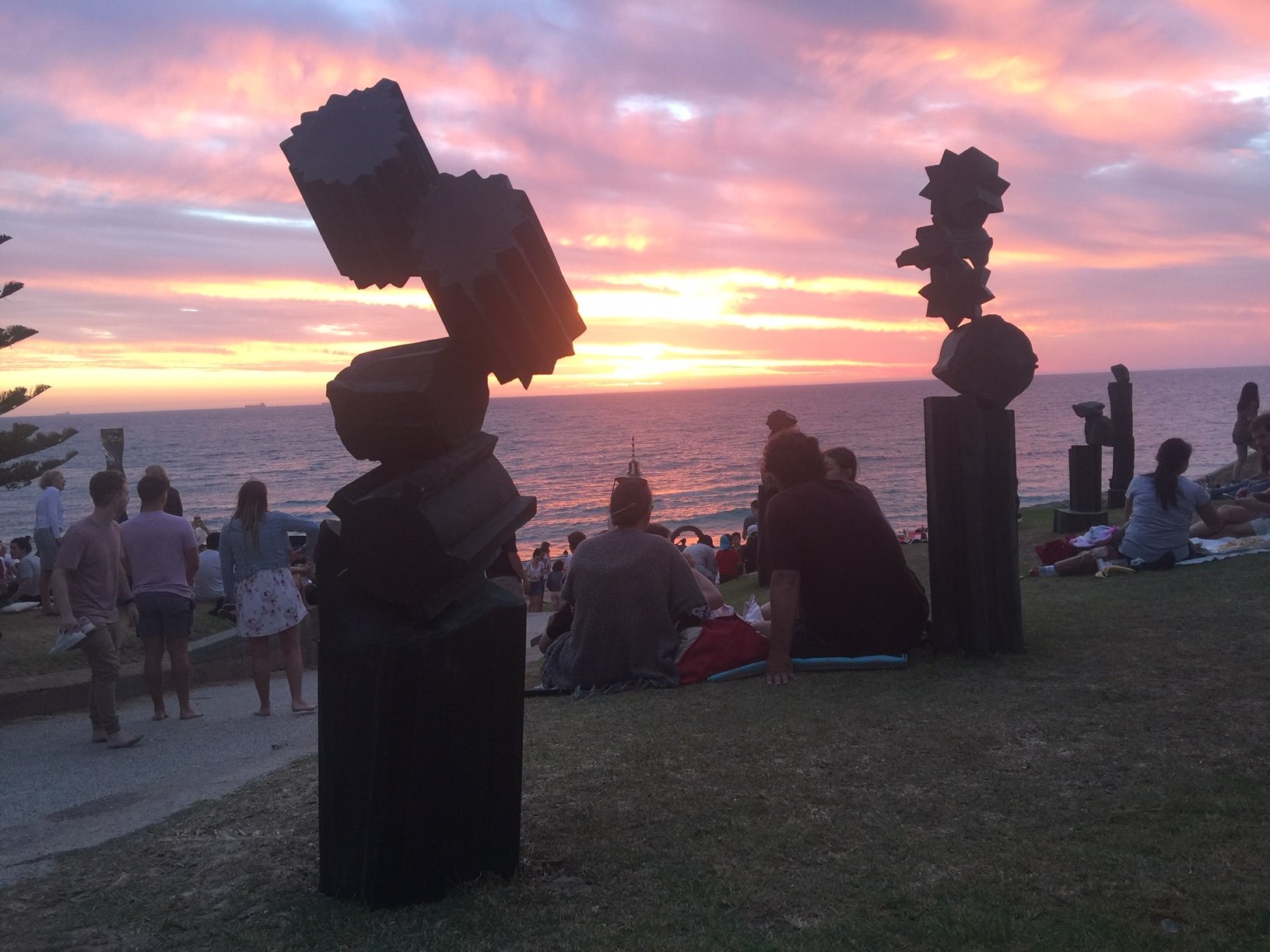 Peter Lundberg, Poets, Scholars and Thieves, Sculpture by the Sea, Cottesloe 2019 ©Peter Lundberg
The artist Heike Endemann from Germany combines her art with nature in a very special way.
Her works are pieces of jewellery for trees. Similar to collars, cuffs or rings for people. 
The artist describes it as her intention to preserve parts of felled trees. She would like to preserve the diversity of nature and ascribe a good cause to the felled tree. For this she used the wood of these trees and created works of art from them, which in turn would be attached to healthy trees. 
Her work Crawing Cottesloe is currently decorating a casuarina tree in Perth.
Heike Endemann, Crawing Cottesloe, wood, painted, ca. 98 x 52 x 34 cm, Sculpture by the Sea, Cottesloe 2019 ©Clyde Yee
The artist Isabela LLeó Castells from Spain presents her work Silent Hollows.
Her work was inspired by a carved tree in the Australian Inland. She herself says that her sculpture is a transfer of souls, a way of transferring old thoughts into our time. 
The figures are made of Macael's finest white marble and these figures are intended to make the stone as fragile as possible.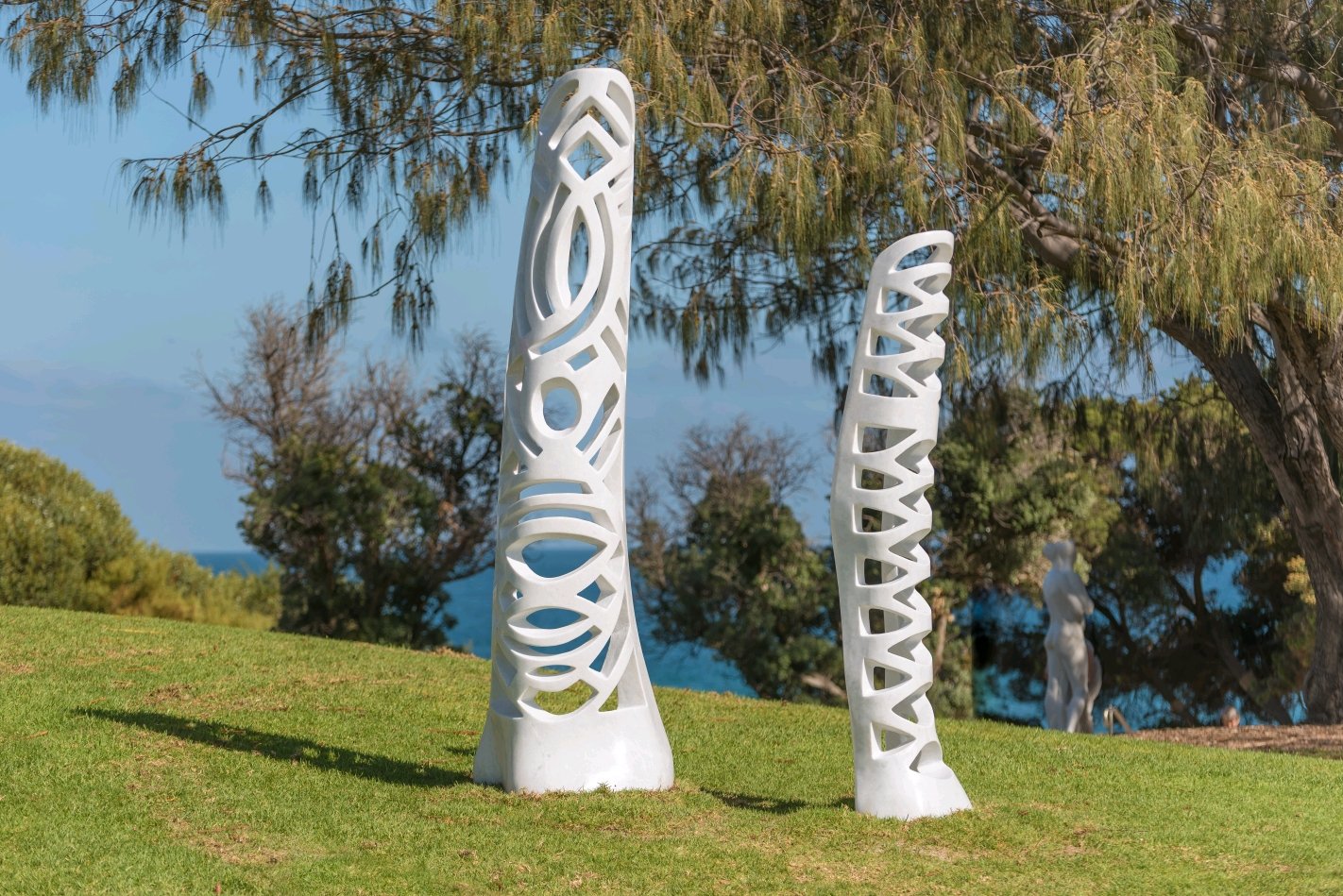 Isabela LLeó Castells, SILENT HOLLOWS I, II, Marble from Macael, ca. 250 x 200 cm, Sculpture by the Sea, Cottesloe 2019 ©Richard Watson
Other internationally renowned artists are also present, such as Phil Price, Anne Neil, Stephen Tepper, Alessandra Rossi, Miik Green, Ron Gomboc, Jennifer Cochrane, Tim Macfarlane Reid, Tony Davis, who present their exciting works on the beach.
And in 2019, sculpture by the sea again became Perth's own version of the Italian Passeggiata, fascinating visitors until 18 March. The next exhibition will take place from 24 October to 10 November 2019 in Bondi Beach, Sydney.
To get even more virtually into the Australian sun, here is the video of sculpture by the sea Watch the video
Author: Natalia Nedza 
Art, sun, beach and sea. A beautiful imagination. At least virtually we were all there.
Cover picture: April Pine, Shifting Horizons, Sculpture by the Sea, Cottesloe 2019, ©Clyde Yee