Magazine
'Trunk Show'
Jozek Nowak, a native of Poland, usually creates his famous wooden figures in quiet solitude. At start´18, the international Celebration for Contemporary Sculpture, the public could watch him work in real life.
Wood is one of the oldest materials in art and the history of wooden sculptures stretches back to the servant statues in the tombs of Ancient Egypt. The hot, dry climate of Northern Africa helped to preserve these works. In Europe the art of wood carving flourished as evidenced in the magnificent choir stalls and crucifixes of the Middle Ages and in the Renaissance by the sculptures of Tilman Riemenschneider. In the Gothic Revival the art of wood carving was reintroduced. Much later Gauguin and Picasso admired the archaic magic of African and Oceanic masks. But for a long time after that wood was no longer fashionable. In sculpture it was the age of steel and bronze. Since then semantically there has been a quick association of wood to the forest and then to backwoodsy. Perhaps that was the reason the Director of the Kassel documenta 13, Carolyn Christov-Bakargiev, felt "threatened" by a sculpture created by artist Stephan Balkenhol in 2012 in Kassel. A wood sculpture by Balkenhol, that is "not documenta", she stated. Or in other words: In an age of sterile Apple-like esthetics wood obviously has an almost subversive quality.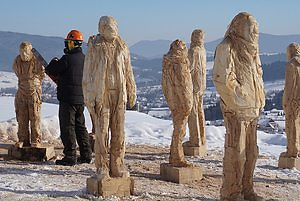 Jozek Nowak seems to be aware of that. He is after Balkenhol one of the best German wood sculptors. When he admits on the phone, that he practically grew up in the forest you can practically hear him grinning: Nowak grew up in a village in southern Poland near the winter sport retreat of Zakopane and his father worked as a lumberjack. Born in 1962, Nowak likes to remember this time - when a hatchet and a saw were his "first toys". As a young man ("I was about 23 years old") a friend gave him a glimpse of the Academy of Fine Arts in Krakow. When he walked into a sculpture studio 'things fell into place". He knew that sculpture was the path he wanted to follow. He matriculated at the Academy and received his diploma seven years later. He remained true to wood as his material of choice.
At first he created abstract forms. But when he and his wife, a restorer of paintings, moved to Pöcking on Lake Starnberg 15 years ago, he discovered his fondness for figures. "That resulted from the fact that I had to take care of our daughter quite a bit. She and the neighbours' children were my first models", he recalls. One time he made three children out of a tree trunk. Later he created likenesses of adults in his circle of acquaintances.
"I like to watch people and I like to make portraits", he says. An artist convinced him to make his "Messengers" series, which kept him occupied for two years: it is a series of life-sized, full-length wooden sculptures of ambassadors of peace in the 20th and 21st century.  Albert Schweitzer, Bob Marley, the Dalai Lama, Mahatma Gandhi, Malcom X, Martin Luther King, Miriam Makeba, Mother Theresa, Nelson Mandela, Rigoberta Menchú, Rosa Parks, Wangari Maathai and the Burmese Aung San Suu Kyi are among the illustrious people portrayed. These sculptures have been displayed in various countries.
Usually Nowak prefers to sculpt people from every day life. Since 2016 this has also included homeless people. "They radiate something very special - a unique energy and body language." He talked to some of them: "They tell me their story. Something went wrong at some point in their life and this was followed by a domino effect. In the meantime a lot of them like the freedom their life gives them. That's pretty interesting." 
He gets his commissions from private people or institutes. The Diocese of Hamburg commissioned a sculpture of the Polish Pope Wojtyla, for the Polish consulate in Munich he created a memorial to honor the 200th birthday of the composer Frédéric Chopins, in Possenhofen on Lake Starnberg he immortalized Austria's Empress Sissi for the town since she had close ties to the area. The prices for his works are rising: in the meantime galleries sell the sculptures for prices between 14,000 and 18,000 Euros.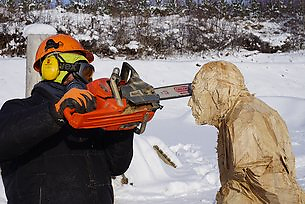 Technically he proceeds in two stages. The rough outline of a figure is sawn, the finer details are done with a hatchet. In the old days Jozek Nowak chose trunks of oak trees for his sculptures, these days he prefers poplar. "It weighs less than oak does and it has a friendlier color." He now finds oak to be too dark. The sculptures don't need any special care. "It's best to just leave the sculptures alone. Any type of products only damage them." Indoors these sculptures can last forever, he declares. Outdoors they change color or could be infested by parasites. For that reason sculptures that are to be displayed under the open sky are cast in bronze - a material that is both permanent and yet acquires an esthetically pleasing patina.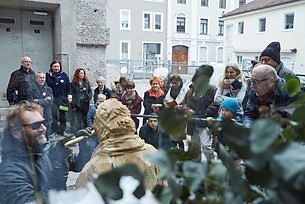 On January 28th he was immersed in the energy of people at Munich's Museum of Urban and Contemporary Art (MUCA). Starting at 11 a.m., in the framework of the start'18 festival, he worked on his newest sculpture. Anyone who had bought a ticket also got to enjoy the works of Jimmy Nelsons, a spectacular travel photographer.
 
That Sunday Nowak left his beloved chain saw at home. "I was only working with a hatchet", he says laconically. "Since it was Sunday I hadn´t got a permit for a noisy chainsaw." Nowak was looking forward to the contact with the public. "I used to do these kind of events quite often. There's much more of an exchange of ideas than in any other conversation."
His next gallery exhibit will be held this summer when Barbara Ruetz's Galerie an der Pinakothek der Moderne shows his newest works. But the opportunity to see him live during one of his "trunk shows" won't present itself again that quickly.