Magazine
Sculpture in the City: Art Woven into the Urban Fabric
Sculpture in the City is a prime example of a sustainable public art program that evolves over time, reacting to and intervening in the ever-changing architectural landscape of the City of London. Displaying some of the most innovative three-dimensional works of contemporary art, this unique urban sculpture park is open day and night and welcomes around 500,000 visitors every year.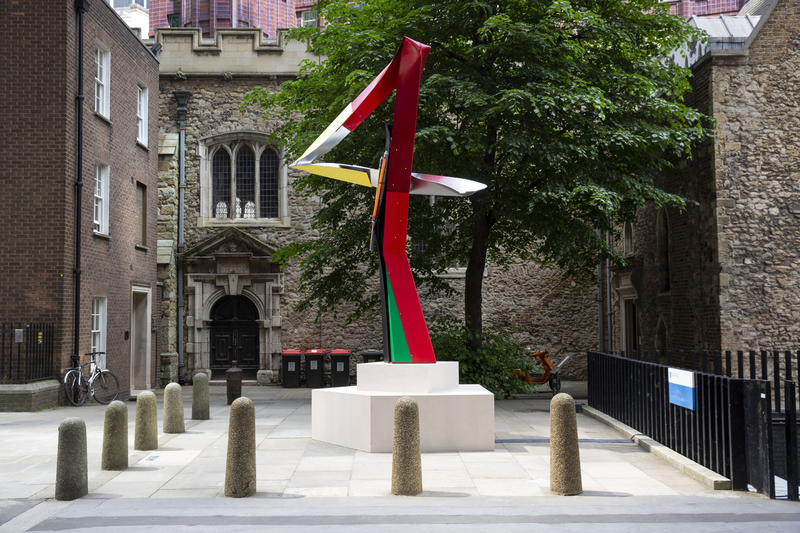 The beginning
The project was initiated in 2010, when the City of London commissioned Lacuna, a creative projects consultancy led by Stella Ioannou, to secure a piece of contemporary sculpture to humanise and invigorate the financial district area. The first edition of Sculpture in the City, inaugurated in 2011, brought together four major artworks: Sky Mirror by Anish Kapoor, Garden Pouf by Franz West (which had never been seen in public before), 3 Men Walking by Julian Opie and Screen with Folded Arms by Kenneth Armitage. Since then, every summer, Sculpture in the City has been unveiling a new selection of sculptures by renowned international and emerging artists.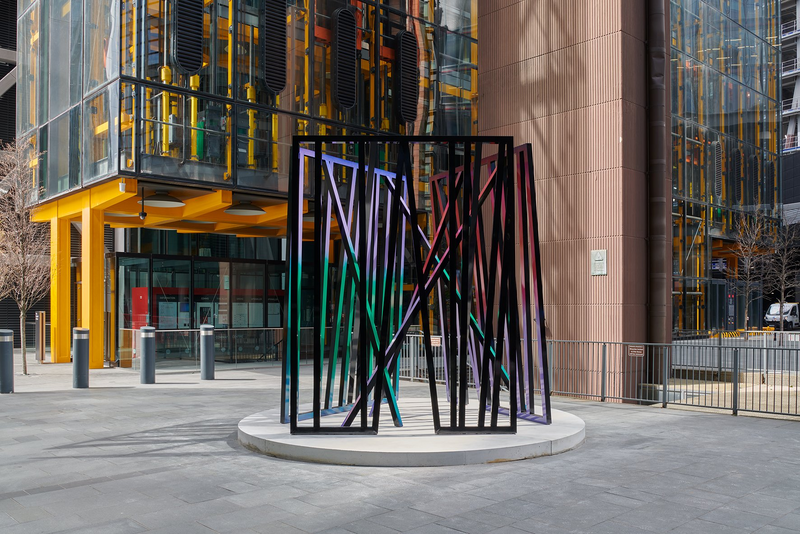 Going from strength to strength
While the first edition brought together four artists, the current edition features 19 sculptures and includes more emerging artists and experimental media than ever before. Until spring 2022, visitors can discover Eva Rothschild's Cosmos, an imposing installation composed of 3.5 metre-high slatted structures which lean into and support each other; Almuth Tebbenhoff's RedHead Sunset Stack, which playfully interprets a large toy-tower to capture the awe of the fleeting sunset; and Tatiana Wolska's untitled sculpture made from recycled plastic bottles that seduces viewers with vividly red colours and intriguing forms, among others.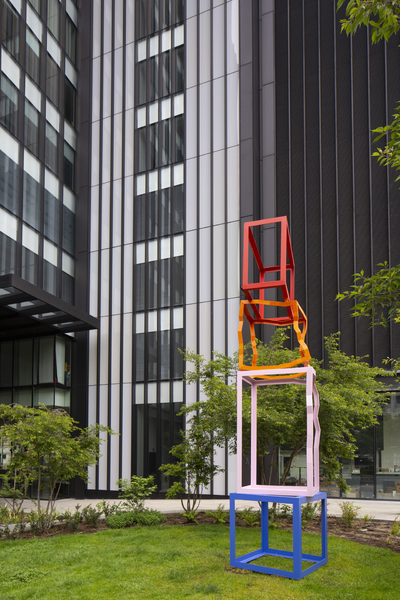 As the urban art park developed, the way artworks are selected also changed. While the first editions were by invitation only, the sculptures have been selected through an open call since 2015. The jury, managed by Lacuna and shortlisted by Arts Advisory Group, comprises renowned art professionals, including Jane Alison, Head of Visual Arts at Barbican Art Centre, Iwona Blazwick, Director of Whitechapel Gallery, Whitney Hintz, Hiscox Curator, Andrea Schlieker, Tate Britain, and invited artists from the previous editions. The current call for submission has been expanded to include not only 3D sculpture but also audio & visual, 2D graphic installation, and light & sound.
Using the urban realm as a rotating gallery space, Sculpture in the City attracts diverse audiences through additional events and activities delivered after working hours at weekends. The project actively responds to a growing appetite for a varied and ongoing programme that addresses cultural preferences of Londoners and visitors.
Satellite activities
Sculpture in the City offers opportunities for young people to engage with the City of London through an extensive educational programme. Talks and tours showcase the sculpture in the contexts of existing local attractions and cultural offers, drawing attention to the architectural landmark buildings in this unique urban exhibition space. Students from London schools also participate in workshops exploring the neighbourhood and prompting creative responses to the public spaces and the value of public art. Importantly, invited schools have students from under-represented communities, many of whom have never visited the City before or are unlikely to consider the city, art, or the built environment as career and cultural pathway options.
In partnership with Musicity, a leading global agency for music and architecture, Sculpture in the City commissions music inspired by the architecture of the project sites. Ranging from modern classical to electronic soundscapes, site-specific compositions have been created by Sarathy Korwar, Midori Komachi, Bambooman, Angele David-Guillou, and Mixmaster Morris, among others. The tracks are freely available to enjoy as part of the project and can be listened to at home or in situ through the dedicated Musicity website.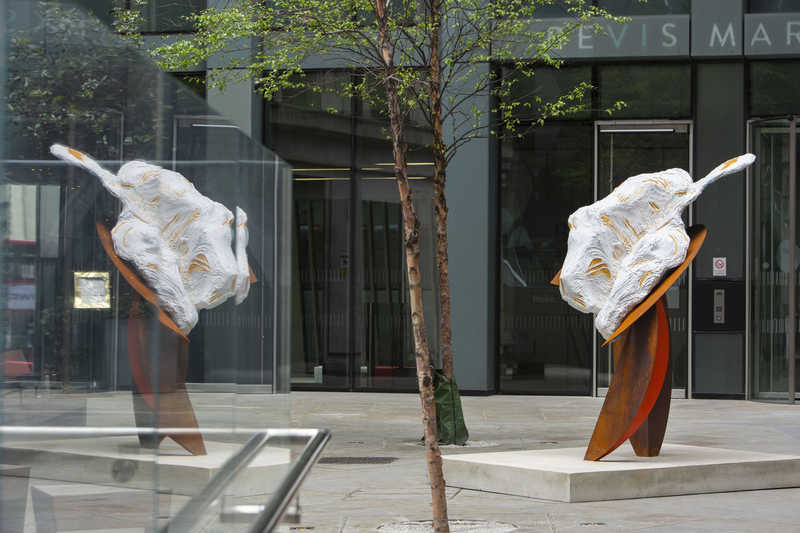 Art after dark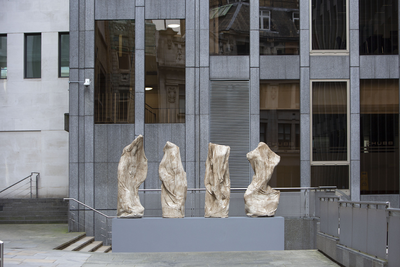 In July 2021, Sculpture in the City and Whitechapel Gallery celebrated the third edition of Nocturnal Creatures, an annual late-night contemporary art festival. For one night only, sculptures came to life through an exciting programme of performances, music, film, and even culinary experiences. Visitors were also invited to join thematic tours and use an online multimedia guide featuring sound clips from the artists.
Sculptors animated their artworks in a range of original and inventive ways. For example, Isabella Martin performed a live reading of Shells & Time, a short story by Italo Calvino, which inspired her work Keeping Time. The story recounts the attempts of a shell trying to create a clock from its body, and explores people's attempts to keep track of time passing in a world in flux. Rosanne Robertson presented an electro-acoustic performance made by 'sounding out' the materials of their public sculpture Stone (Butch), combined with a 'cut up' performative reading of Les Feinberg's revolutionary novel Stone Butch Blues, which provided inspiration for the artwork. To activate Bloom Paradise, Jun T. Lai invited professional roller skaters dressed in costumes evoking a modern-day Alice in Wonderland. The performance was centred around the ideas of love and hope, ongoing explorations and adventures. Audiences also received floral paper masks designed by the artist, which contained QR codes linking to an electronic version of Beethoven's Für Elise.
Jun T. Lai, Bloom Paradise (2019), copyright the artist, Photo: © Nick Turpin
Transformative powers
Sculpture in the City is an example of a unique, giant exhibition that has brought a new spirit to an urban area dominated by monumental skyscrapers and empty squares. Over the last ten years, Sculpture in the City has exhibited 131 artists, including the likes of Antony Gormley, Xavier Vielhan, Anthony Caro, Shirazeh Houshiary, Miroslaw Balka, Ugo Rondinone, Sarah Lucas, Giuseppe Penone, and many others. Having transformed a mundane urban district into a world-class destination for public art, Sculpture in the City continues to partner with local businesses and public institutions to expand the scope of the project. While more and more sculptures become part of this public art trail extravaganza, innovative satellite activities and additional programmes enliven the sculptures throughout the year, actively promoting three-dimensional art to ever-wider audiences.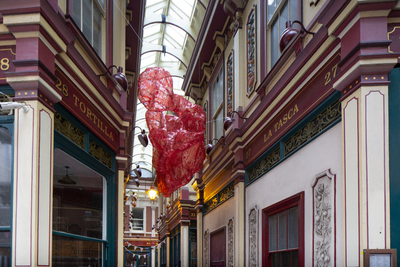 Sculpture in the City 2021, London, UK. Free access, free admission 24 hours a day, 7 days a week: https://www.sculptureinthecity.org.uk/visit
Call for Submissions, deadline 27 October 2021
https://www.sculptureinthecity.org.uk/call-for-submissions/
Author: Marek Wolynski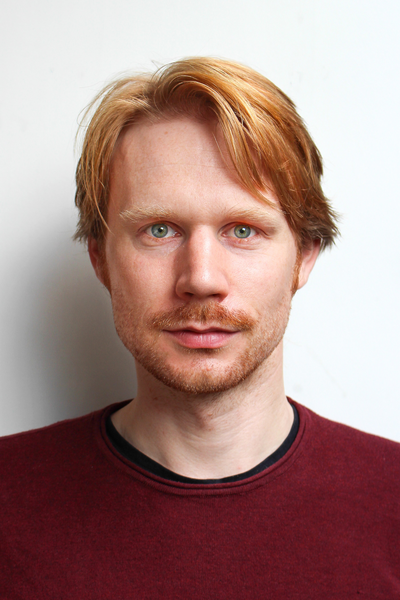 Marek Wolynski is a London-based curator, creative producer, art writer and contributor to international art magazines. His practice has been increasingly focused on innovative public engagement and advocating for visceral, multi-sensory experiences. Marek is particularly interested in the interplay between art, nature, and technology.
Published: October 2021
Cover picture: Ruth Ewan, Silent Agitator (2019), A High Line Commission, Courtesy of the Artist and Rob Tufnell, Photo: © Nick Turpin