Magazine
Our trip to Northern Spain: discovering contemporary sculpture fair SCULTO and much more
Experiencing first hand Spanish contemporary sculpture and its protagonists.
The entire Sculpture Network tour in Bilbao and La Rioja region from 8th to the 10th of October this year was simply an impressive Experience in itself. A mix group of 30 art professionals, artists and art lovers discovered the well-known Guggenheim Bilbao as well as some unknow and hidden pearls.
One of this was art fair SCULTO in the city of Logroño – situated on the famous Camino de Santiago. SCULTO_2021 is the IV Edition of the only international Contemporary Sculpture Fair held in Spain and selected by the Observatory of Culture in Spain in the "TOP 100" of the most important cultural events in Spain; one of the only two Fairs, together with ARCO, to occupy such a prominent role among the more than one hundred Fairs held every year.
During two hours tour we could enjoy the twelve stands and meet the exhibiting galleries and artists accompanied by Curator Pilar Rubí and Isabel Durán. Including the ESPACIO PRIMAVERA 9, recipient of this year sculpture network Award together with Artist Odnoder. Their interviews will be published soon on our website.
We were also happy to meet some Sculpture Network members such as artists Almudena Torró and Teresa Esteban. All in all it was a full immersion on contemporary Spanish sculpture expressed by a huge variety of materials and themes. Some of our participants didn't miss out on the opportunity and brought some pieces of it.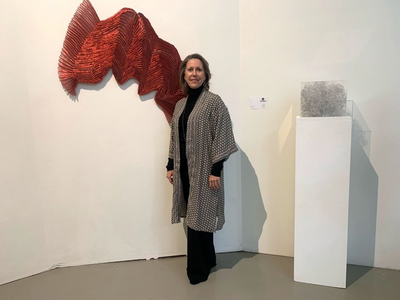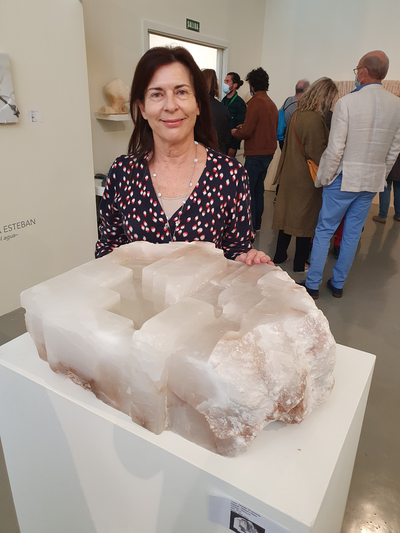 Sculpture Network is incredibly proud of supporting SCULTO and for this edition we have extended our cooperation by highlighting the work of 15 sculpture network members in an online gallery on their website. They have been selected between 90 applications and have been presented also during the fair celebration as well as on our social media pages.
In addition to exploring the local art scene, our trip also focuses on networking and the group experience. Ranging from the sculptural eccentric architectures of new wineries to a sumptuous 7 course meal –  we revelled in both culture and pleasure! A detailed report will follow soon, stay tuned!
Author: Ilaria Specos

October 2021
Cover picture: sculpture network group visiting the ESPACIO PRIMAVERA 9 stand