Magazine
EGS writing stories with tree letters
Finland's internationally most widely known graffiti artist EGS, has discovered a new means of expression in the endangered craft of glassblowing. In 2020 an impressive display combining glass, painting and photography by EGS will be on show in the large exhibition room of the Finnish Glass Museum.
EGS, born 1974 in Helsinki, is one of the most successful Finnish artists of his generation, and one of the most widely networked graffiti artists in the world. Preferring to remain anonymous, EGS has expanded his repertoire to glass art in recent years and has aroused international interest also with his new works. 'Writing Stories with Three Letters', will fill the museum's large exhibition room with works combining glass with various techniques. In a manner typical of EGS, the new works will also relate to international society and the contemporary changes that are taking place in it. 'Glass art of a new kind will be on show rather than objects in glass cases. I've written a completely meaningless combination of letters for 30 years, and now I can do something deeper', EGS sums up.
Graffiti and glass art are sweaty joint efforts – and in the margins. 'The masters of Finnish glass art put Finland on the world map in their day. It has been an unbelievable opportunity to work in the same spaces as people whose forms of expression were so uniquely visionary. We have learned a great deal from each other. While graffiti used to be marginal, glassblowing is now becoming a threatened genre in Europe. The search for good glassblowers greatly resembles the early 1990s, when the few graffiti painters that existed were trying to find each other and to set out to learn things together. A shared factor was also the element of physical danger; sweaty joint effort is what happens here', EGS points out.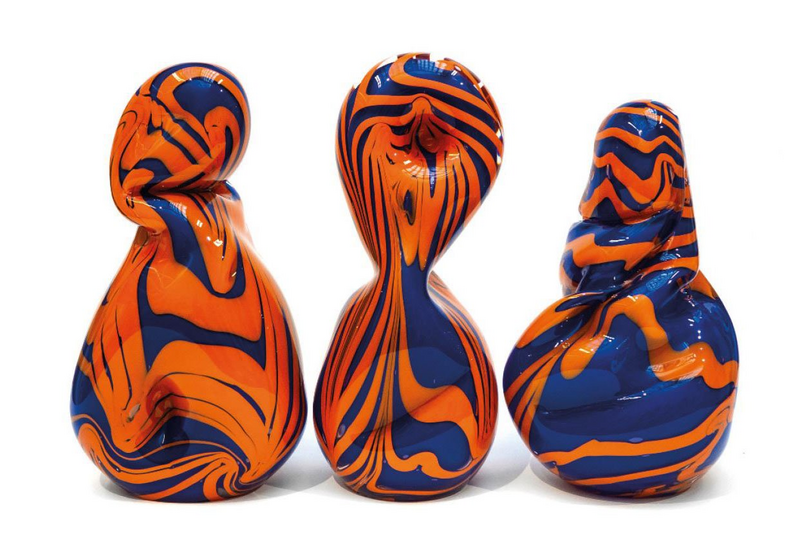 Riihimäki's special role in both glass and graffiti. The collections of the Finnish Glass Museum contain a large number of rare works in glass art, and the museum is an important centre of glass art also internationally. Located in Riihimäki, the museum building was originally built as ground peat plant in 1914, after which it was a glassworks, among other uses, and finally the crystal cutting facility of the Riihimäki Glassworks. The Finnish Glass Museum moved into the building in 1980. The museum and its permanent exhibitions were designed by academician artist Tapio Wirkkala.
The EGS exhibition will be held in the museum's large exhibition room, which used to be the glassblowing workshop of the old glassworks. With its trains and railway yards, Riihimäki is also a link with Finnish graffiti culture. 'A few decades ago, I travelled to Riihimäki to paint graffiti on trains, and now I'm on a train on my way to meet master glassblowers. The same locality is again serving as a background for something new, giving an added meaning to what I do. You think of what you did in your youth from a new angle and return to that mindscape and transfer also that in a new way into art', EGS explains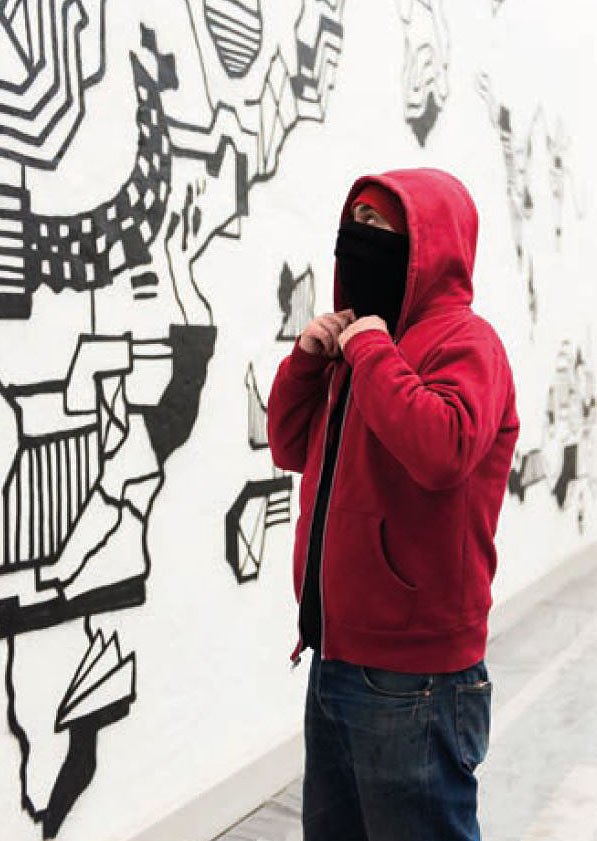 EGS in front of a grafitti picture
EGS, who began his career in the late 1980s, has studied graffiti as an artform: its history, styles and tradition. In recent years, he has sought to efface the boundaries between street and gallery art and to expand his expression beyond graffiti. In 2018, the Finnish Art Society invited EGS to give a solo exhibition at Kunsthalle Helsinki. This was the first time ever that a graffiti artist had been invited to hold a solo exhibition in a Nordic art museum. The opening drew the largest audience in the history of Kunsthalle Helsinki, and the exhibition was seen by over 15,000 visitors. Works by EGS are included in Finland's leading collections of contemporary art and they have also been displayed in galleries and museums from London to New York and from Sydney to Stockholm. EGS still tours the work painting on streets and abandoned buildings. There are no photographs of him and he does not reveal his face or identity.
Author: Uta Laurén
This article was published as part of our cooperation with GLASSHOUSE The International Magazine of Studio Glass 4/2019.