Magazine
Of Life and Art in Uncertain Times
… and what to make of them. Uncertainty is a constant of the human condition, a feeling that makes a steady companion. It bears opportunities and risks – which has made uncertainty a recurring theme in art. A plea for how art itself can help us cope with inescapable insecurity.
We live in uncertain times. The phrase seems so concrete, yet is actually so very global. Aren't all times times of uncertainty? From our subjective perspective as people, with our need for security, don't we always feel somewhat insecure, drifting, not knowing what the future will hold? At present in particular, many might feel close to overwhelmed by uncertainty. And yet, we may find comfort in the thought that all times are indeed uncertain times. 

It doesn't come as a surprise that this very issue has touched upon all aspects of life throughout centuries, even millennia. With the elevation of skepticism to a new school of thought in the 3rd century BC, uncertainty developed into a system per se, an unavoidable aspect of human life. And as most things that touch upon human life, uncertainty came to play a role in art, too, as sujet as much as modus operandi. Now we may protest and cry for artistic self-confidence: an artist should be confident about their art and, once created, they should be true to their work. Reluctance, doubt, a moment of hesitation are all inevitable to the process of creation, and, at times (maybe even more often than we expect?), feed into the finished work of art. Three-dimensional works seem rather predestined to display this experience.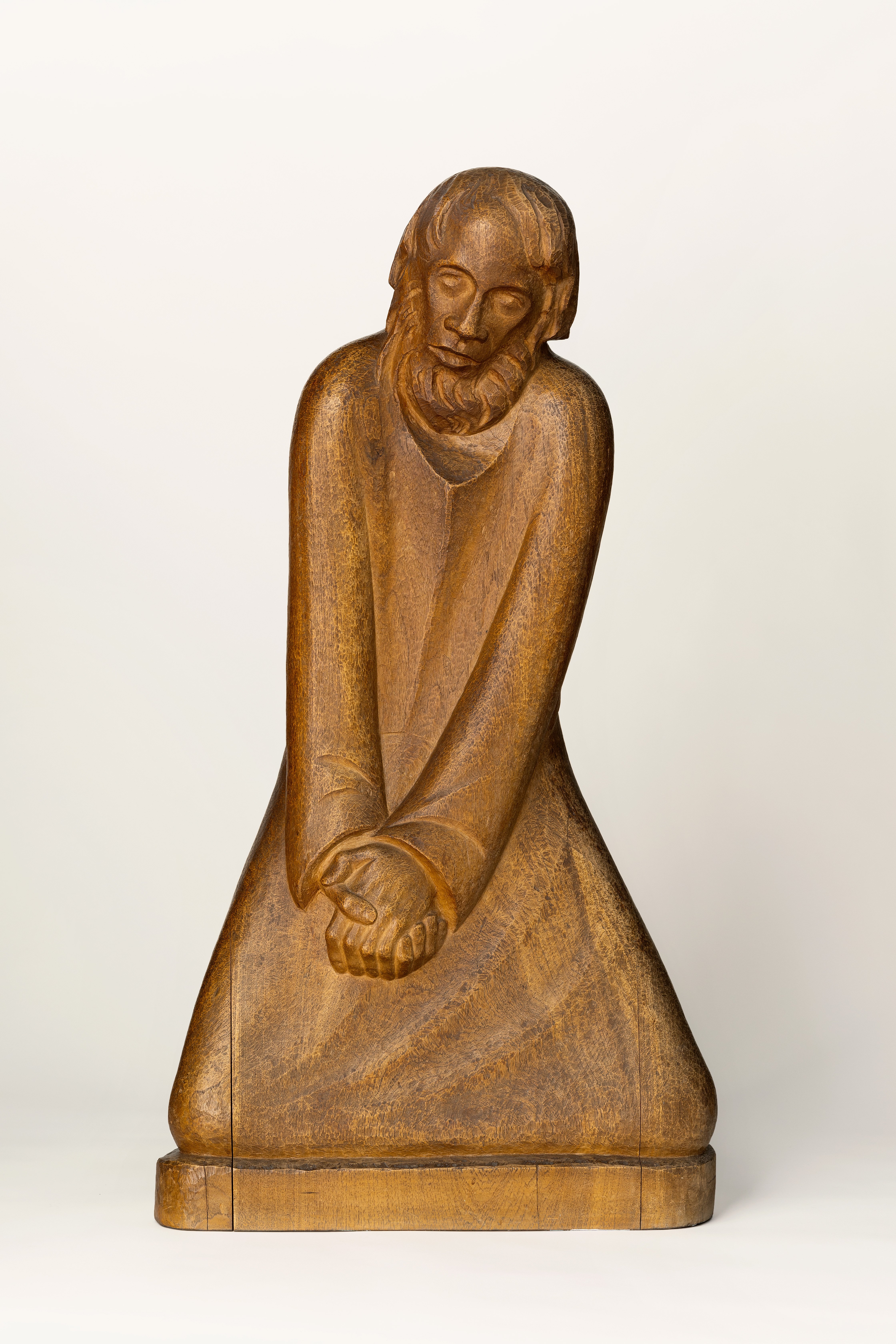 Ernst Barlach: Der Zweifler (1937). Holz.
Fotograf: Andreas Weiss
©Ernst Barlach Stiftung Güstrow
Let us turn the clocks back by ninety years to a surely uncertain era almost everywhere but especially in Europe and Germany. Grim events foreshadow bleak prospects. Political uncertainty weighs heavy on Europe.  Ernst Barlach's (1870–1938) Zweifler (The Doubter), his magnificent wooden sculpture from 1931, incorporates the feeling of a whole community; fear is looming under uncertainty, threat – being threatened. Brought down to his knees, imploringly, the Doubter is weighed down by a feeling he is incapable to fight. He may already see the impending doom. That which is still hidden, uncertain, will certainly not bode well. The uncertainty he experiences doesn't hold opportunities, hardly any hope – and doubt slowly turns to despair.

Ernst Barlach didn't live to see the horrors that succeeded the uncertainty he had identified and carved into wood. During the last years of his life, – he would only live another seven years after making the Doubter – Barlach was exposed to Nazi slander campaigns that declared his expressionist oeuvre "degenerate art" (entartete Kunst). The apprehension of the events to come, expressed in the Doubter's inscrutable gaze, has been recorded in this sculpture; a moment of uncertainty passed down to posterity. We may still sense it, even though we live in so very different uncertain times.

Living in the 21st century, we may count ourselves lucky to have escaped the era of Barlach's Doubter. The feeling of uncertainty, however, has not vanished and stayed with us as a societal constant. It is hence hardly any wonder, that this emotion is frequently and repeatedly expressed in art. Does this maybe help to cope? Also ninety years after Barlach's Doubter, contemporary artist contemplate the experience of uncertainty, doubt and hesitation. The Seoul and Berlin-based artist Haegue Yang (*1971) dedicated her current exhibition In the Cone of Uncertainty at The Bass Museum of Art  to same experience. Yang's oeuvre often plays with uncertainty as social fact: the work deals with contemporary and historical moments of uncertainty. Yearning Melancholy Red (2008) conveys the idea of being in-between, a lack of belonging.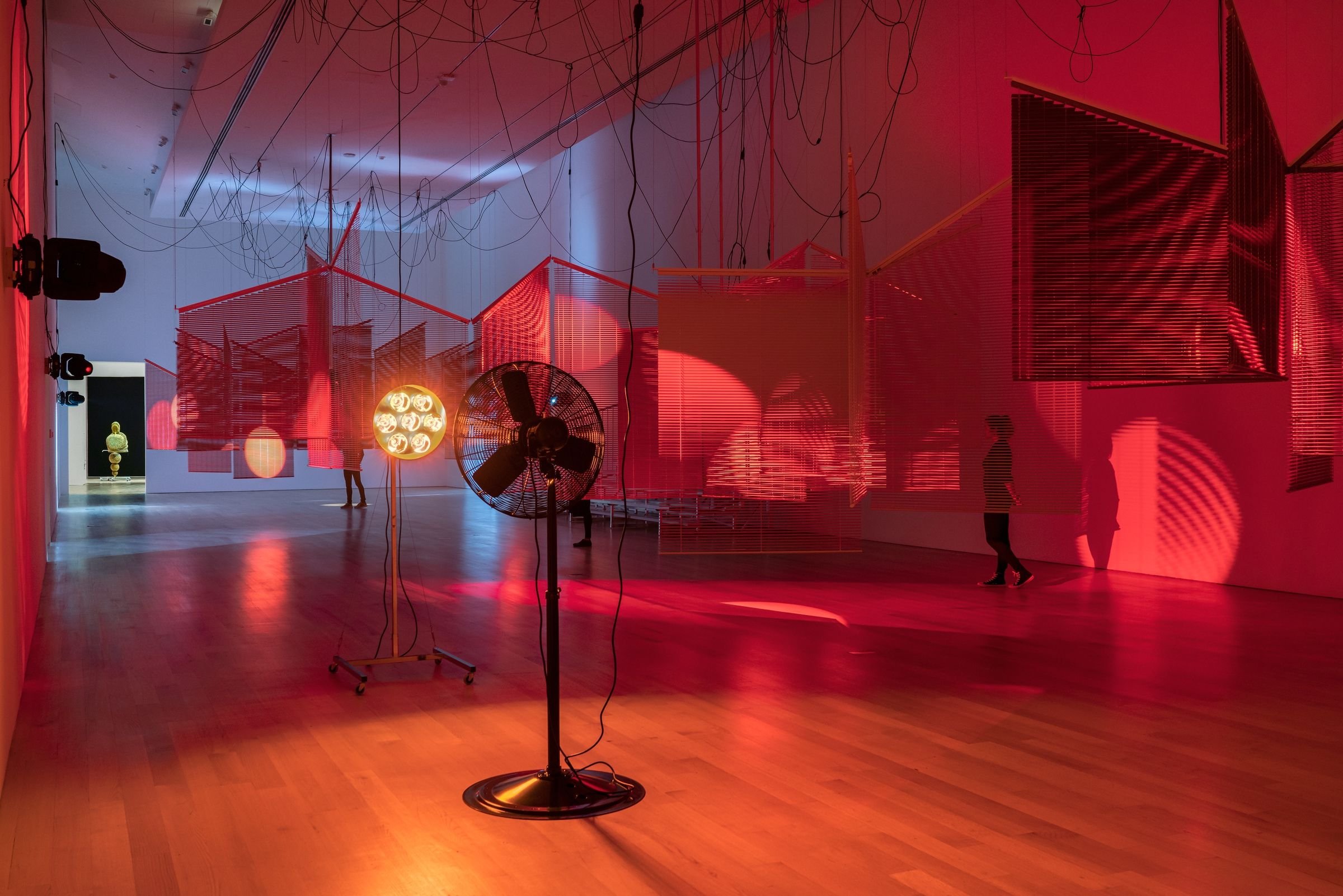 Haegue Yang: Yearning Melancholy Red (2008). In the Cone of Uncertainty, installation view at The Bass Museum of Art, Miami Beach, November 2, 2019 - April 5, 2020.
Image courtesy The Bass, photography by Zachary Balber.

The work alludes to the childhood experience of French author and director Marguerite Duras who grew up in French Indochina (in today's Vietnam) in the 1920s. Being French in French-occupied territory, Duras was forced to negotiate her affiliation with a social grouping time and again. Yang's installation, made of blinds, cables and other materials reminiscent of industry, strikes with its variability: it never displays more than a snapshot, the corporeal uncertainty is so to speak intrinsic to the work's concept itself.

In contrast, Yang's Coordinates of Speculative Solidarity (2019) created for the museum The Bass and tailored to the stairwell of the building is literally fixed in space. Admonishingly, in collage-like style, she processes meteorological data that illustrate the impending climate change. In some way, it is speculation, uncertainty… yet something is bound to happen, that is for sure.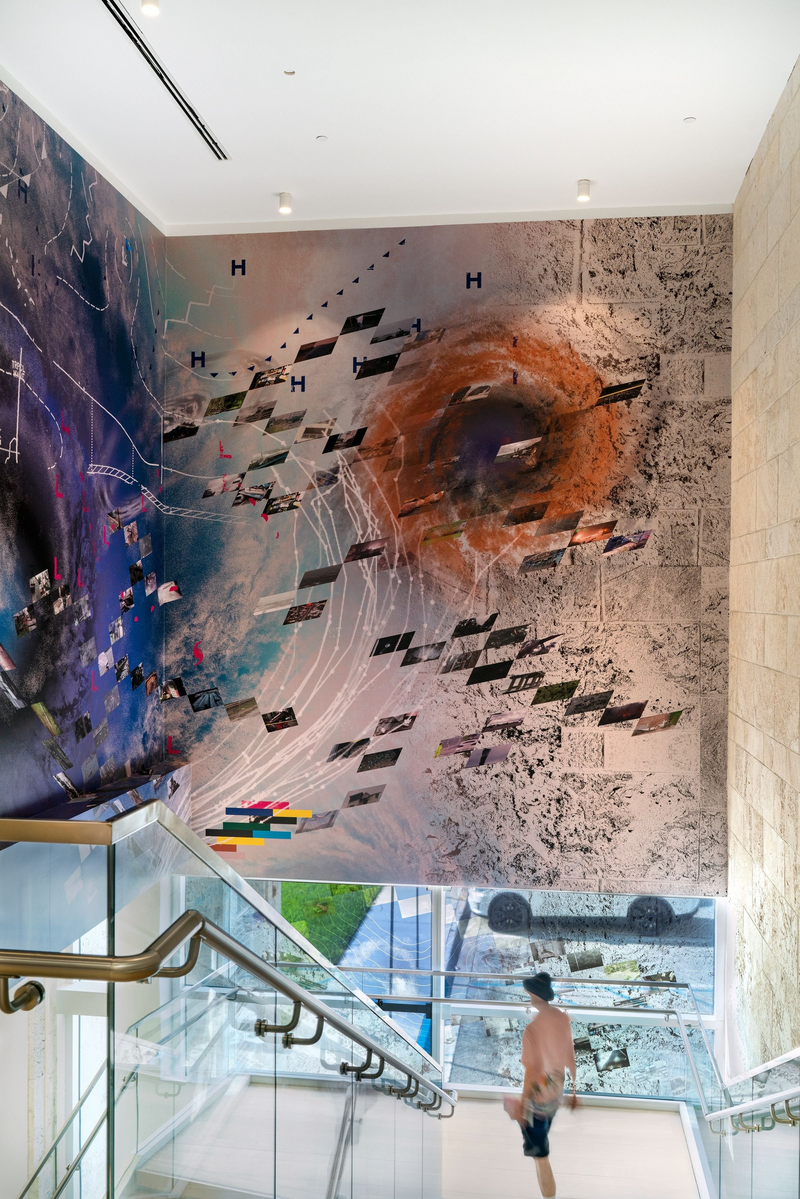 Many a time, the moment of uncertainty seems to emerge in art as a bad luck charm. As an expression of pessimism or a voice to the distressful experiences of earlier generations. However, uncertainty, or even doubt, isn't inherently bad. The beauty of the uncertain is found where we don't yet know for sure what the future will hold, which positive developments may still come our way. Here hope inserts itself in uncertainty, a driving force that we should not underestimate. It is one thing to portray one's own insecurity, let alone the insecurity of a whole community; it is a very different thing to overcome said insecurity.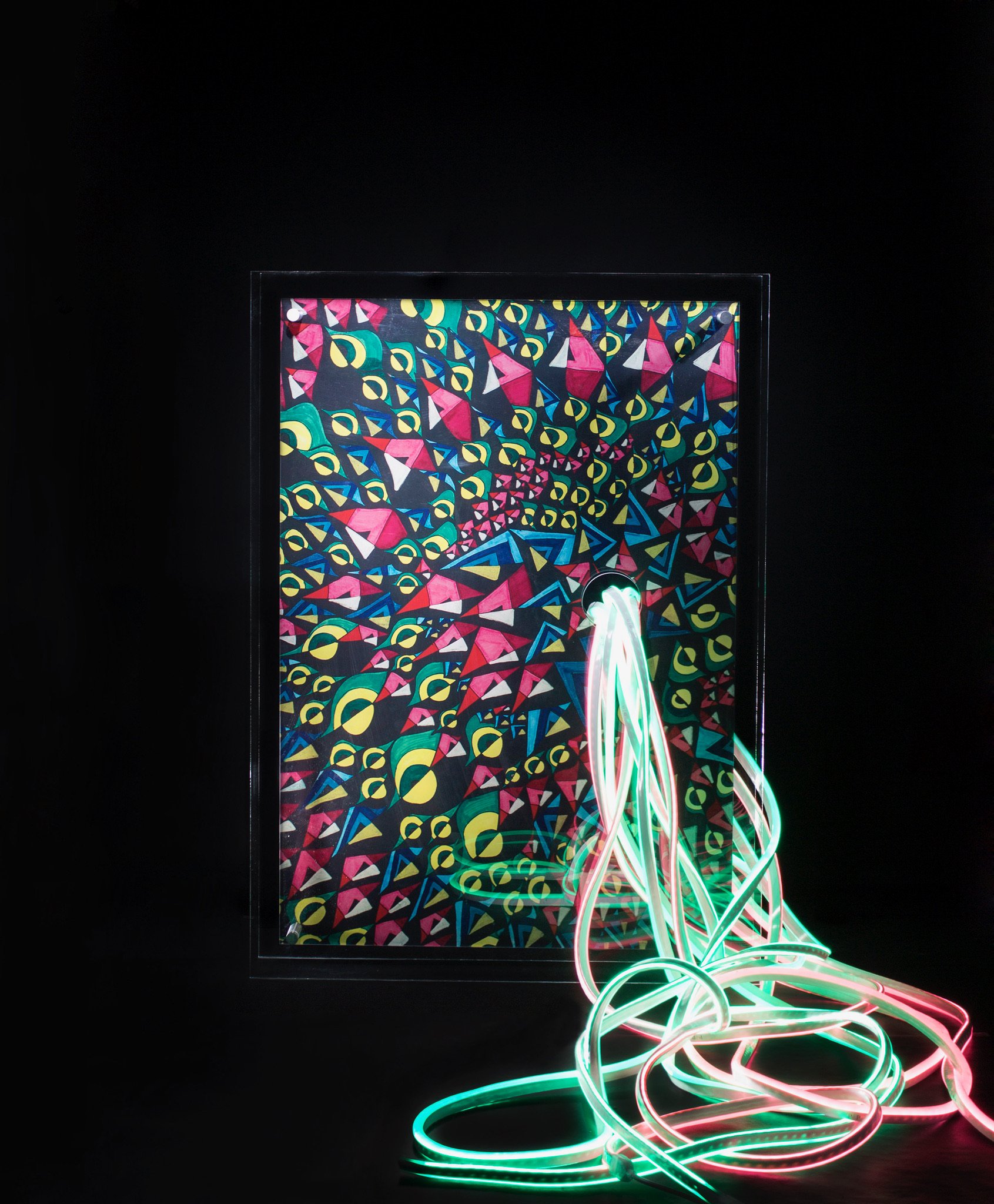 Arantxa Rodriguez:
Open to Uncertainty (2017).
In 2015, the Mexican artist Arantxa Rodriguez produced a drawing entitled Uncertainty, a two-dimensional work visualising an emotional pattern in geometric shapes. Two years later, she broke through her own insecurity and two-dimensional space: with Open to Uncertainty (2019), she courageously advanced into the third dimension – her drawing printed over acryllic glass is pierced by light hoses that protrude from the second dimension and illuminate the surroundings. The work conveys the hope for a new, brightened future by overcoming one's own doubts. Uncertainty turns to opportunity: who can say that the future does not hold greatness, beauty for us?
Or, to speak with the words of Arantxa Rodriguez: If we do not open ourselves to the unknown, we will be losing a lot of light.
Cover Image: Closeup von Arantxa Rodriguez: Open to Uncertainty (2017).
This article was published on October 30st, 2020.