Magazine
A Walking Tour of Málaga, City of Art on the Costa del Sol
Vacation season, but you're stuck at home? Sophie Fendel takes you on a little stroll through the art-filled city of Málaga, location of the XV. Sculpture Network International Forum. Come along!
Summer time! Are you on holiday, sitting by the poolside, a colourful cocktail in your hand and the hot summer sun in your face? Maybe you're exploring the wild outdoors or touring the art museums of Europe? No? Then it's time to do something about it! Let me take you on a little journey to Málaga, location of this year's Sculpture Network International Forum and birth place of none other than Pablo Picasso himself. A city that bustles with art and culture, beautifully situated on the sunny Southern coast of Spain, with a spectacular view of the Mediterranean Sea and an intriguing history.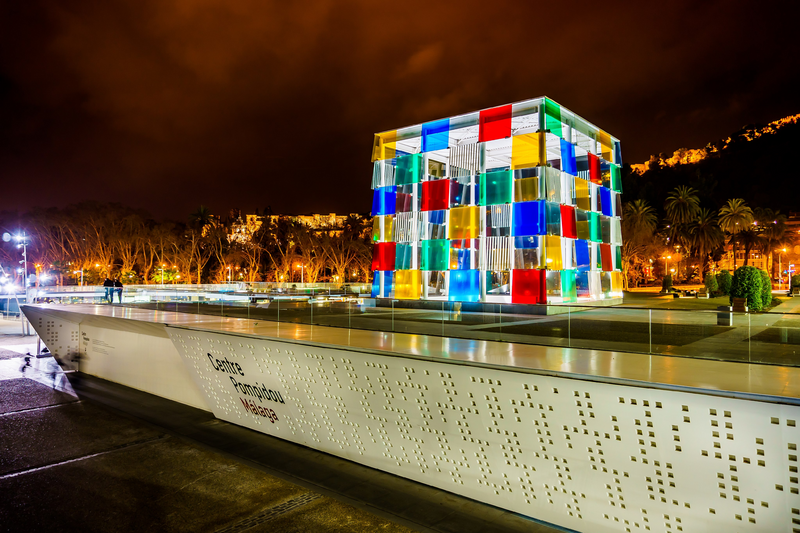 Let's go!
Are you ready? Then follow me to the port of Málaga, right by the beach, where we begin our tour. The sun is warming our faces, a friendly wind is blowing from the open sea, and we have just had a cup of coffee and a piece of the typical Andalusian Tarta Malagueña. Refreshed, we turn towards the city and come face to face with the colourful glass panels of the Centre Pompidou  glistening in the sun. Centre Pompidou? Yes, you heard correctly. No, we haven't made a jump to Paris – but Paris made a jump to Málaga in 2015 when the famous Centre national d'art et de culture Georges-Pompidou expanded to the Costa del Sol. Ever since, "El Cubo" (The Cube) has housed a small part of the museum's collection of modern and contemporary art behind its colourful façade. You might want to come back in October to have a look inside. The XV. International Forum offers the perfect opportunity to enjoy the museum's many treasures in the inspiring company of other art enthusiasts and professionals. But for now we have to keep going. There's a lot to explore.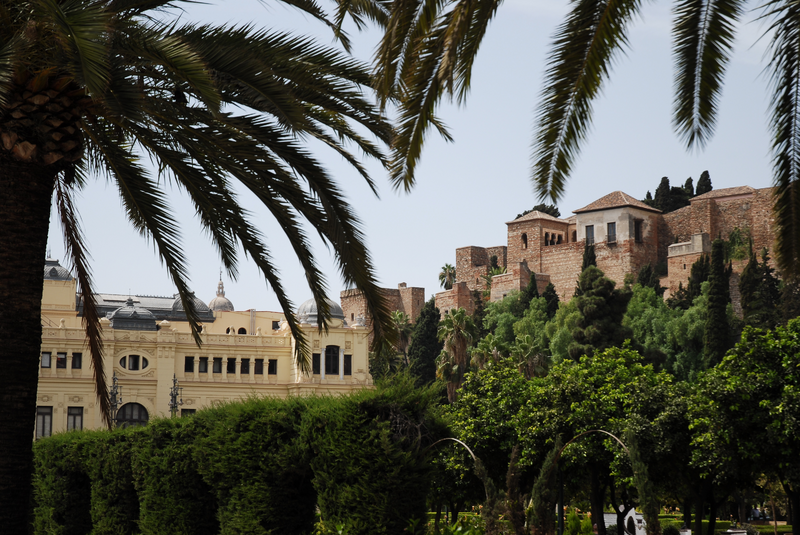 3.000 years of history
In the shade of tall palm trees, we stroll through the Parque de Málaga, past pavilions, fountains and sculptures illustrating the cultural dimension of the city's green heart. We might greet some locals enjoying a break from their busy daily lives in passing before we exit the park, catching a first glimpse of the historic beauty of the city centre. Yes, I will wait for you to take a picture. The Alcazaba, up above our heads to our right, really is a sight to behold: Its many walls and roofs hide all the glory of Arab craftsmanship from the 11th–14th century, and the Roman theatre at the base of the hill serves as a reminder of an even more ancient history. In fact, it goes back even further, almost three millennia, to when the Phoenicians founded the city in the 8th century BC. Beyond the Alcazaba rises the imposing silhouette of the Castle of Gibralfaro. But hiking up there is not our goal today. Instead, we turn a little to the left and head for one of the main attractions of today's tour: the Museo Picasso . On our way, take a peek at the renaissance cathedral Santa Iglesia Catedral Basílica de la Encarnación with its countless small balconies and windows. Picasso, famously critical of the Catholic church, might not have been a regular visitor to these halls, but we can still appreciate the intricate sculptural detail of the building's baroque façade.
Picasso's legacy
Let's not dwell on the distant past any longer and turn towards more recent art history. It's been only 50 years since the artist who shaped popular notions of modern art like no other died: This year, in 2023, we celebrate the anniversary of Picasso's death in 1973 – or rather the life and work of an exceptional artist which began right here in Málaga. Follow me into the gorgeous 16th century Palacio de Buenavista that is currently home to almost 400 of Picasso's works, 120 of which are on display. What an awe-inspiring feeling to stand between so many of the most iconic pieces the prolific artist created in the 91 years of his lifetime. Let's move past paintings like Bather (1971) and drawings such as Mademoiselle Léonie (1910), each of them worth pondering in their own right, and enter the room dedicated to Picasso's sculptural oeuvre.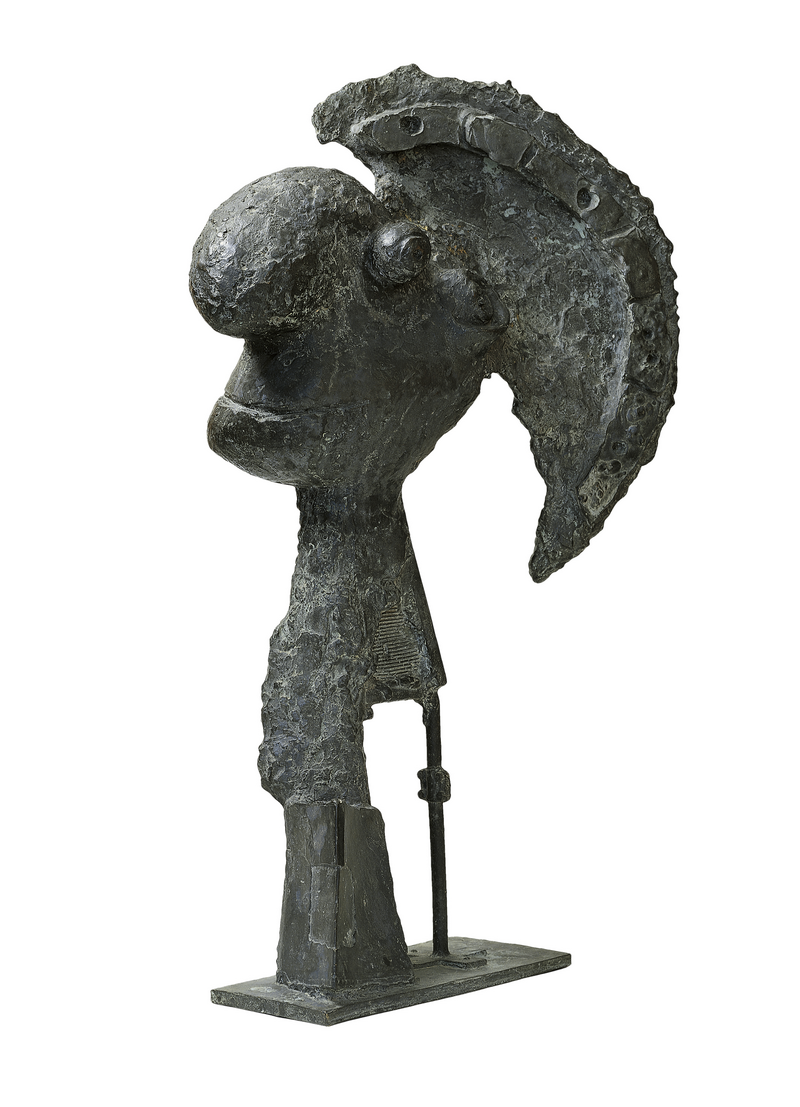 Is that a raised eyebrow I see? Understandable. Like many others you might not be as familiar with Picasso's three-dimensional work as with his thousands of paintings. Exhibitions focusing on this facet of his career are comparatively rare. If that's the case, I assure you you've been missing out: Just look at a piece like Head of a Warrior (1933)! The bronze sculpture ties together antiquity and modernity in a unique fashion by incorporating everyday objects like tennis balls (used for the shape of the eyes) in the process of creating a piece reminiscent of ancient Roman armour. Picasso's three-dimensional work proves to be no less innovative than his paintings. As a fan of sculpture, you must be thrilled to hear this.
Breathing the same air as Picasso …
Let's step outside to enjoy some more of that wonderfully warm summer air and follow a little further in Picasso's footsteps. You will have plenty of time to explore the Museo Picasso if you join Sculpture Network during the XV. International Forum in October – we have an extensive guided tour of the museum planned, and there's still time to register.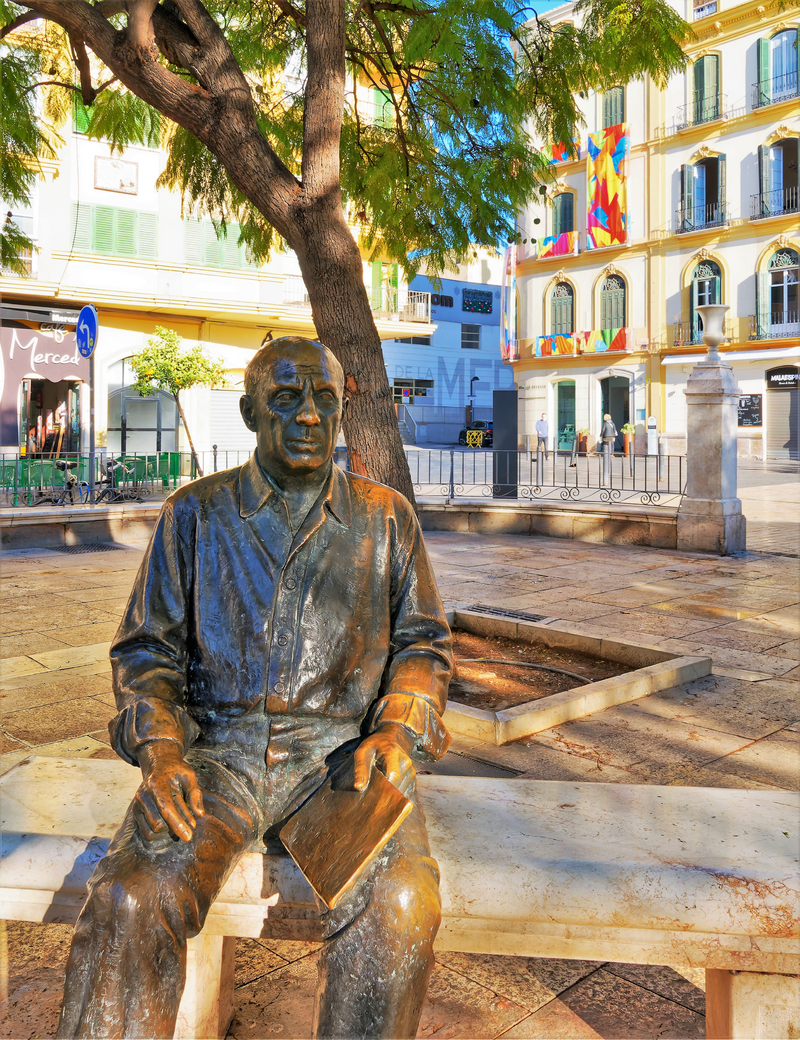 Now allow me to guide you through the narrow streets of Málaga towards the Plaza de la Merced, where we will … Wait, where are you going? Oh, I see you discovered the master himself, cast in bronze, sitting idly on a bench with a view of the plaza. Okay, we'll wait for those tourists to finish up their selfie with Picasso, then I'll gladly take a picture of you sitting next to him. But let's not forget the main attraction. Why don't you turn around? Yes, that corner house with the green window shutters is where Picasso was born. Of course we can go inside. The building houses the Museo Casa Natal Picasso [https://museocasanatalpicasso.malaga.eu] with a permanent exhibition of the artist's early years. This is your once in a lifetime chance to breathe the same air as the man himself.
… but not just Picasso
We have talked a lot about Picasso – you can hardly escape his constant presence here. But rest assured, Málaga is so much more than just him and his artistic legacy. If we were to add a short bike ride to our walk, we could, for instance, pay a visit to the CAC – Centro de Arte Contemporáneo  (Center for Contemporary Art) near the other end of the port.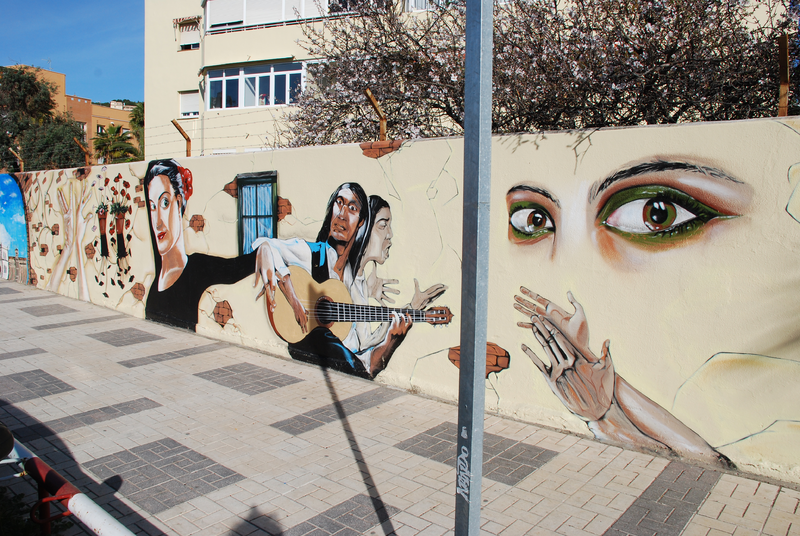 It's not just a renowned exhibition space showcasing works by influential modern sculptors such as Louise Bourgeois and Anish Kapoor, but also a gateway to a vibrant art district, called lovingly "the Soho of Málaga". Thanks to project MAUS there's hardly a wall not adorned with a mural or graffiti here. You might want to come back to Málaga just to enjoy this El Dorado of urban art. If that doesn't tickle your fancy, maybe you'd prefer to peek inside one of the many other museums. Trust me, there's something for every taste, whether it's Spanish painting of the 19th and early 20th centuries (Museo Carmen Thyssen  or cultural heritage (Museo de Málaga

That concludes our tour. I will leave you here at this bench, side by side with Pablo Picasso, in the golden light of the evening sun. The day is nearing its end, and you might want to head out to one of the many restaurants offering typical Spanish cuisine or take a sunset stroll along the beach. I hope you enjoyed our little tour. If you'd like to see it all with your own eyes, your best chance is attending the XV. International Forum in Málaga on the topic of "Sculpture and Climate Emergency" from 5–7 October 2023. It's not too late to sign up for inspiring talks, breath-taking art, and a lively exchange with other sculpture enthusiasts: Learn more about the Sculpture Network International Forum in Málaga.