Magazine
Moving sculptures: Fascinated by Kinetic Art
The latest edition of the sculpture network Online Club was filled with an atmosphere of creative freedom and admiration for kinetic art. On November 7th, 2022 the members gathered around to enrich their knowledge of moving sculptures and artistic approaches to this playful way of creating art pieces. First, Christian Le Dorze, collector of abstract and kinetic art, presented his current project – MOUVEMENT: Hommage à Denise René – an exhibition in Bonisson Art Center, followed by Knopp Ferro, member of Online Club and artist who creates continuously moving line sculptures.
Christian Le Dorze started the presentation with a brief yet amazing history of creating the Bonisson Art Center as a way of sharing his «passion of collector» with the world. His open-minded ideas of collecting art pieces and a constant «wish to bring something to the community» became real in the former cellars of Château Bonisson in Provence in January 2021. With its free access for visitors and up to 4 curated projects a year, the Center became an attractive art destination for diverse audiences and various contemporary artists driven by experimenting with all forms of plastic expressions.
Starting his way as a collector a while ago with paintings and later focusing on kinetic art, Christian Le Dorze points out that encounters with the artists and the community only increased his interest in contemporary art. As for the current project MOUVEMENT – the Center's 6th exhibition, Christian Le Dorze notes that his personal acquaintance with a late pioneer in the Parisian gallery world Denise René is one of the reasons this homage was curated.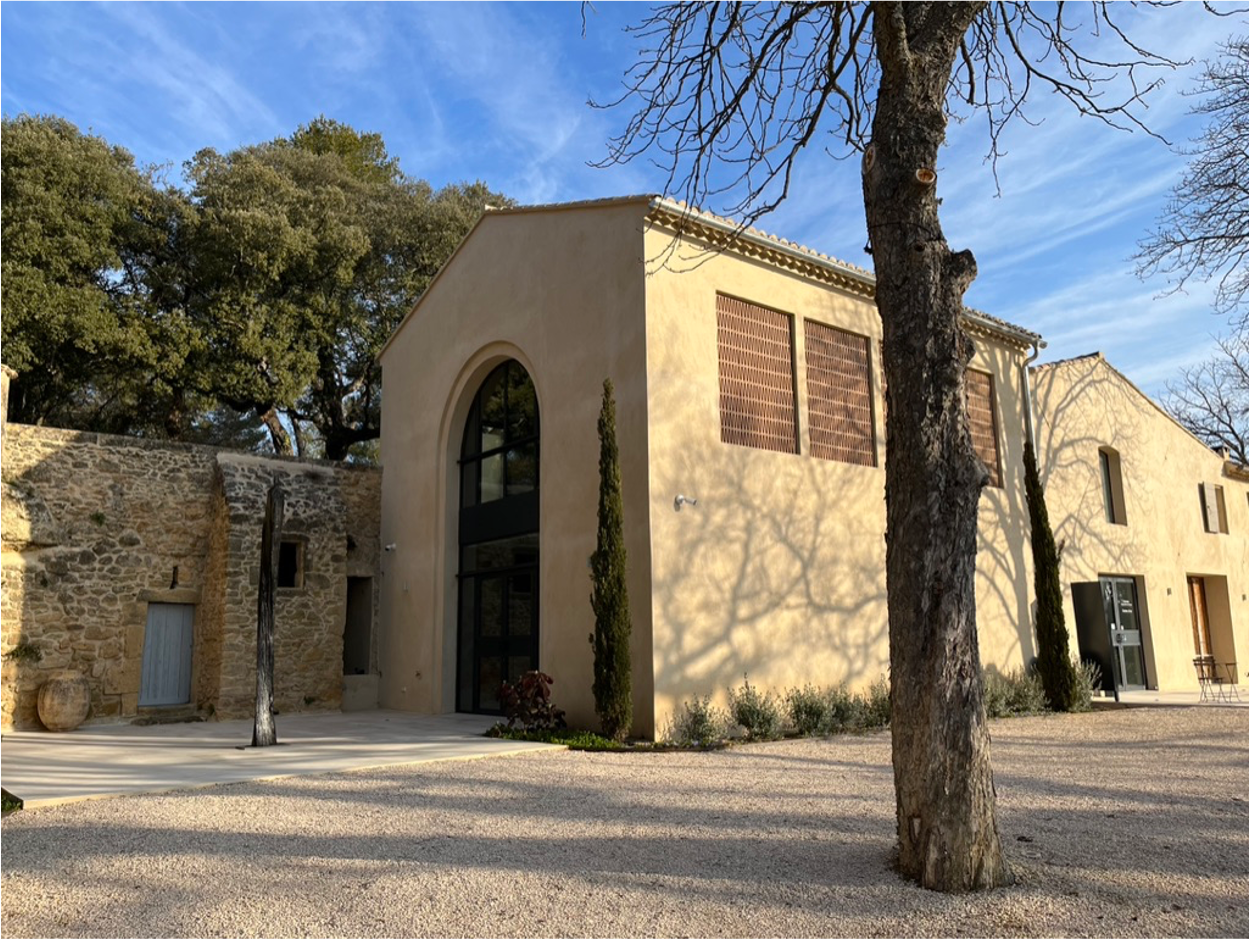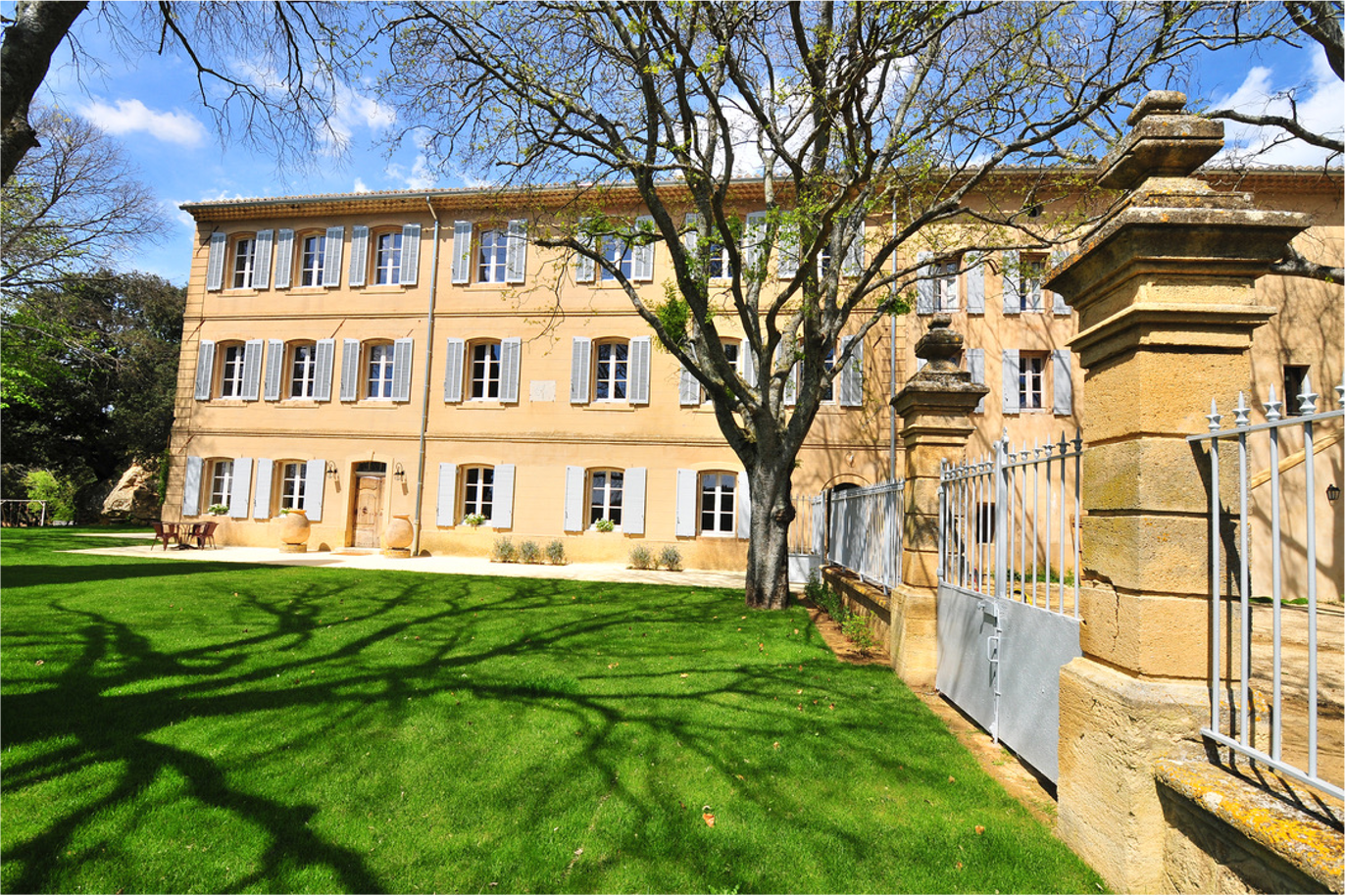 Denise René's career is an outstanding example of commitment to the geometric abstraction and kinetic art with an ambitious idea of promoting this artistic trend internationally. In 1955 with the groundbreaking exhibition The Movement, Denise René established kinetic art as a form of art «encompassing the notions of space, dynamism, and speed». With art pieces by Victor Vasarely, Alexander Calder, Marcel Duchamp, Jean Tinguely, Yacoov Agam, Pol Bury and Jesús Rafael Soto The Movement offered a dive into kinetic art. By playing with instability of reality and individual perception of a spectator, kinetic art has set a new abstract aesthetic of movement. Hence, even the slightest movements as a «breath of air» could easily bring such art pieces to life. 
The current exhibition MOUVEMENT in the Bonisson Art Center is an homage to the original exhibition in Galerie Denise René in the 1950s and is yet another revival of kinetic art. The exhibition was co-curated with Denis Kilian, the director of the Galerie and the nephew of Denise René. The idea was not only to show the begging of kinetic art with pieces created in the 1940s and 1950s, but also to establish a proper dialog between pioneers and modern contemporary artists in the same kinetic universe.
MOUVEMENT: Hommage à Denise René amazes with its diverse forms of transformations generated by air, light, engines. Although, it's clear that one of the main advantages of kinetic art is the ability to embrace new innovative materials and technologies, we should not forget about the spectator's impact and the importance of «natural movement».
The current exhibition brings together more than 60 artworks by 42 outstanding artists all over the globe. It's quite remarkable that each of them uses their own personal approach and artistic means to «arrive to the sensation of the movement».
Even though, kinetic art has fascinated Europe and South America, it still faces some geographical difficulties. It's a common fact that in the second half of XX century Pop-Art was dominant in the US which negatively affected first steps of kinetic art in North America. The exhibition presented by Denise René was not supported by the artistic community and, unfortunately, faced some rough critique from experts and journalists. This historic injustice remains up until today.
Below you may find brief descriptions of several sculptors whose art pieces displayed at the MOUVEMENT: Hommage à Denise René exhibition.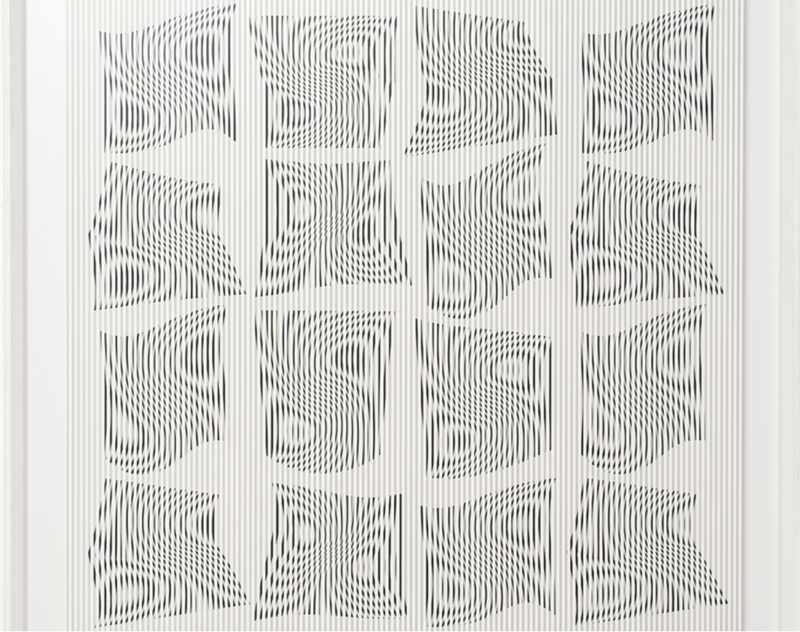 Alberto Biasi (born in 1937) is an Italian artist, who «favors a physical and retinal perception of works to abolish the boundaries between art and the viewer». His works created with the slightest, what seem to be, vibrations which in fact are optical tricks. This effect, this visual illusion, causes the inability of the spectator to quickly understand and perceive the visual form. Alberto Biasi challenges us with dizzying forms through means of color and light using diverse materials. The art piece presented at the exhibition is distorted geometric forms transformed by the movement of the spectator.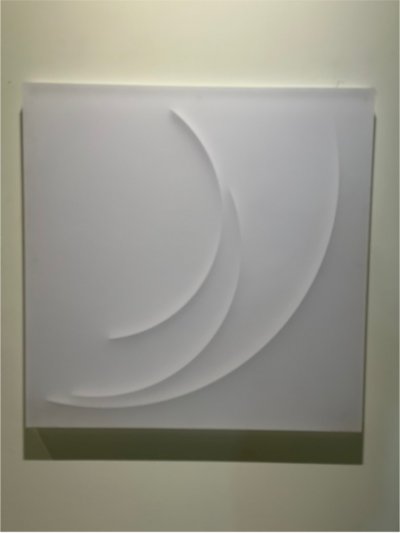 Anne Blanchet (born in 1950) is a talented contemporary artist who works with light, space, and movement. At the begging of her path, the art pieces were inspired by American minimalism and especially by works with space and light. Starting her career with monumental installations, she then discovered the light as a unique art tool and focused on what she calls «Light Drawings» since 1994. With her monochrome paintings, Anne Blanchet leads the spectator into a «complete white, unknown, and silent» world of the artwork. Placing the luminous arrangements in the sheets of plexiglass, she creates simple yet curious geometric forms in various arrangements, allowing the spectator to experiment with the perception. The art piece displayed at the exhibition is one of the finest examples of this synthesis of light, movement, and space. 
While highlighting the art pieces, we should focus on our second speaker, whose artwork is also presented at the exhibition MOUVEMENT: Hommage à Denise René.
Knopp Ferro, a master of floating lines, presented his own artistic path and shared significant art events that affected his work. Starting his studying as a sculpture and performance artist in Cologne in the 1960s, Knopp Ferro was quite impressed with the «very anarchistic» Fluxus Movement. However, the most vivid memory that has influenced his artistic career, according to Ferro, was an experience of developing a photograph he witnessed as a child together with his father.
«This transformation became a fundamental experience of my work as an artist. So, I never forget it».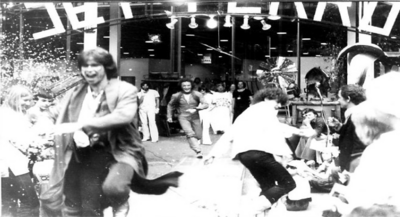 During his early artistic days, Knopp Ferro became a part of a group named Jet Ferro. They were actively protesting the commercial and art world, trying to pursue their path with punk music and artistic fashion choices. The controversy was that the art world enjoyed this rebellion behavior, and the group was even invited to perform at Art 8 Basel, 1977.
Later moving to Switzerland and joining performance theater Bumper to Bumper, Ferro started to use the body as an instrument while working with the rhythm and tempo. After experimenting with plastics and body language, he made a comeback to the material art, starting to create sculptures and abstract sketches, comparing them with music.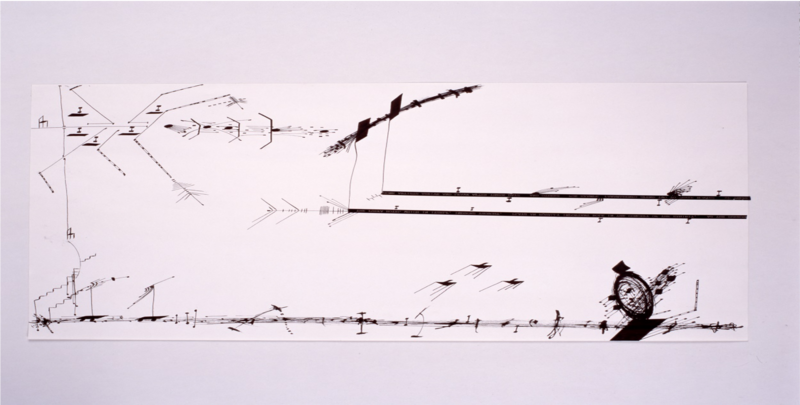 Despite focusing on sculpture, Ferro still being involved with other mediums and materials, he creates video installations and performances combining different forms and techniques starting since 1990s. His current approach is creating art installations made of tiny metal lines or sticks. These sculptures are installed on the ceiling or the wall and generate natural movements responding to the environment and changing its shape and form depending on the spectator's viewing point.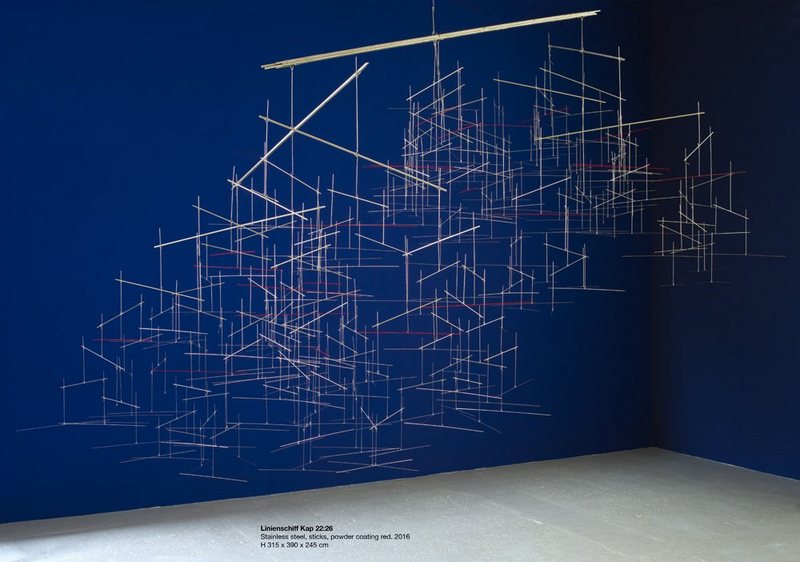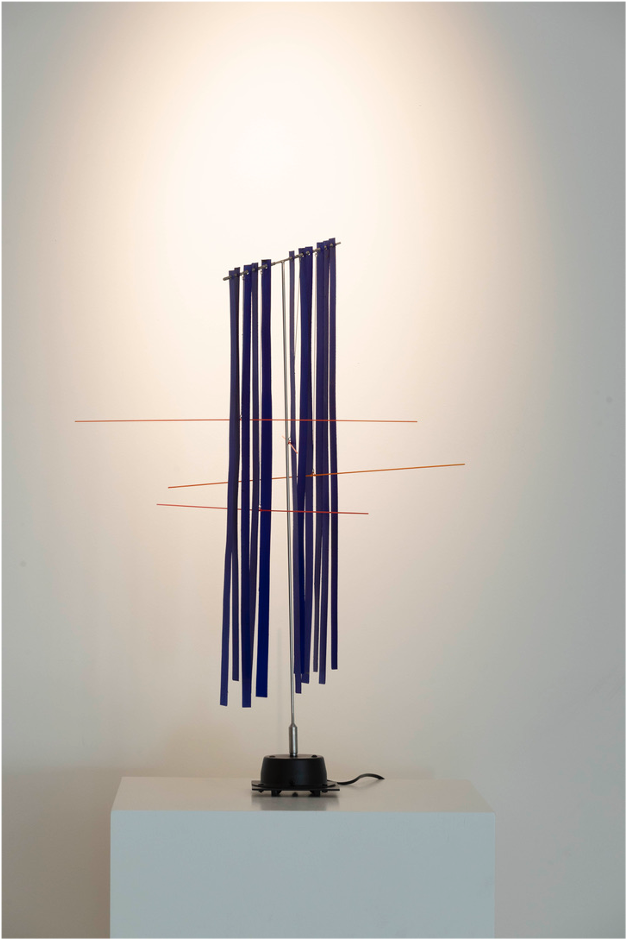 Knopp Ferro, Blue poetry 16:56, 2021
Edelstahl, Aluminium, ultramarinblaue
Farbe, elektronischer Motor,
78 x 54 x 22 cm
One of his latest works Blue poetry 16:56, 2021 is currently displayed at the exhibition in Bonisson Art Center. Our first speaker, Christian Le Dorze refers to Knopp Ferro as an artist whose works are «imprinted with lightness and poetry, a floating world».
Extensive information about MOUVEMENT: Hommage à Denise René exhibition and Bonisson Art Center in general, as well as about Knopp Ferro and his art works can be found on the following links:
https://www.bonisson.com/bonisson-art-center/mouvement/ 
https://www.kferro.com/en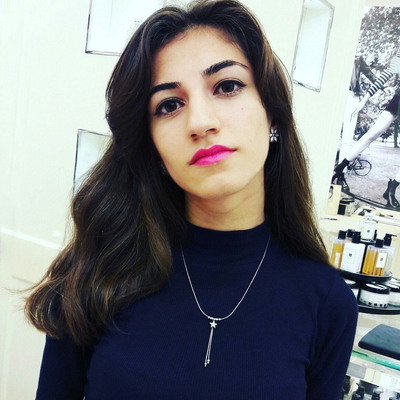 Author: Victoria Davidyan
Art Historian