Magazine
GaiaMotherTree
Summer, sunshine, water – and art! Since June 30th a trip to Zurich has gotten even better, since travelers are greeted at the Main station by a breath-taking installation by the Brazilian artist Ernesto Neto (born 1964 in Rio de Janeiro).
Photo: Hauptbahnhof Zürich/Fondation Beyeler/Foto: Mark Niedermann
The Zurich Main station, which hosts about 3,000 trains per day, is one of the most frequented train stations in the world. Every day more than 400,000 people travel through the station on their way to somewhere else. Often there are feelings that people commonly associate with a train station - sometimes determined by stress or anger, happiness about someone arriving or sadness after the departure of someone else. In these surroundings Neto created a work that will make you stop for a moment to think when you see his monumental GaiaMotherTree. As soon as you enter the station you notice the brightly colored cotton strips hand-knotted and tree-like as they expand into a sculpture. The shape of the piece reminds one of a tree, the crown of which rises up underneath the 20 meter high ceiling of the train station. As your eye travels upward and you become more vividly aware of the architecture of the station, which is more than 100 years old. The installation offers not only a visual experience, but also stimulates your sense of smell: the drop-shaped elements that hang down are filled with sweet-smelling spices and dried leaves and leave a bewitching smell in the station concourse. GaiaMotherTree was made completely by hand. The fabric strips made of cotton were colored with natural dyes, then knotted with a finger crocheting technique and finally woven together into a giant-sized transparent sculpture. At the base of the tree there is a large walk-in space, where visitors lounge around and can sit in chairs arranged in a circle. That way the work becomes a space for meeting, interaction and meditation despite the hectic pace of daily life. A varied program of events for adults and children includes music, workshops, tours and speeches in the sculpture will be held in the train station until July 29th. Then the magic of GaiaMotherTree will end - we can only hope that it will last in the minds of the viewers for a long time.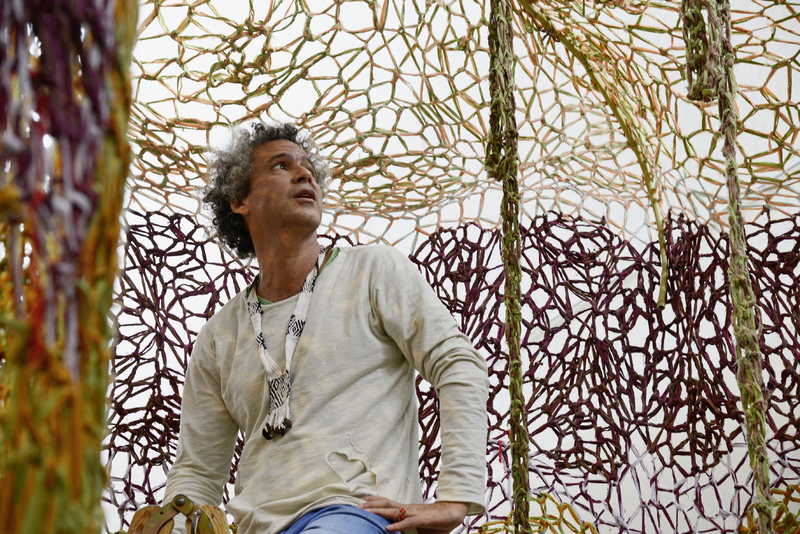 Ernesto Neto is one of the most significant contemporary artists in Latin America. His art is influenced by both the Brazilian neo-concretism of the 1960's, as well as minimal art, concept art and Arte Povera. Spirituality, humanism and ecology are important aspects of his work. And since the 1990's his works have been characterized by the use of atypical materials and techniques. Bio-morphic forms and organic materials are characteristic of his sculptures and installations. Transparency and sensuality often play an important role. His works can be touched, entered, crossed or set into motion and often also appeal to the sense of smell. Visitors are invited to focus on what their senses perceive and to interact with their environment and the work.
In the last few years Neto has been creating a new series of works which he realizes in cooperation with the Huni Kuin, an indigenous group that lives in the Brazilian Amazon near the Peruvian border. Their culture and traditions, their language, their knowledge and their craft, aesthetic, values and world view and spiritual connection to nature have changed Neto's conception of art and become significant part of his artistic creation.

 
Zurich Main Train Station
30th June – 29th July 2018