FUNDACIÓ L'OLIVAR
Ventalló (Alt Empordà, Girona)
Spain
Register now
Dialogue in L'Olivar (Ventalló, Alt Empordà, Girona)
Guided visit to L'Olivar: sculpture park and the Crypt by Enric Pladevall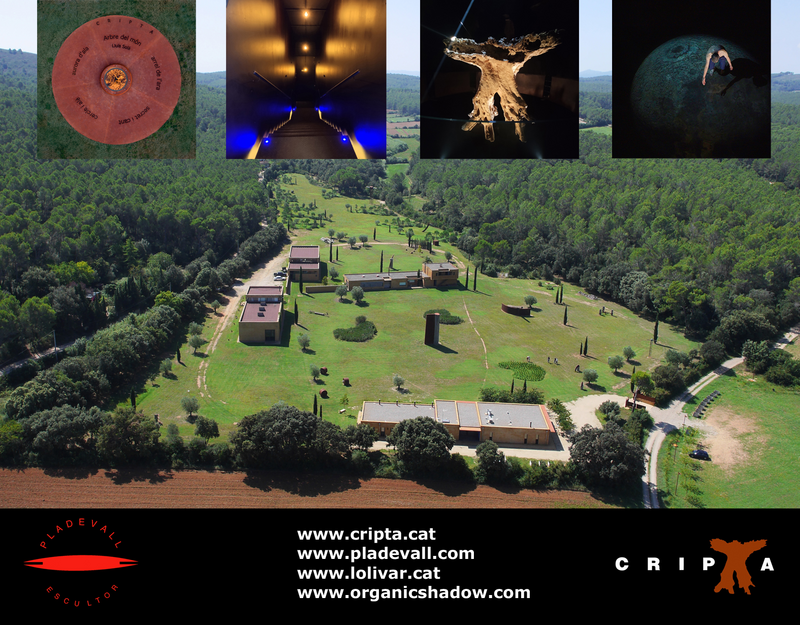 Our next Dialogue event will focus on the works of sculptor Enric Pladevall (Vic, Barcelona, 1951)

Guided by the sculptor, we will visit the 5 hectares estate, L'Olivar, an olive grove converted into an artistic project. We will be able to see a selection of pieces from the Spring Museum that were presented at the Joan Miró Foundation (Barcelona) in 1980, as well as works that were made especially for this project, including the Pladevall Virtual Project that was shown at the Maeght Gallery (Barcelona) in 2001, among others. The sculpture garden interrelates creation and nature: the pieces are not only integrated into nature, but nature itself forms part of the final result. The other part of the collection is located in an exhibition space where the most recent works can be visited.
We will also enter the Crypt, dedicated to a thousand-year-old tree. It is a cylindrical iron space 8 m. in diameter, 11 m. high. On the outside there is only an iron circle 5 m. in diameter with the text of the poet Lluís Solà "Tree of the world" in iron letters. In the middle of this circle is a 90 cm. glass eye that allows us to see the tree suspended with cables on the walls of the cylinder, while at the same time allowing the precise entrance of a light inside. The roots look to the sky and the branches to the earth. A space in which to feel the energy of a tree, where to be with it, where to experience the tragic vitalism, both physically and emotionally. To enter the darkness, to walk through the long tunnel, to feel time and space, slowly approaching towards the light, towards the sublime. A tribute to the World Tree.
Important for the visit to the Crypt: www.cripta.cat/en/visit

Program
12.00: Registration at the meeting point: L'Olivar.
12.10: Guided visit to the sculptures by Enric Pladevall and access to the Crypt.
14:00 Networking and snack/meal, at the expense of each participant, in a restaurant in the area.
Participation              
Members of Sculpture Network: 20,- EUR
Non-members: 25,- EUR
To be paid in cash at the meeting point
Deadline for registration: 2 May 2023
The number of participants is limited and online registration is required.
Maximum: 25 participants.
Priority for members.
The dialogue will be held in Catalan and Spanish
How to get there
From Barcelona, the best way is by shared car.
FUNDACIÓ L'OLIVAR is located on the road GI-623, km. 12, Ventalló (Alt Empordà, Girona)
GPS (42.140780, 3.023110)
www.google.com/maps_Fundaco-Lolivar

Contact person
The programme is organised by Neus Bergua, Sculpture Network Catalonia Coordinator.
If you have any questions about the event or registration, please contact
Neus Bergua or Sculpture Network
Further information: 
www.pladevall.com
www.cripta.cat/en/memoria

In collaboration with: