Schlossstr. 1
31188 Derneburg
Germany
Dialogue at Art Museum Schloß Derneburg, Lower Saxony
Registration is closed, the event is fully booked!
Guided visit through the Sculpture Park and the Lydia Okumura Exhibition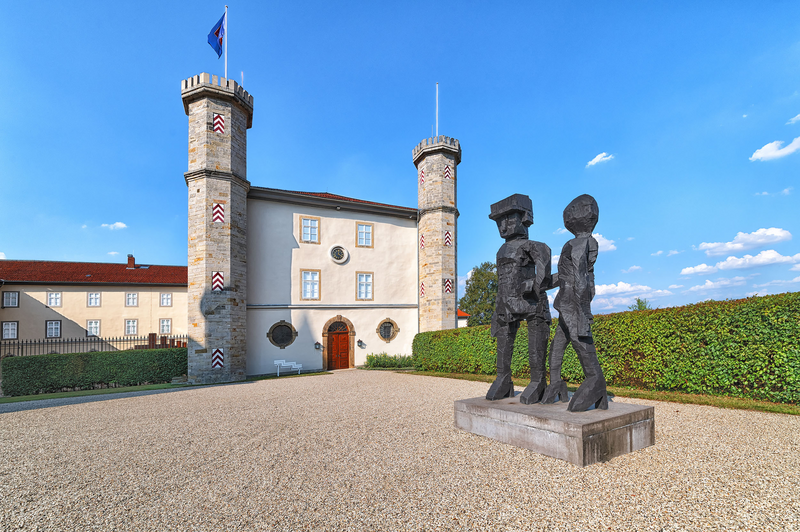 In this Dialogue, we discover two exhibition areas of the Kunstmuseum Schloss Derneburg, the Sculpture Park and the Lydia Okumura Exhibition, during a guided tour by the Hall Foundation.
Program
10:45  Meeting in front of the entrance of the Kunstmuseum Schloss Derneburg
11:30  Start of the guided tour
After the tour, we will return to the museum's restaurant. There, we will have the opportunity to talk about what we have seen, and also about our own projects and ideas.
Later, you can explore the museum and other exhibitions on your own. Another attraction in the immediate vicinity of Kunstmuseum Schloss Derneburg is the Laves Culture Trail, which leads through a landscape park with buildings by the Hanoverian master architect Georg Ludwig Friedrich Laves (1788-1864).
Participation
Normal price: 25,00 EUR
Sculpture Network members: 19,00 EUR
To be paid in cash on the spot. The lunch is not included in the fee.
Maximum: 20 attendees. Members priority.
The number of participants is limited, and online registration is required.
Registration period until March 20, 2023.
The language of the event is German.
The event is organized by Frank Nordiek, Sculpture Network Coordinator, Hannover, Germany.

How to get there
We recommend a climate-friendly journey either by public transport (train) or by carpooling, which Sculpture Network will help to organize.
By train : If you choose to travel by train, there are trains available from Hannover Central Train Station and Hildesheim Central Train Station. Kunstmuseum Schloss Derneburg is located 15 min (1.2km) walking distance to the Derneburg Train Station.
For return, trains run hourly in the direction of Hannover/Hildesheim and Bad Harzburg.
By car: Hanover approx. 50 km / Hildesheim approx. 18 km / Kassel approx. 150 km
About
Location
Kunstmuseum Schloss Derneburg presents exhibitions of contemporary art for a wide audience in a unique historical setting. The history of the castle near Hanover goes back almost a thousand years. For centuries it served as a nunnery and later as a monastery. In the 19th century, it became the property of the Dukes of Münster, who commissioned the renowned Hanoverian architect to convert it into a country residence. The artist Georg Baselitz acquired the property in 1970 and used it as a residence and studio for about thirty years until it was sold in 2006. Since then, the castle and the neighboring domain have been reunited and extensively renovated. Today it is one of the largest privately owned museums in Europe open to the public, with a focus on contemporary art. 
Lydia Okumura
The Hall Art Foundation is hosting an exhibition by New York-based Brazilian-Japanese artist Lydia Okumura. For over fifty years, Okumura has worked with geometric abstraction to explore our understanding of space and expand its possibilities through form and color. Using materials such as yarn, wire, acrylic paint, glass, aluminum, charcoal, and graphite, Okumura creates site-specific installations that emerge from walls and floors, blurring the boundaries between the two- and three-dimensional. This exhibition features fifteen works spanning nearly three decades of Okumura's work. Among them are some of her best-known paintings, sculptures, and large-scale installations.
Sculpture Park
On the extensive grounds of the castle, the Hall Foundation presents outstanding examples of contemporary sculpture in a permanent exhibition. Among others, works by Carl Andre, Tracy Emin, Jenny Holzer, Georg Baselitz, Jeppe Hein and Jonathan Meese can be seen.