Dialogue in La Comella (Tarragona)
Guided visit to the Comella Sculpture Park, Sculpture and Nature (CEN), by Rufino Mesa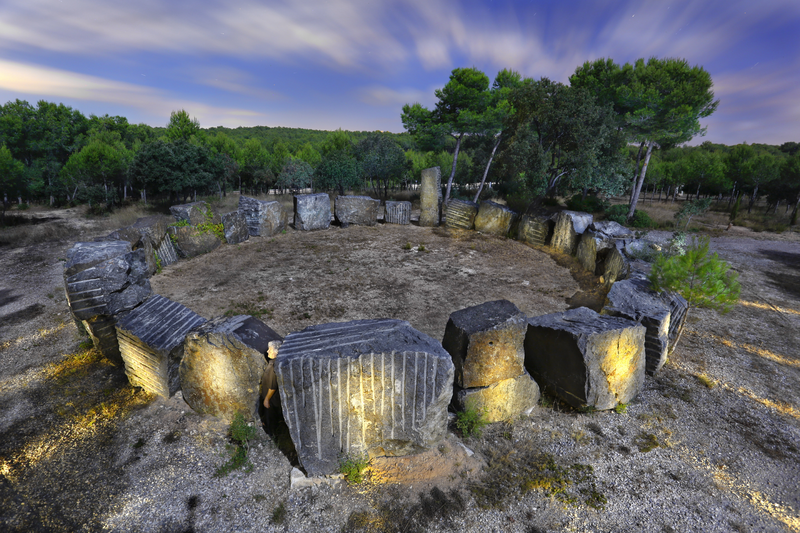 Join us to discover sculptor, teacher, draftsman and writer Rufino Mesa (Valle de Santa Ana-Badajoz, 1948) and Comella Sculpture Park.
Comella, Escultura y Naturaleza (CEN), is a sculpture park in a Mediterranean forest, a cultural proposal that unites contemporary art and nature, a work in progress that contains completed elements along with others under construction. In the sculpture park, the hand of time and nature are in charge of completing the project. 
Guided by Rufino Mesa we will contemplate more than one hundred sculptures organized by a circuit of paths where walking surrounded by pine trees and Mediterranean flora is combined with the contemplation of the sculptural installations.
The circle, the shape of the ring (in the photo) is the sculpture that has guided his entire project and is a significant part of the sculptor's life. At La Comella, sculpture is the concept associated with action and the pact with nature. The commitment as an implicit part of the work, the sculpture is the material and living face of the alliance. The stone ring presents and represents union and reconciliation.
Program:
12.00: Registration at the meeting point
12.10: Guided tour of La Comella and the works of the sculptor Rufino Mesa
14.00: Networking and informal lunch at the artist's farmhouse (the cost of the food will be shared among all attendees). Chat with the sculptor and presentation of his books. 
Participation: 
Normal price: 10,00 EUR
Sculpture Network members: 0,00 EUR
To be paid in cash on the spot.
Maximum: 20 attendees. Members priority.
The number of participants is limited and online registration is required. Registration period until February 27, 2023.
The language of the program will be in Spanish and Catalan.
How to get there:
La Comella is located in the municipality of Tarragona, just three kilometers from the city. It is reached by the Pont d'Armentera road, before the AP-7. It is very close to the neighborhood of San Pedro and San Pablo, within the pine forests of the Sanctuary of Loreto.
From Barcelona, the best way is to go with shared cars.
To see the location on map, click here.
The event is organized by Neus Bergua, Sculpture Network Barcelona Coordinator.
With the collaboration of:

Contact:
rufinomesa@yahoo.es
rufinomesalacomella@gmail.com
646 73 28 66
977 20 12 83
lacomella.org