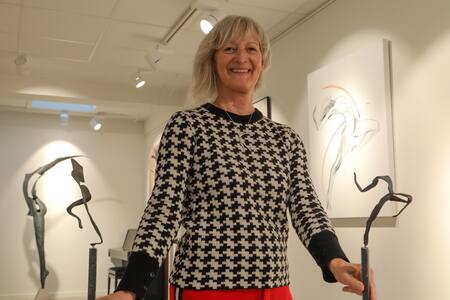 Martine Vyvey
De written description in my work is to catch a movement- a motion with a few lines and pieces.
Motion is the main feature in my work.
My sculptures are not static but the opposite: some of them are really moving in the wind.
Roland Laridon, president of friends of Muzee Ostende: 'To bring essence of motion into a sculpture you must have the gift of true transcendention.'
Technical qualities of my work:
I begin to draw a form with chalk on a plate in cortensteel. I cut these form out of the plate with a plasmacutter. Then the metal is forged in the fire and hammered out into shape.
Most of my sculptures are built up in fragments, this means that each piece must have the right form before I can weld them together into a sculpture.
Then a perfect copy is made in wax and after that it is being cast in bronze.
Two of my sculptures are moving in the wind: 'Willpower" and 'Dance of life'.
The meaning of 'Willpower': In life you face many diffilculties witch nearly make you fall- this sculpture symbolyzes the strength and the power to survive- to stand up again.