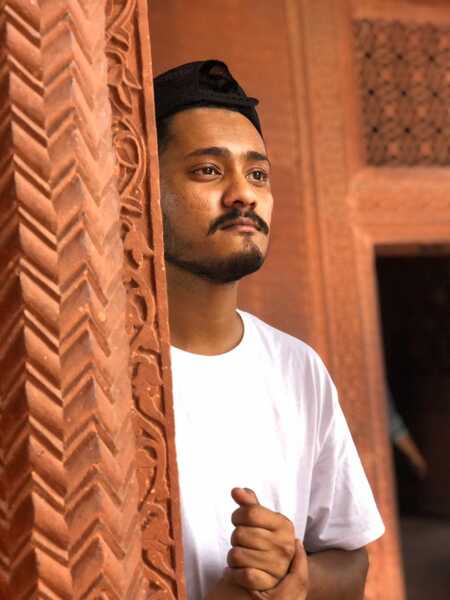 Abdur Rahman
Add your statement here By passing of time some isolated incidents and events have depressed me from the inside, and this is the subject of my art work. I have selected worn-out wall to express my feelings. The different circumstances and situations break our relationships and it creates an averse response in mind.
My interest about Nature ,human physiological term, contemporary world wide topic base concept.

From my childhood I was too much close with nature that inspire me to save it . I have art work like Co2, Beloved nature, Missing this type of concept to save the nature .

At present artist Banksy art work inspire me a lot that's why I have mad the series of my work `` 5th and 6th limbs`` as my style .

In my graduation I love to follow Pablo Picasso art form I have some art series like ``Felling of Feminist`` as Cubic from . I want to involve with development and research from my past time. In my composition family nature always touch me to find myself .My art work ``father and child `` explain that type of matter.

I grew up in river side area . The river side life style also create the subjective value of my drawing .
The river side and the breaking of relationship for this distribution of agricultural land. I also made an installation about my art work name ``Hamlet family.``
In Bangladesh there have a lack of women right so I try to do this type of work also,
There are a common relation of all my art work and a simple express language on my work. Term play a important role to express feeling. To primitive period people communicate with nature. Among all the communication systems term is one of best way. But at the present time powerful people are govern icing whole world. I am going to express how to term determine to people to do its slavery.

Sculpture is my Major Subject . Apart from this medium, expression , balance , materials make my sculpture more aesthetical . I have been studying the type of medium of contemporary art, like land art, side especial art, installation art, Public art and Performance art. I am very much inspired by the poetry of Kazi Nazrul islam
Jibanananda Das of Bangladesh. For that, he has been traveling for thousands of years, which is important to our civilian. Now I am working on the physiological term of human nature.
Now I am working as multidisciplinary art method.
 


Abdur Rahman (b.1997) is visual and installation artist, lives Khulna , Bangladesh. He completed his BFA on Sculpture from Fine Arts School , University of Khulna in 2019. Now he is completed his Masters program. He is interested in installation, land art and public art. He is inspired to explore multidisciplinary Art practice in local and global context of modernity and post modernity in terms of his own experience, place, history. His concept of work is based on Nature ,human physiological term, contemporary world wide topic.. He has been practicing as a contemporary artist for two years. He tries to use different types of readymade materials not only installation but also his sculpture. He has attended several workshop, those are, `` Land Art" conducted by Artist Amit Kumar Dhara organized by Khulna University , "Suffocation " conducted by Artist Rakibul Islam organized by Shikpokola Academy , Dhaka . He executed performance art at Chittagong open art Biennale, National art Gallery. Recently he joined in Nature for Nature Art Exhibition arranged by Artopolitan in Association with Bangladesh Embassy of Kathmandu, "Nepal Art Council" on Kathmandu, Nepal . Now he is developing some Art Project and reacheching multidisciplinary art and different Community Art.