Magazine
Trans-Architecture: When Sculpture Meets Architecture
This year, in cooperation with the Sculto art fair, the Network Award was presented for the first time. In keeping with the 2018 sculpture network theme, which focuses on the relationship between three-dimensional art and architecture, the award was presented to a true interpreter between the two disciplines - Teresa Esteban. Her architectural sculptures reflect an intense confrontation between traditional sculpture and architecture, forming entirely new and mysterious emotional landscapes. But who is Teresa Esteban? An interview reveals more.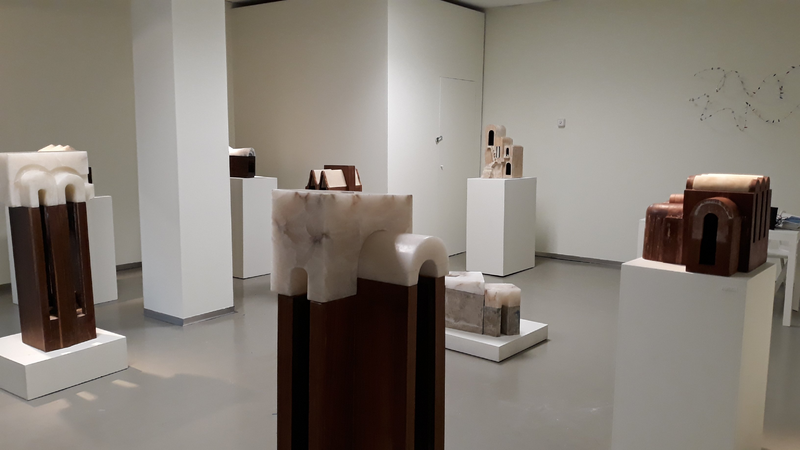 The artist, born in 1958, lives in Madrid and was represented at the Sculto 2018  art fair by SAIDA Art Contemporain . She and gallery owner Mareta Espinosa have enjoyed a decade-long, close friendship since they studied fine arts together. Mareta made it possible for Teresa Esteban to present 11 works at the art fair. In addition to gaining the public's interest, Teresa also won the Network Award, which was presented to her on June 2, 2018 by the artistic director of the fair and sculpture network member Beatriz Carbonell Ferrer. The prize includes a free one-year membership in sculpture network.

As a Doctor of Fine Arts, Teresa Esteban has mastered the complete range of sculpting skills - from modeling, to carving, to forging and casting. Until a few years ago, the artist mainly produced her work in wood. Today she prefers to work in stone and concrete. She experiments with great passion, creating new techniques and modalities. Her works oscillate between image and sculpture, showing uninhabited spaces, places of footsteps. Her 3 main projects lead back to journeys that have shaped her. "El cielo protector"(eng.: the protective sky) reflects Arabian esthetics. The interior, the geometry, the play of light and shadow predominantly connect the artist with the element of water. "El cielo sobre Berlin" (eng.: The sky over Berlin) shows places of great diversity at an esthetic, as well as a functional level. The artist focuses on inner courtyards in Berlin, especially those of the 19th century tenements, arranging them as living spaces with communicative essence between buildings and people. With "Hashima o la visión de vacío" (eng.: Hashima or the vision of the void) she processes impressions of an island mining city, which was once counted as one of the the places with the highest density of population, due to coal mining by the Mitsubishi company in the 60's, but today lies abandoned in ruins. An architecture of mining and concrete structures connecting dozens of rooms through a labyrinth of courtyards, corridors and staircases. "Thus the Arabian buildings, the inner courtyards of Berlin and Hashima, have been wandered through, experienced, and permeated and have become known; through the senses, internalization and thoughts. Thus, the sculptor's footsteps have woven new places: places that have undergone the reverse process and that were first thought about and felt, then recognized and experienced, until they materialized in the new work, "says Teresa Esteban.
After teaching for many years, Teresa Esteban now turns her full attention to her art. In an interview with her and her daughter Lucía Cotarelo Esteban we learned a lot more about her person.
Ms. Esteban, where does your affinity for architecture come from?
I have loved architecture since I was a child. I was always fascinated by urban and natural landscapes. But, while on a scholarship from the Academy of Fine Arts of Spain, when I spent six months in Rome, I started building architectural sculptures. That was 16 years ago. Since then Rome has inspired me to work on spaces. I never wanted to be just an architect, at the same time I never wanted to be just a sculptor. My heart yearns for both.

Your three main projects: the collection of the Arabic architecture, the collection of the inner courtyards based in Berlin and the project about the isolated island Hashima. Where did the impetus come from to do these projects about these places in particular?
I mainly went to Saudi Arabia because I received an invitation to work on the Misk Art festival. They already knew my work, probably from my exhibitions in Marocco and Iran. So I spent a couple of weeks there and could not help but discover Arabic architecture. The Sheltering Sky collection was named after the book by Paul Bowles; my project about Berlin was influenced by the film by Wim Wenders; and the collection about the Hashima island, Hashima o la visión del vacío, was named after the book Mishima: a vision of the void by Marguerite Yourcenar, about the japanese artist Yukio Mishima.The other artistic disciplines are decisive for my work, being literature probably the most important. I'm a hugh reader. I'm always reading, like every day. Literature places are important places for my art too. So while I was visiting Berlin, I saw a book about Hashima with before and after photographs from the island. I found it during an exhibition in the Nordbahnhof in Berlin and was completely fascinated by the island - the history, the landscape and the ruins of this place. When I came back to Madrid I started doing research on the Internet - it was like I was totally crazy. I contacted the Japanese embassy and cultural organizations in Japan and Spain.

So is this how you usually start working on a project?
Yes, I start doing a lot of research, visit libraries and cultural centers. I travel to the places, take notes, think about everything, make some drawings and finally I start producing my sculptures. But I don't like to produce just one thing about the trip. Every project means a new language, a new technique, new materials. The drawings are always changing, the language is always changing. I work hard, do a lot of experiments, select things which are disposable. 

And how does your family-life relate to your work?
My daughter and I, we basically do everything together. (She laughs.) We love to travel and to discover new places together. It's pretty normal that we travel to the destinations together. Every couple of months I go to her and say 'Look at this place, I love it!' or she just arrives with a picture of a place we need to go to - like 'Now!'.  We start planning and then we just take off. 
Lucia adds: She starts working there and I help as much as I can. Every time she has an exhibition I'm there. Organizing an exhibition is really hard and you need a lot of people helping you. I normally do that for her. It's too much for just one person. That's what I've been doing my whole life. I was born into it and she always made me a part of it. I've been involved ever since I was a child. I learned it all from the very beginning and I've accompanied her the entire way. 

Lucia, do you also work artistically?
Yes, but not fulltime. My passion is also literature and poetry.

Ms. Esteban, when someone sees photographs of your artwork, it looks like it would be possible to take off the roof and have a look inside. Is that true?
This is actually an important part of the sculptures. Being able to go inside and to look in from the top. The space inside the sculpture is like a sculpture inside another sculpture. The space inside is just as important as the sculpture itself. The roofs are made of alabaster, a translucent stone and the light shines through. For the exhibitions we work with light a lot. It's one of the most interesting parts of the sculpture, in particular for the Arabic architecture. It's a really good way of playing with light and shadow, the same way Arabic architecture does. You can see how the light shines through. It's a beautiful effect. 

The sky seems to play a special role in general. Why?
It's about seeing the cities and the spaces from above. I walk around in the cities, but the way I imagine the space is from the sky so that I have a view of the entire area. That's why I also create spaces that can be viewed from the top, that can be de-constructed, for example by taking off the roof. 

So the sky does not embody faith for you? How do you think about religion and the faith in god?
I'm very spiritual, but not at all religious. The way I view the sky has nothing to do with religion or God. It is spiritual, but more about the space. My temples or the kind of religious spaces I sometimes create, especially in the Arabic collection, are actually empty. They are temples without any god inside.

What do you think about modern architecture and building with the cubic forms?
Well, every new era of time has different needs. So you have to give each period of time meaning and you have to give the art freedom. If cubic forms are what is needed right now, if this is how time, architecture and art are evolving, you just need to let it be. Everything changes – the concepts, the materials, the needs. We don't build baroque or classical buildings anymore. So you just need to let it happen.

What expectations or hopes do you have as a result of your sculpture network membership?
I want to go to Munich. (laughing) My next project is actually about Munich. This started happening even before I received the award. I had the collection about Berlin and I was already talking to the Spanish cultural center Instituto Cervantes about traveling to Munich with the whole collection. I have already started working on Munich and reorganizing the map of the city. So I would love to have some support from sculpture network after I have finished organizing my exhibition. In addition, I want to exhibit my Hashima collection in the EKO cultural center in Madrid, since it is my home town. They make exhibitions about art related to architecture. It could be a great exhibition.
With her project on the city of Munich, Teresa Esteban once again extends her horizons from trans-architecture to re-imagined cities. We are looking forward to her exhibition, wish her all the best and gladly offer her our full support.