Magazine
PERSONAL STRUCTURES: Reflections in the glow of the lagoon
Venice and the art! An inseparable, unmistakable and unimaginably beautiful couple who honour each other every two years and invite the whole world to the festival of art. Admittedly, the party is often noisy, stuffy and unforgivingly overcrowded. But now the big rush is over, so with a little more relaxation we can enjoy an aperitif, board a vaporetto, and then go on an exploratory tour.
This year, too, the ECC (European Cultural Centre) is organizing the Personal Structures exhibition and has invited almost 200 artists to present their works on the subject of reflections. And that in such enchanting places as the Palazzo Mora, the Palazzo Bembo and the Giardini Marinaressa. The exhibition can be seen until November 27, 2022 - so let's go!
What are reflections? Definitely a fitting theme in a city of reflective water surfaces. But reflections do not just mean mirror images. The title of the exhibition "embodies the double meaning of a visible episode perceived with the eyes and a mental act that emerges from reflection and deliberation with the mind" according to the curatorial team. Reflection has the potential to reveal future possibilities and see a brighter future.
A true, sublime and not a new thought, which actually often seems to be neglected today. Is it not more important than ever to remember, reflect, weigh up, exchange feelings and experiences in order to create a common basis for a sustainable future?
The artworks in the Personal Structures exhibition reflect various current topics and issues such as climate change, environmental and social compatibility, sustainability, ethnic and gender equality, and to stimulate the viewer's discourse and reflection. This year, sic sculpture network members are represented with their works among the diverse presentations on this topic. Here is a small overview and foretaste!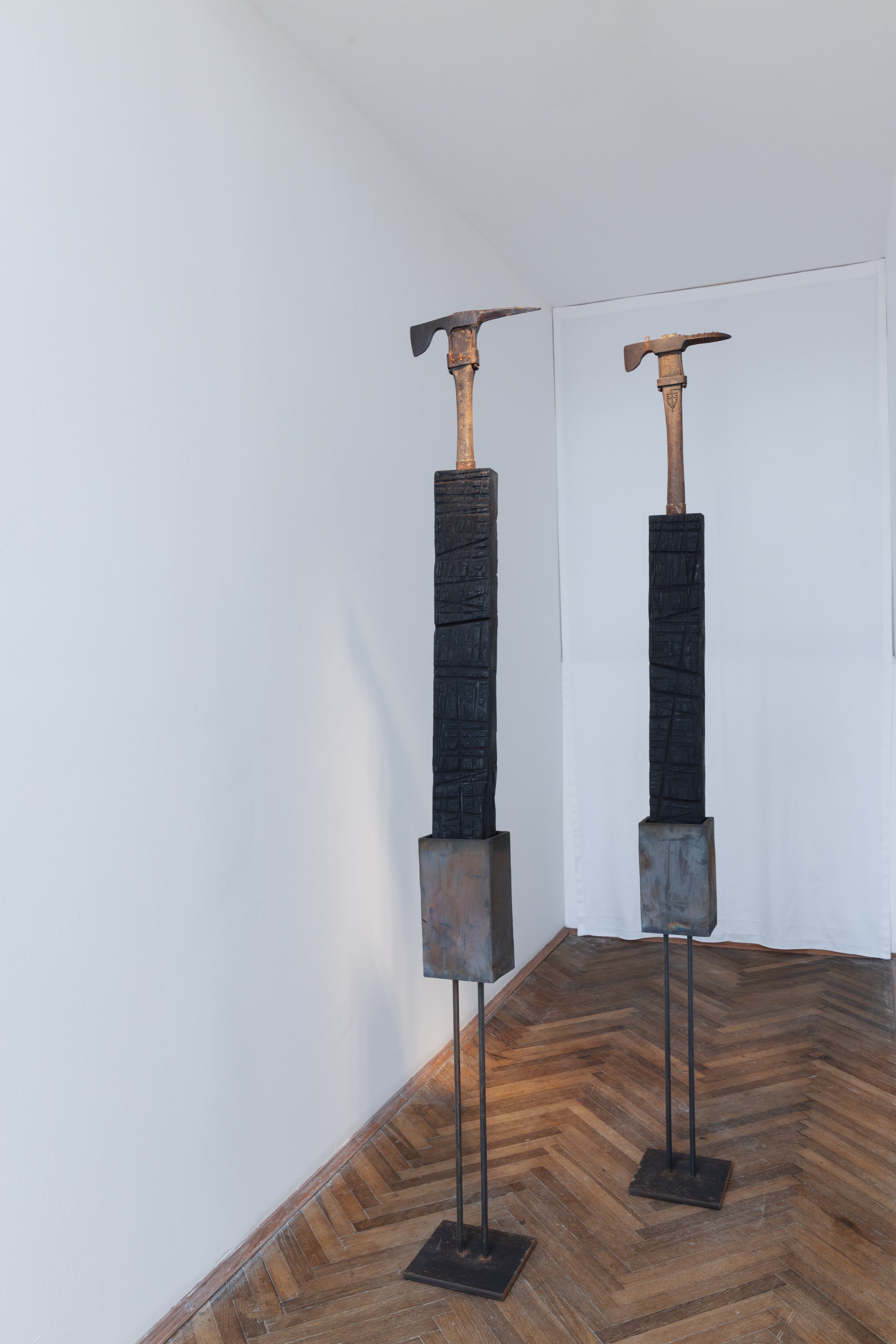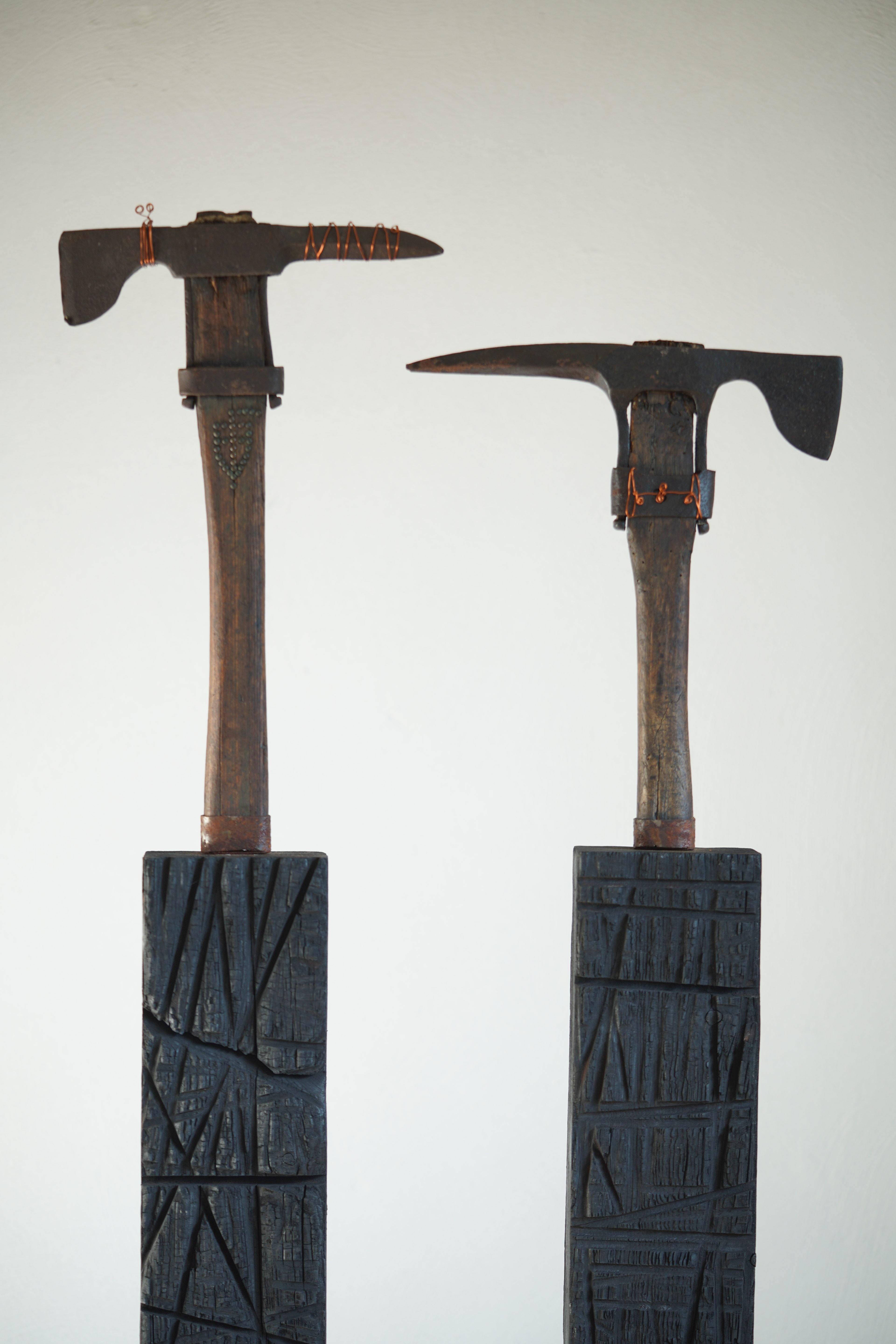 Angelika Lill-Pirrung / Palazzo Mora, Guardian, 2022, Reclaimed wood, clay, hammering, copper colored metal threads, Photo1: Federico Vespignani, Photo2: doc.pi.
 
Angelika Lill-Pirrung
Palazzo Mora
Searching, finding, collecting, combining and changing is an elementary part of the artistic work of the German painter and sculptor Angelika Lill-Pirrung.
She finds items such as weathered wood, driftwood, rusted metal or old everyday objects from a flea market and combines them with other materials such as clay and wood. They become imaginative, enigmatic sculptural figures. The artist usually fires the clay using the old Japanese raku technique, in which the 4 elements come into play and have a decisive influence on the result.
The artist is showing such a pair of steles from the Guardian series in the Palazzo Mora, a combination of different raw materials (objets bruts) and found objects (objets trouvés) that is characteristic of her work. It is made from flamed reclaimed wood, raku-fired clay and used hammers connected with copper-colored metal threads. The two steles appear like living beings, transported from a time long past or from another world, who now stand side by side, still and motionless. They radiate something archaic, almost majestic, which eludes any interpretation.
It is the traces of use, decay and time in the objects that inspire Angelika Lill-Pirrung. Each object found carries its own perceptible story and yet becomes something new through the hand and vision of the artist. The basis of her sculptural work is a playful yet serious approach to old meanings and new tasks, i.e. a transformation of then and now, of memory and the present, of eternity, transience and the future.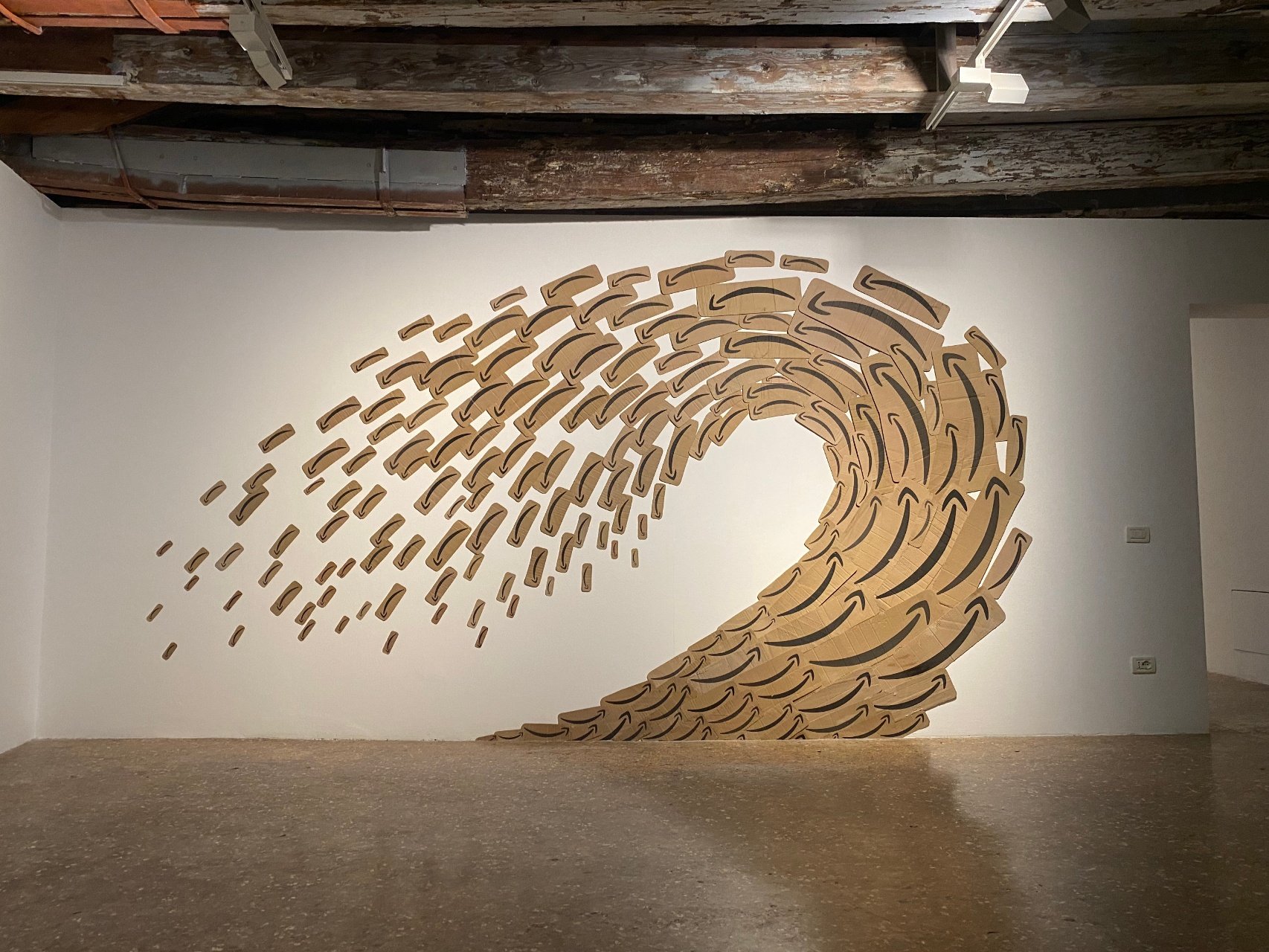 Tina Zimmermann / Palazzo Mora, Amazon Tsunami, 2021, Site-specific wall installation made from hundreds of cardboard pieces ripped from Amazon shipping
boxes

Tina Zimmermann
Palazzo Mora
Who does not know them, the boxes of the shipping giant Amazon. Millions of them flood the world every day filled with all kinds of necessary and superfluous goods and gadgets. What may sometimes seem so convenient to us actually consumes huge amounts of resources, makes heavy use of public infrastructure and causes pollution from transport and enormous amounts of packaging waste. In addition, this system contributes to the fact that individual and collective isolation and loneliness continues to advance and more and more inner-city shops are disappearing and the former places of cultural and social interaction are becoming deserted and the gap between underpayment and wealth is becoming ever greater.
The interdisciplinary artist Tina Zimmermann examines and comments on such interdependent, sometimes toxic relationships in the Anthropocene – the man-made age, creating objects and interventions from the material debris of the natural world and artificial industrial processes, thus evoking the fragility of civilization's progress.
Her installation Amazon Tsunami consists of typical pieces of cardboard used in shipping, which she has arranged on a wall. Under the artist's hand, the smiling Amazon logos rear up into a huge wave of arrows that will be thrown at us at any moment. A tsunami that brings wealth, prosperity and comfort to some, while it brings energy loss and waste to others. A threatening wave and we do not know when it will break and when and what it will carry with it.
 
Gabriela Drees-Holz
Palazzo Bembo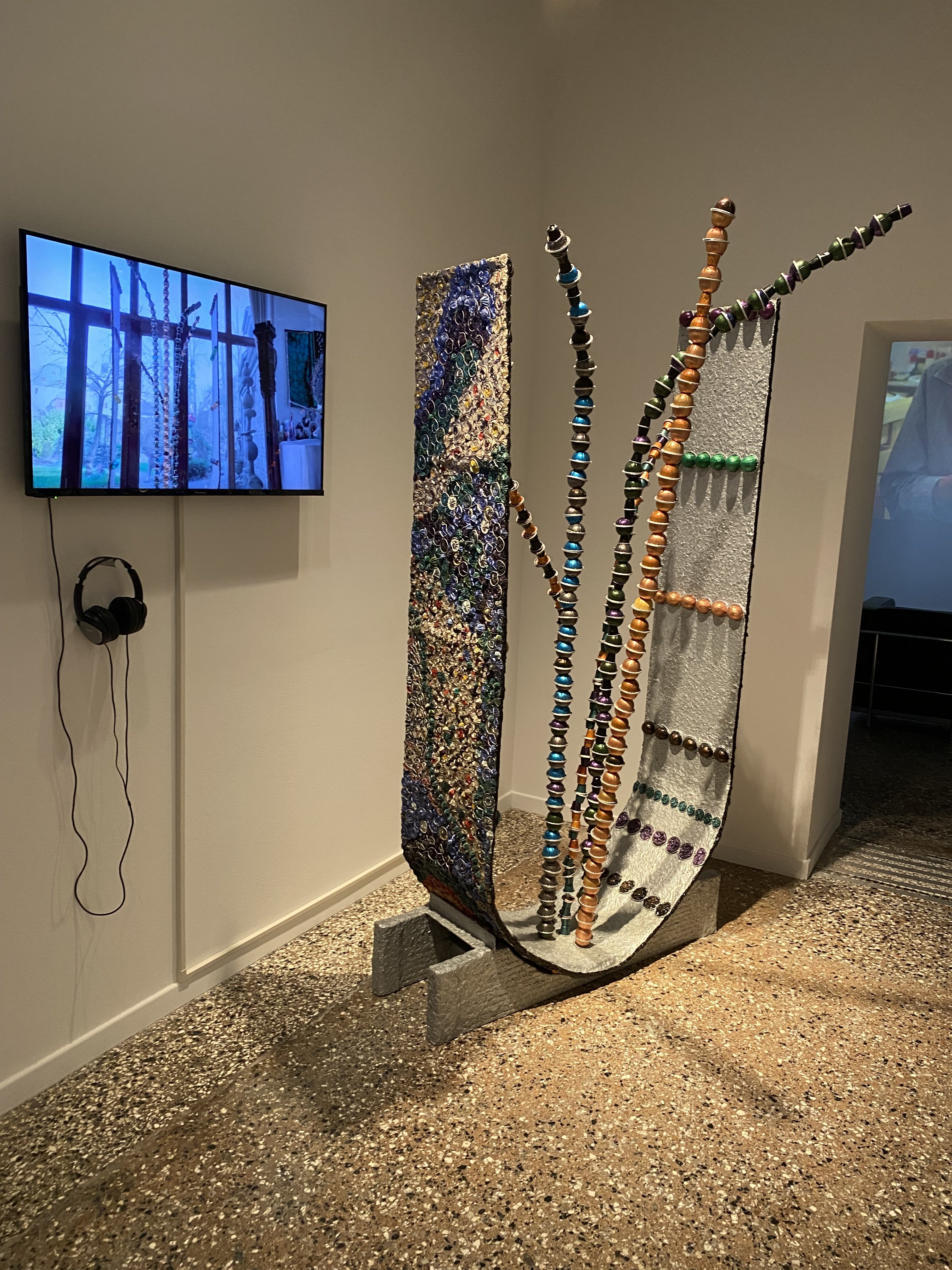 Gabriela Drees-Holz / Palazzo Bembo,
Encapsulated Universe, 2021, Metal, wood,
wire, aluminum capsules, acrylic paint, glue,
concrete, Dimensions 200x150x100
Many of the items on display illuminate environmental issues from very different perspectives. In the Palazzo Bembo, the German artist Gabriela Drees-Holz is showing an impressive large-format object entitled Encapsulated Universe on this subject.
The work of art immediately fascinates with its intensely shiny metallic colours and its upwardly curved forms. On closer inspection, the material presents itself as aluminum coffee capsules, which the artist uses artfully. She forms the outer sides of the "U" with countless capsules folded into blossoms, the inside offers a silver nest, formed from the used silver bases of the capsules and isolated capsule bands, the soil for the growth of five long blossoms. In the center, these long flower stalks, decorated with capsule flowers, grow in all directions beyond the "U".
Gabriela Drees-Holz works with a variety of materials, techniques and themes, and experiments with new ideas and develops her own techniques. She has been working with aluminum coffee capsules for 5 years. The artist herself emphasizes that she is fascinated by the material, the metallic colours and the different capsule shapes, their easy workability and great durability.
Originally a geographer, environmental issues have always been an important concern for Gabriela Drees-Holz, for which she has now found another way and a material as an artist to draw attention to the easily avoidable destruction of the environment. Both manufacturing and recycling aluminum are extremely water and energy intensive, forests are cleared for the raw material, soil and groundwater are poisoned, and the exposure thereto causing significant diseases in the human body.
So why consume coffee from capsules when there are so many other eco-friendly ways to enjoy coffee?
With the title, the artist ironically asks whether humans ultimately want to encapsulate the universe. The forms projecting upwards grow endlessly and indicate the ever-expanding use, at the same time the entire object shows a certain fragility, with which the artist points out the danger of this development.
In addition to the object is the film "Capsule Art" (https://youtu.be/BHTB8aDahUA), in which a part of Gabriela Drees-Holz's previous capsule oeuvre is presented.
 
Alexandra Kapogianni-Beth
Palazzo Bembo
Alexandra Kapogianni-Beth's theme is the human body, which she depicts in dynamic figurative sculptures using a wide variety of materials. The Greek sculptor usually works without a model and refers to anatomical representations and the variety of figures in Greek history. Alexandra Kapogianni-Beth prefers characters who can exist apart from the world, heroism beyond human limits, including a variety of mythological characters, which she usually shows in dramatic tension. This also applies to her sculpture Falling Icarus, which can be seen in the Palazzo Bembo.
When Icarus and his father Daedalus tried to flee the island of Crete and its king Minos using homemade wax wings, the cocky young Icarus flew too high, despite his father's warnings. The wax on the wings melted in the sun and Icarus fell into the sea. The motif of Icarus has been much cited in art since antiquity. The different representations, but also their relative openness to interpretation, have resulted in an inconsistent assessment of the myth to this day. In general, however, this is interpreted as the fall and death of the cocky being the punishment for his brazen grasp of the sun, a symbol of our own longing to strive and what can happen to us when we long for the impossible and forget our humility. 
But the artist does not want her work to pass judgment on the question of guilt. It is the movement that appeals to her, capturing a dramatic, ambivalent moment. Alexandra Kapogianni-Beth's work depicts Icarus before the final impact. Upside down, his face is turned towards the sun, his shoulders are already touching the waves. The artificial wings are gone and can no longer carry the body. The whole body is tense, only the look of the falling does not show any particular fear and panic before certain death. He shows resignation, devotion, waiting and confidence.
Icarus managed to overcome his connection to earth for a short time, he reached up and now has to bear the consequences of his actions. He surrendered to fate. Despite the negative outcome, some people have taken Icarus as a role model. In this sense, Alexandra's work aims to encourage viewers to reflect on their own lives. Would we too, take advantage of the moment and use everything available to us? And would we bear the consequences calmly?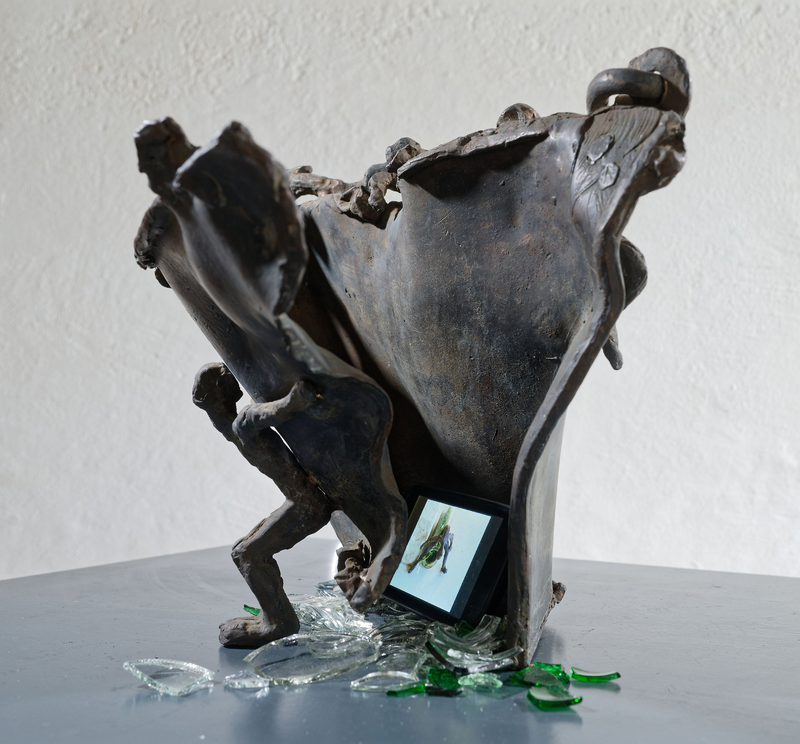 Anka Landtau
Palazzo Bembo
The lucky ones are curious - Friedrich Nietzsche
"What we see is what we want to see. We recognize what we know. When we see something unfamiliar, our curiosity is aroused, we want to know more about it and understand it." This is how the artist Anka Landtau writes in her text for her work The lucky ones are curious, titled after a quote by Friedrich Nitzsche, which can be seen in the Palazzo Bembo.
It is a bronze sculpture, an enigmatic vase-like structure that seems to have been broken open. An archaeological find? The representation of a shipwreck?
In fact, it is the cast of an old bucket that has been found, which is now being attacked from all around by small figures who want to climb along it and get inside. There is broken glass and a mobile phone showing a quick succession of images in a flickering light. A figure dances around a broken glass found on a dump that is already largely overgrown, and snowdrops are growing out of it. The dance acts like a ritual or incantation dance to restore the damaged natural space.
Anka Landtau's work consists of found objects, objects and stories that relate to one another. Each piece carries its own story, at the same time a new story is created here of individual and cultural structures that correspond to natural surroundings. The bucket is not only an object of investigation. It is pattern of interpretation corresponds to man's change between culture and nature. It appears as an archaeological find that provides information about our cultural history. Man's impact on nature depends on his ability to observe and learn.
In his self-understanding, man strives for control and uses science to explore new ways of life and to deepen the knowledge of his own past. However, despite constant observation of nature and attempts to adapt, nature keeps asking people to re-understand it. And again and again we are shocked by our own cultural development, the mistakes we made, the way things got out of hand.
A networking event with a reception will take place in Venice on October 5th, to which the art association World Art Fishing invites. Verena Voigt (curator) will lead through the Palazzo Bembo from 3 p.m. - beginning with the installation by Anka Landtau. The topic of the networking event is entitled "Identity, reflection and the generative in art, music and nature. Using the example of Anka Landtau's Auenatelier (since 2013)". Registration is requested: kontakt@verena-voigt-pr.de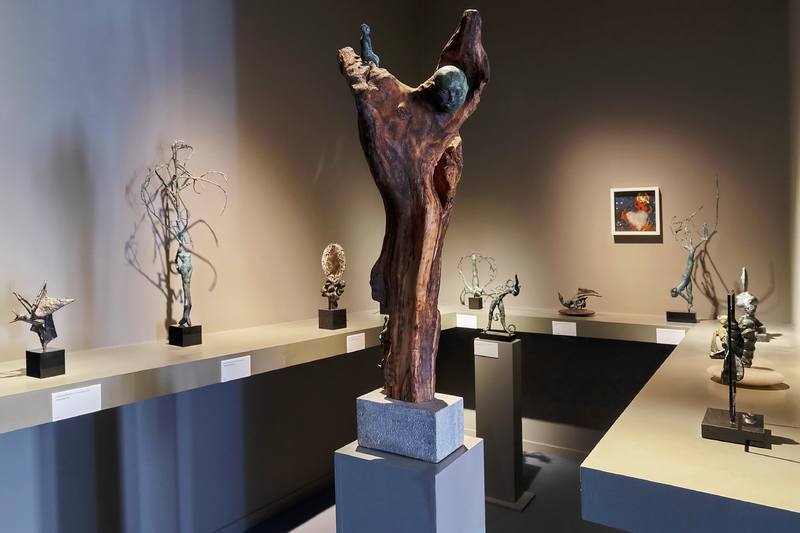 Giselle Weegels
Palazzo Bembo
Although painting was for a long time the main focus of Dutch artist Giselle Weegels, sculpture eventually became her greatest passion. It was profound personal experiences that caused a change in her view of the world and led to a confrontation with the inner world. Initially, a series of small intimate assemblages emerged that made grief a universal theme. Since 2013, the focus has been on working with sculptural materials and contemplating life with all its ups and downs.
Giselle Weegels's artistic approach is the constant questioning and searching for an understanding of human existence, which she captures in sculptures. She searches for that unique expression of universal feelings of purpose, through which the grief and fear of death, the joy and tenderness of birth find meaning. In Venice she is showing 13 sculptures and 2 assemblages on the subject of the cycle of life.
The individual works address emotions such as pain, sadness, joy, powerlessness and ecstasy, as well as events such as birth, growth, flowering and death. They explore the question of metamorphosis, which is at the heart of Giselle Weegels's work. What happens to us after we leave our physical body? Do we continue in another form, thus proving ourselves to be spiritual beings in a physical body? Does birth also mean death and vice versa? Dying, budding and blooming are inextricably linked and form the basic structures to which all life is bound and which connects us all.
With all of her works, Giselle Weegels creates a kind of plan of her personal life structure, in which we can also find our own. For the artist, the shaping of her inner search is the core of being truly human and a never-ending source of artistic inspiration from which her works emerge.
Further information on the exhibition Personal Structures can be found here: https://personalstructures.com/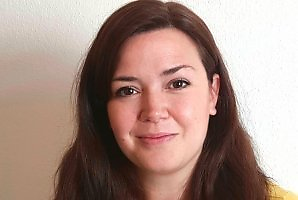 Author: Julia Weiss
Julia is an art historian from Munich. She has been working for sculpture network since April 2022.