Magazine
The MTSA: an Award based on Friendship
The MTSA promotes emerging artists in three-dimensional art. But who is behind the award? What criteria does an application have to meet. And what do the last two winners have to say about the award? We found out for you.
The Mark Tanner Sculpture Award is the most significant award for emerging artists in the field of three-dimensional art in the United Kingdom (UK). In addition to £ 8,000 of financial support to create a new work of art, it also includes a solo exhibit at the Standpoint Gallery in Hoxton, London and a traveling exhibit throughout the United Kingdom. The prize is awarded to artists using unique and innovative practices who show great commitment to the process or a special sensibility for the material.
 
Who is behind the award?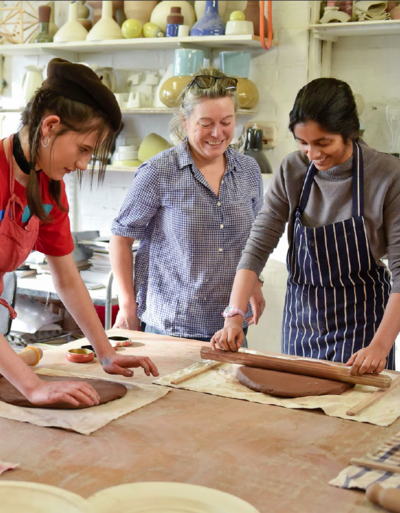 The MTSA is awarded by Standpoint, a charity which has five large studios with creative workspaces for more than 15 artists, as well as an education workshop. Standpoint's mission is to stimulate young and aspiring artists based on the motto "learning from the best". The organization believes that art and education are inextricably bound together and is particularly committed to high-quality and flexible educational programs. One of these is Standpoint Education. This program offers children and adolescents a very unique manner to experience art. They offer workshops where new skills and techniques can be learned directly from inspiring artists In their in-house workshop. In addition, free entry is offered to the neighboring professional studios. Plus, up until this year the charity offered a special career program, Standpoint Futures, which will now be offered by the Chisenhale Studios in the future. Since 2010 25 regional artists have been assisted with free studio space, lodging and a tailor-made mentoring program. In the meantime the program has developed into a important resource for London curators, gallery owners and artists.
Who was Mark Tanner?
The MTSA was initiated in 2001 and is named for a notable British sculptor, who was closely connected to the organization since the founding of Standpoint in 1996 – Mark Tanner. He is among the first artists to exhibit in the Standpoint Gallery. "Mark Tanner was a close friend of mine," says Michael Taylor, Director of Standpoint. "He was someone who I knew from art school. We played together in some bands and had common friends in the London art world. Mark exhibited several times in the framework of our open-studio program, which later became our training and gallery program. Prudence Scott, a poet and, as we later found out, a philanthropist and patron of the arts, was absolutely fanatical about his work. As Mark's health began to fail and he died after a long illness in 1998, we organized a memorial exhibit for him. At that time Prudence approached me and wanted to buy some of his pieces. But, because of his illness there were only very few of his pieces available and the family also wanted to keep some of them as a memorial. This led to the idea of creating a lasting memorial to Mark and his passion for sculpture. In order to make this a reality Prudence founded a non-profit trust, separate from Standpoint, which finances the annual award. We decided to combine Mark's interest in the practical aspects of sculpture and Standpoint's ethic of supporting artists in the early stages of their careers."
Who decides on the recipient?
The continuous artistic development of the recipient, as well as the positive effects of the award on the recipient's creativity are the focus. Thus, only the new project that was financed by the prize money is exhibited in the associated gallery and then is also made accessible to the art world beyond London as a traveling exhibit. A special panel decides on the recipient of the award. "We always have a trusted representative on the panel. Originally it was Prudence herself, but recently her daughter Rebecca Scott, a painter, has taken over her post. Plus, the previous year's winner also participates. In my opinion, this is an important addition, since it provides a 'both sides of the fence' experience for the new winner. In addition to that, we invite a established artist and a representative from a gallery, museum or the curating world as a guest member of the panel. Previously Laurence Sillars, Richard Wilson, Penelope Curtis, Conrad Shawcross, Lisa Le Feuvre, Richard Deacon, Phyllida Barlow, Rachel Whiteread, Cornelia Parker, Cathy de Monchaux, Tim Marlow and Hew Locke have been guests. Every member chooses two artists to interview from the online applicants. Then eight artists are invited to Standpoint to present their work to the jury in person."
Traveling throughout the UK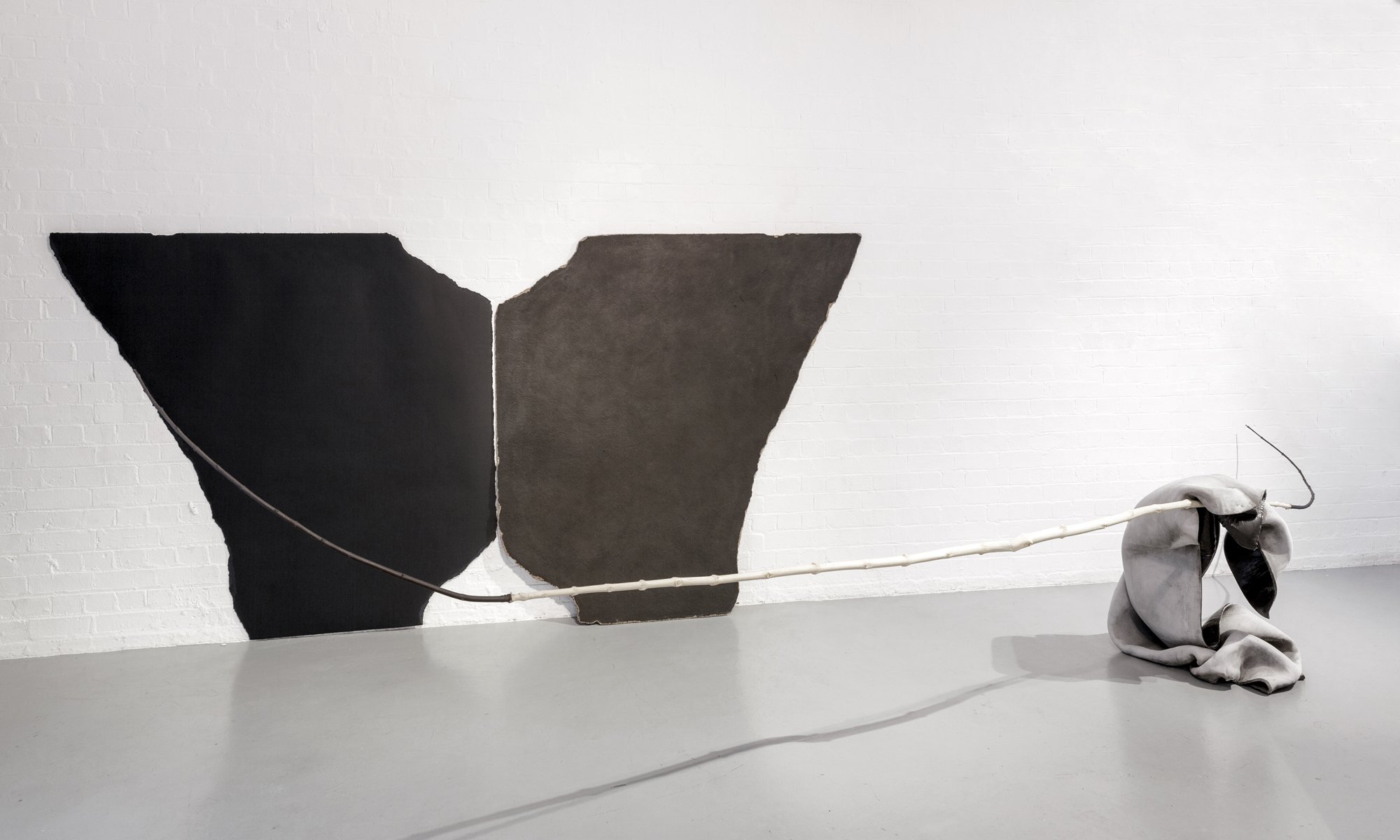 Frances Richardson: Installation view of the MTSA exhibition "Not even nothing can be free of ghosts" at Standpoint Gallery showing:"Eidolon: I thought I could small water", chipboard, paint, paper, 2015 – 2018
and "Divider", ash wood, concrete canvas, 2018 in the foreground, dimensions vary, Photography by Tim Bowditch
This year the recipient of the MTSA 2017-18, Frances Richardson exhibited at the Standpoint Gallery. In the space of one year she created her new sculpture project, financed by the MTSA "not even nothing can be free from ghosts", which was then exhibited at the gallery from May 18th to June 23rd, 2018. "The MTSA is a fantastic platform and I had a great response to the exhibition at Standpoint gallery, especially on Instagram" says Richardson. She is the first MTSA winner to tour her work to Cross Lane Projects in Kendal. From October 12th to December 16th, 2018 her new project, supported by the MTSA, will be on display there. "The team from Cross Lane Projects has provided very good support. The exhibition space is different to Standpoint, instead of a series of small spaces it is one large gallery space and I'm excited to install the body of work and create new relationships between the works. I will be present for the opening of the exhibition and for a public talk on the 20th November. I am particularly grateful to Cross Lane Projects and Standpoint for the wonderful publication they have put together to document the body of work. Currently, I am making new works which are for "Prevent this Tragedy" a group exhibition of sculpture opening on the 24th October in Brixton, London."
Anna Reading – This year's winner of the MTSA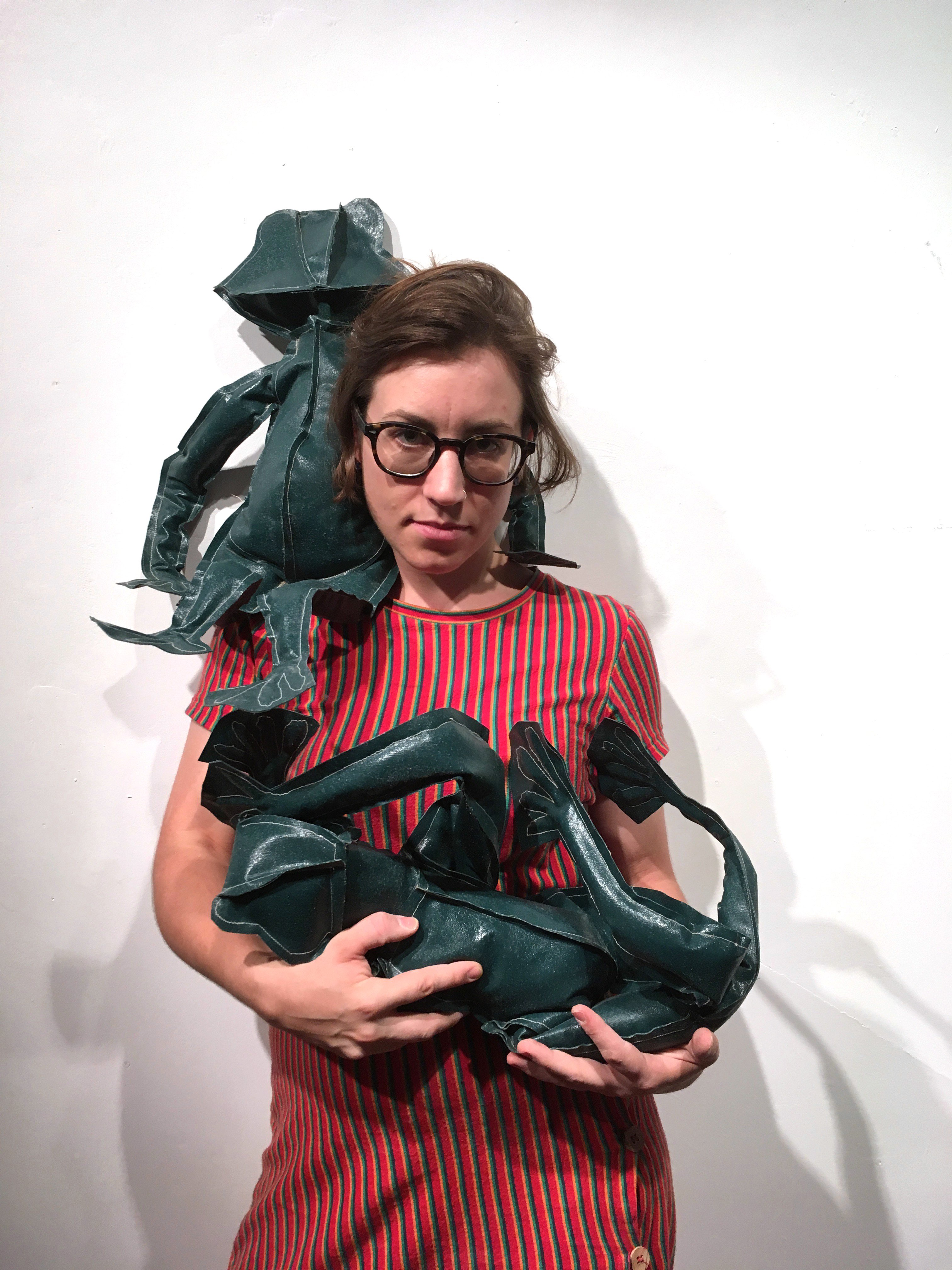 Anna Reading with tarpaulin frog sculptures made
during a residency at AVA in Hong Kong, 2017,
Tarpaulin, wire, stuffing, Dimensions variable,
Photography Diane Chappalley
The winner of the MTSA 2018-19, Anna Reading, will exhibit from May to June 2019 in the Standpoint Gallery. She mainly works in the areas of sculpture, installation, moving images and performance. She places manmade objects and their surroundings in a relationship with each other and makes them appear familiar, on the one hand, and completely foreign, on the other. Her art highlights the threshold between organic and architectonic, antique and futuristic, as well as decomposition and regeneration.
Anna would like to encourage new applicants and has some advice: "If you are working in sculpture and have the feeling that the MTSA would help you right now, then you should definitely apply! I think that honesty and clarity are the most important factors to pay attention to in your application. Make sure that the entire spectrum of your current work is shown. Keep the photos of your work as current as possible and show your pieces in good lighting and with as many detail shots as possible. I already knew about the MTSA 8 years ago when I was getting my Bachelor's, but I only took advantage of the situation and applied this March. And the application was actually really easy. I chose 6 images of my pieces and created an artist's statement, a biography and a suggested project with 300 words, which outlined my plans for my work over the next year. I also described how the award would further my work. In April Standpoint invited me for an interview. There I made a presentation using 22 slides of my work - they showed the entire spectrum of my work, including sculpture, animation and performance. I also talked about current ideas and my thoughts about how my work would develop in the upcoming year. Honestly, that was the hardest part because it's almost impossible to know where your work will take you. I also brought 3 small sculptures with me to show examples of the materials. Having the sculptures in the room helped me a lot because I had the feeling that they spoke for themselves and that I didn't have to explain everything. And I also talked about what a solo exhibit would mean for me in this phase of my career. The exhibit in the Standpoint Gallery is my first solo exhibit in London. It will be an important moment for me. The Standpoint Gallery is the perfect location to exhibit my pieces because of the unique architecture of the exhibition rooms. The gallery has a number of different ceiling heights, a window, an elevator shaft and a towering skylight. That makes it possible for me to investigate the presentation of the pieces in relation to the architecture and to create a number of lighting situations which play a key role in the perception of my work. I'm really happy to be one member in the long list of recipients of the Mark Tanner Sculpture Award who have exhibited there - in a room that has such a supportive atmosphere and really knows about the needs of a sculptor."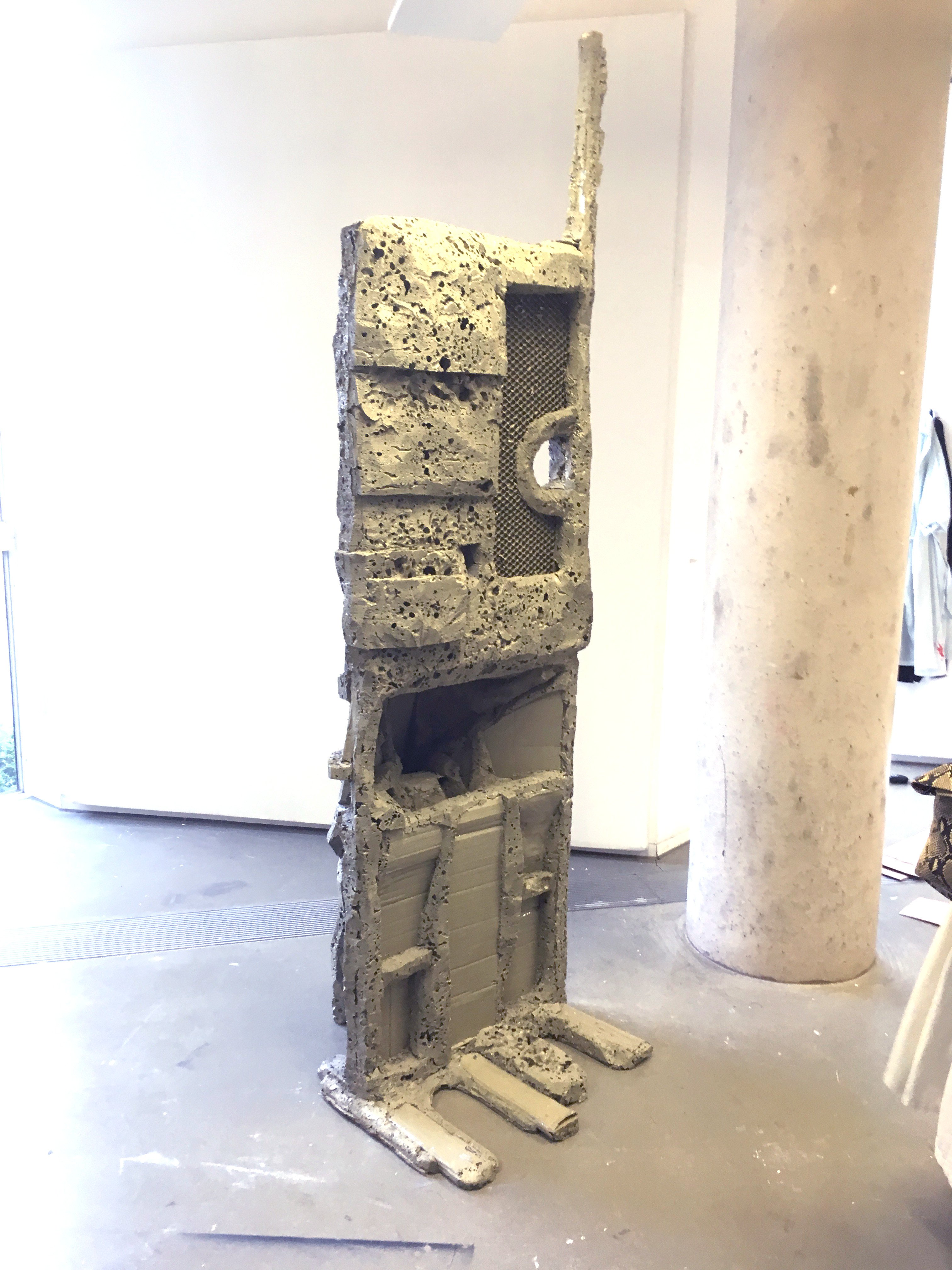 Anne Reading,"Economy Class", 2017, Wood, card, foam, gloss paint, 2.4m x 1.0m x 0.7m
Bloomberg New Contemporaries 2018, Installation Image, Liverpool John Moores University. Photography Alfie Long
News about the application process, as well as the planned members of the jury is published at the beginning of every calendar year in the Newsletter, on the Website, Instagram, Facebook and Twitter.
Author: Claudia Thiel
Claudia Thiel is an art historian and a journalist.