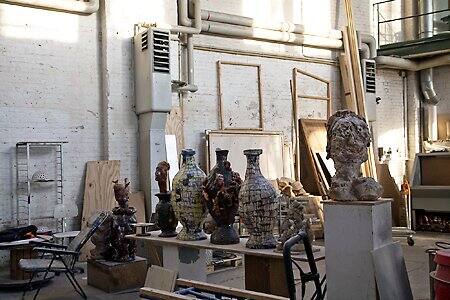 Osloer Strasse 102
13359 Berlin
Germany
Bildhauerwerkstatt der Kulturwerk des BBK Berlins GmbH
kulturwerk of the
bbk berlin
The kulturwerk of the bbk berlin is a non-profit subsidiary of the berufsverband bildender künstler*innen berlin (the professional association of visual artists in berlin) whose primary goal is to establish favourable conditions for artistic production.
The services provided by the kulturwerk are available to all professional visual artists in Berlin and enable them to work with unrestricted artistic freedom, independently of the pressures of conformity and commercialisation. 
Newsletter
The newsletter of the bbk berlin provides information about its own activities and relevant cultural and political events by other actors. In addition, you get information about tenders, publications and selected art exhibitions and discourses as well as about events organized by the Kulturwerk des bbk berlin GmbH and the bildungswerk des bbk berlin GmbH, Köthener Str. 44 in 10963 Berlin.
Weekly, the newsletter of the bildungswerk des bbk berlin provides information about its own educational offers, especially seminars, workshops, coaching, lectures and information events.
Every two months, the Studio Newsletter provides information about studios and studio apartments currently on offer from the support program, which will be awarded by the Studio Advisory Committee. You can register for the Studio Newsletter here!