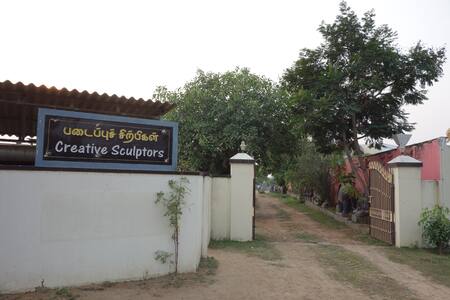 KALPAKKAM ROAD
603104 MAMALLAPURAM, TAMIL NADU
India
CREATIVE SCULPTORS
Welcome to Tamilnadu's largest and most significant Sculpture Workshop, specialized in Traditional Art and Architecture for the Indian market and export.
The plant offers a 2000 m2 production space, including dormitories, administration offices, lunchroom and kitchen, a blacksmith forge, two stone saws, and a mobile crane.

Creative Sculptors Founder is Mr. T. Baskaran, B.S.C.
Mr. T. Baskaran oversees all the artworks produced at the workshop.

About 50 skilled craftsmen constitute Creative Sculptors labor force.

GLOBAL STONE WORKSHOP is CREATIVE SCULPTORS International Partner since 2010.