Membership
For Artists
As an artist, you need to meet the right people who can get your work to be seen, as well as to have a platform where you can promote it. Sculpture Network membership offers you a tool to achieve exactly that, while you network, meet peers, and enjoy art and access key information exclusively for members only.
Reach out to Europe! Promote your work
Be seen by our audience: more than 9,000 monthly web visitors, 17,000 newsletter readers, 16,000 social media fans and 4000 participants at our live events. Individuals and institutions who are specifically interested and involved with sculpture.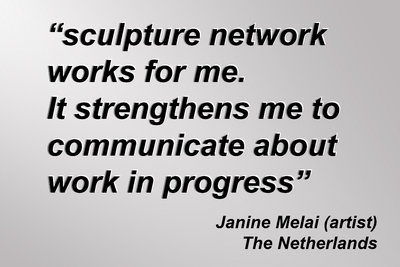 1. Promote your work
Create a complete Online portfolio in your Profile with an unlimited number of photos and artworks with descriptions. Your Profile can be used as a Webste for your work, everything is there already.

Present your CV, exhibitions, publications and personalized your profile with extra text elements

Curators and art specialists specifically consult our website in order to discover new artists and their works.With the detailed searching options an interested audience can become aware of your works

In our search function, members are displayed primarily in the results page

Your profile also has a contact form where visitors can contact you directly

List your events in our Europe-wide Art Agenda event calendar

You will be presented as a new member in our Instagram page (over 9.000 followers)

Present your work live at Sculpture Network's international events, held in different countries, hosted at key institutions and attended by an audience of key professionals in the field.

As member you have the opportunity to be in continuous contact with our editorial staff. Are you taking part in a renowned exhibition? Did you win a prize? Tell us about yourself and your successes as a Sculpture Network member. We like to promote relevant stories on our website and our social media channels!
 
2. Exclusive offers for members
Sculpture Network offers an extended, specialised listing of opportunities related to three-dimensional art, from more than 30 countries in Europe, up to 50 calls per month. As well you will find over 400 Organisations who offer Artists Residencies, Art Prizes, Symposiums and Funding on a yearly basis.

20% off for all Sculpture Network events, art trips and Sculpture Network publications

Participate in exclusive, members only - Sculpture Network Calls

Promote you work on our web page and in our newsletter: get 20% discount on advertising on the Sculpture Network platform
 
3. Enhanced networking possibilities
Network with experts and professionals at our live events throughout Europe

Our coordinators throughout Europe are a further source of information

Channel your queries through Sculpture Network. Our comprehensive database and staff offer extended contact sources on a local and international level
 
Annual membership fee: € 120,—