Dialogue at Henry Moore Studios & Gardens in Perry Green, UK
Registration is closed, the event is fully booked!
To celebrate the Henry Moore Foundation becoming a member of Sculpture Network, Sebastiano Barassi, Head of Henry Moore Collections & Programmes will be our host.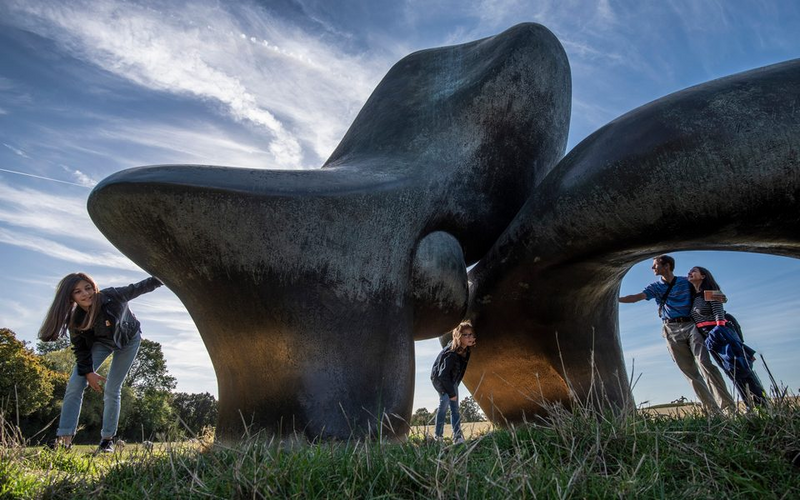 Programme
11.00am – Coffee in café and welcome word by Sebastiano Barassi, Head of Henry Moore Collections & Programmes
11.30am – Exclusive guided tour of the Archives, led by Sebastiano Barassi
1.30pm   – Lunch and networking
2.30pm   – Explore the gardens and the new exhibition Vitality – The Human Landscape of Henry Moore
5.00pm   – Henry Moore Studios & Gardens closes
Participation
Fee: £20
The fee includes an entrance to the Henry Moore Studios & Gardens with tea/coffee in the morning and light lunch in the afternoon.
The participation fee is to be paid in cash on site.
Maximum 20 attendees. Members priority.
The number of participants is limited and online registration is required.
Deadline for registration is June 5, 2023.
The programme language is English.
Meeting Point and Event Venue
Henry Moore Studios & Gardens
Dane Tree House
Perry Green
Much Hadham SG10 6EE
United Kingdom
Lunch
Lunch will be provided at Rosey Lea Café.
How to get there
Henry Moore Studios & Gardens are located just 27 miles north of London in the beautiful Hertfordshire countryside.
You can get to Henry Moore Studios & Gardens by car (free parking on site) or by train. If you decide to travel by train the nearest station is Bishop's Stortford, which has direct lines to London Liverpool St, Stansted Airport & Cambridge. The station is around 15 minutes away by taxi.
Another alternative, when travelling from London, is Ware. This station has direct services from London Liverpool Street and Tottenham Hale. A return ticket to Ware is cheaper than to other local stations. You can also use Oyster card or contactless payment to travel. Ware is around 20 minutes away by taxi.
For detailed information, please visit: https://henry-moore.org/studios-and-gardens/plan-your-visit-studios-gardens/address-directions-parking-studios-gardens/ 
More information
The Henry Moore Foundation was founded by the artist and his family in 1977 to encourage public appreciation of the visual arts.
Today the Henry Moore Foundation support innovative sculpture projects, devise an imaginative programme of exhibitions and research worldwide, and preserve the legacy of Moore himself: one of the great sculptors of the 20th century.
The Dialogue will be hosted by Sebastiano Barassi, who is the Head of Henry Moore Collections & Programmes. He will give a special tour of the Henry Moore Archive – the world's leading resource on the life and work of Henry Moore, containing publications, correspondence, images and exhibition material.
Participants will also have the opportunity to see Vitality: The Human Landscapes of Henry Moore – the current exhibition which highlights that for Moore, nature and the human body were sources of vitality, expressions of the life-force.
Before joining the Foundation, Sebastiano Barassi was the Curator of Collections at Kettle's Yard, University of Cambridge and worked at the Courtauld Institute Gallery in London.
Contact Person
The event is organized by Marek Wolynski, Sculpture Network Coordinator London, UK
marek.wolynski@sculpture-network.org


In collaboration with