Arboretumlaan 4
6703BD Wageningen
Netherlands
Dialogue in Het Depot Wageningen
Registration is closed, the event is fully booked!
"Sculpting Dreams" in Wood and Bronze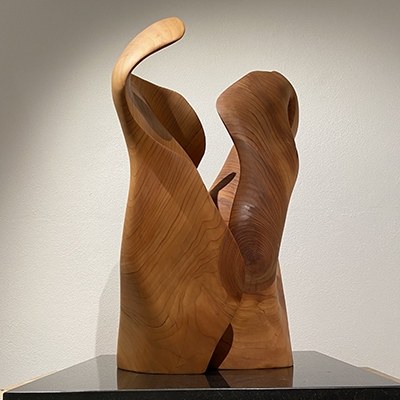 This dialogue comprises four visits:
First, on its last weekend, we will visit the exhibition of Helaine Blumenfeld in Het Depot. At this exhibition there will be over 25 sculptures to be seen: most of the works are recently made in wood. The second stop will be the beautiful 19th-century Villa Hinkeloord, where we will see and discuss the work of Eja Siepman van den Berg, a Sculpture Network member. His figures in bronze and stone are figurative and have an abstract quality. Then we will visit The Peppel Emile van der Kruk, with his own emotional-realistic language, displaying 100 sculptures in his permanent oeuvre-collection exhibition. And our last stop will be a meet with Petra Boshart who will present seven of her sculptures in the collection of Het Depot.
The event is organized by Yke Prins, Sculpture Network Coordinator The Hague, NL.
Program:
11.00 Meet at entry Het Depot, visit Villa Hinkeloord & De Peppel, Eja Siepman van den Berg & Emile van der Kruk
13.00 Lunch, soup, quiche & drink, showroom
14.30 guided tour exhibition Helaine Blumenfeld 
16:00 Meet with Petra Boshart and her sculptures in the collection of Het Depot
17.00 End of the program Het Depot
17.00-18.00 Drinks at the restaurant Wageningse Berg
Participation: 
Normal price: 35,00 EUR
Sculpture Network members: 25,00 EUR
The fee includes entry, guided tour Helaine Blumenfeld, lunch with soup, quiche & drink (veg) at the arboretum Parc and three visits: Het Depot, Villa Hinkeloord and De Peppel. Drinks at the Restaurant De Wageningsche Berg is not included.
To be paid in cash on the spot.
Maximum: 20 attendees. Members priority.
The number of participants is limited and online registration is required. Registration period until March 22, 2023.
The language of the program will be in Dutch.
Meeting spot:
Meeting place at the entry of the Beeldengalerij Het Depot, first visits will be in the Arboretum Parc, Villa Hinkeloord and De Peppel, walking distance from Het Depot.
Contact:
Contact person/coordinator
Yke Prins
yjprins@ziggo.nl
+31628202123
Beeldengalerij Het Depot
Arboretumlaan 4
6703BD Wageningen
0031 (0)317 467 738
beeldengalerij@hetdepot.nl
www.hetdepot.nl
Fletcher Hotel-Restaurant De Wageningsche Berg
Generaal Foulkesweg 96
6703 DS Wageningen
Tel: 0317 - 495 911
E-mail: info@hoteldewageningscheberg.nl
For any questions regarding the event or the registration please contact your coordinator Yke Prins or the Sculpture Network office.