International Dialogue in Wuppertal
Network Day in Wuppertal
We are pleased to invite you to the second sculpture network International Dialogue - this time in Wuppertal, Germany! Longer than a normal Dialogue, shorter (and cheaper!) than an art trip, this new format offers sculpture network members and friends from Germany and its neighbouring countries the opportunity to enjoy a day full of art and networking opportunities.
Program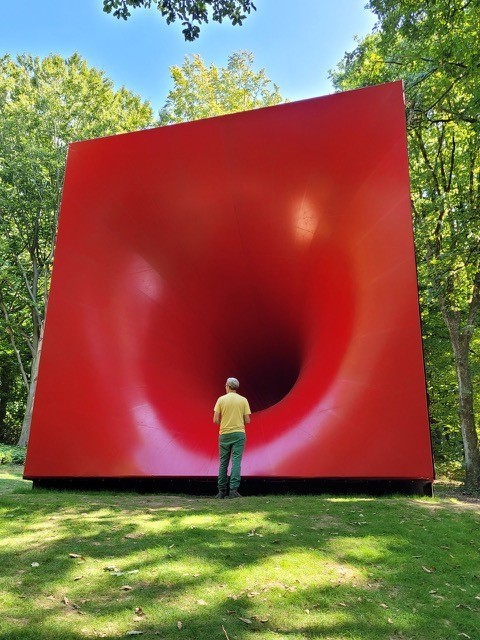 11:30 - 12:30: Arrival (time to eat a snack or take a look around)
12:30 - 14:00: Overview tour of the Waldfrieden Sculpture Park and the Anish Kapoor Sculptures exhibition
14:00 - 14:30: Time at your own disposal
14:45: Coffee and cake, networking and showroom
16:00: Carpool to the Von der Heydt-Museum (Turmhof 8, 42103 Wuppertal - approx. 3 km)
16:30: Visit to the Von der Heydt-Museum Wuppertal and the exhibition ZERO, Pop and Minimal - The 1960s and 1970s
18:30: Dinner together (optional)
The event will be held in German and English.
 
Price - Logistics - Registration
Normal price: 60,00 EUR
Special price for sculpture network members: 48,00 EUR
Included: Admission tickets, guided tours, networking and showroom.
Not included: Meals, transport (We will organise a carpool from the sculpture park to the museum).
Cancellation policy:     
In case of cancellation after 05. 10. 2022, 40% of the participation fee will be retained.
If you are travelling from the Hannover region, there is a possibility to organise a carpool. Please contact our coordinator Micheal Zwingmann for details.
 
About the Waldfrieden Sculpture Park
The Waldfrieden Sculpture Park is a sculpture park by the English sculptor Tony Cragg, in which numerous sculptures by other well-known artists are also on display, some on loan. The facility is run as a private museum by a non-profit foundation, the Cragg Foundation, which has been in existence since 2005.

About the Von der Heydt Museum
The Von der Heydt Museum was founded in 1902 as the Städtisches Museum Wuppertal-Elberfeld. Since 1961 it has borne the name von der Heydt in memory of the banking family that was important for the promotion of the museum. The museum's collection includes paintings, sculptures, graphics and photographs from the 17th century to the present. The collection focuses on 19th century French painting and modern art.

The programme is organised by Michael Zwingmann, sculpture network Coordinator Lower Saxony.

Cover picture: Tony Cragg, Untitled (2007 and 2008), Skulpturenpark Waldfrieden in Wuppertal/Germany
2nd image: Anish Kapoor, Sectional Body preparing for Monadic Singularity