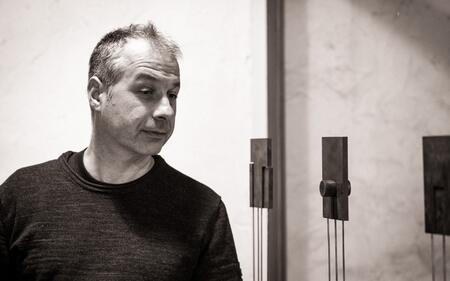 Jürgen Heinz
JÜRGEN HEINZ. METALLBILDHAUER
Jürgen Heinz arbeitet mit Stahl. Mit seinen MOVING SCULPTURES überschreitet der Künstler die
unüberwindbar scheinende Kluft zwischen archaischem, schwerem Stahl und sanfter Bewegung.
Die Objekte verbergen ihre Beweglichkeit in einer geschlossenen Form, die zunächst als Statische Plastik wahrgenommen wird.Ein leichter Impuls,ein Berühren oder Windhauch bringt die Plastik zum Schwingen und weckt ihre Lebendigkeit. Die MOVING SCULPTURES von Jürgen Heinz kommunizieren mit dem Betrachter, berühren,ziehen in Bann und fordern auf zum Agieren. "Die Seele des Objekts kommt durch die Bewegung zum Ausdruck" - so Jürgen Heinz.

JÜRGEN HEINZ.METAL ARTIST & SCULPTOR
Jürgen Heinz works with steel. With his MOVING SCULPTURES, the artist transcends the insurmountable gap between archaic, heavy steel and gentle movement. The objects conceal their mobility in a closed form, which is first perceived as static plastic. A light impulse, a touch, or a breath of wind brings the sculpture to swing and awakens its vitality. The MOVING SCULPTURES by Jürgen Heinz communicate with the viewer, touch, pull in pell and call for action. "The soul of the object is revealed through movement." - says Jürgen Heinz.