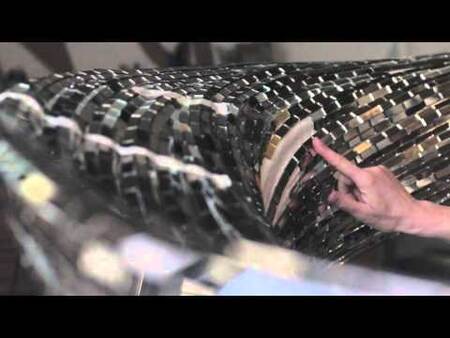 Rebecca Newnham
Rebecca Newnham MA(RCA) FRBS

BIOGRAPHY

Rebecca Newnham works predominately as a sculptor and designer; current work illustrates scientific concepts such as energy transference. Her materials lead approach is informed by an understanding of glass, bronze, concrete, fiberglass, although she specialises in glass. She is a maker and creates her own work with assistants and in collaboration with structural engineers. Sculpture can be static or kinetic, some float or suspend or rotate.

Rebecca Newnham first exhibited  in Salisbury Cathedral in 2010 and co curated 'Reflection' at Salisbury Cathedral in 2016. Nine artists who work with glass, including Rebecca, were invited respond to the context of the space. Rebecca's work follows on from the last series shown in 2010 and also marks a new departure, a creative leap in her practice.

Simultaneously in 2016, Rebecca had a significant body of work, 10 groups of sculpture, at Doddington Hall.

In December 2015 Rebecca moved to Bournemouth and built a new studio very close to the sea in early 2016. The digital arts community in Bournemouth became a significant influence and in particular her collaboration with film maker, Lizzie Sykes. The two met at an inaugural exhibition at Rebecca's new studio and house, which included the work of other artists and makers. By projecting film onto sculpture they are challenging the concept of the screen and encouraging active, 360 degree viewing on the move with an exciting creative collaboration celebrating sculpture, glass, film, dance. in May 2017 Inside Art Open Studios is to include a performance collaboration of sculpture, film, and dance. Also opening in May 2017 at is Rebecca's response to Russell-Cotes museum and art gallery.

Sustainability & best practice is on all of our agendas, and Rebecca's studio explores reuse of glass bottles in particular crushed as an aggregate in concrete or fused in a kiln. Years of research is now leading to exciting commissions reusing glass bottles to create artworks for the hospitality sector, in 2015 and 2016, and reusing glass to create artworks from materials with historical relevance. Soar is a sculpture cast in editions in bronze or with glass aggregate. It follows on from a series of work about flight and the energy required to elevate. The glass aggregate casts reuse imploded and graded bottle glass, sourced locally, in place of other aggregate; the glass sparkles in the light. HSBC have one in their collection.

One of Rebecca's floating works is Wave, a 15m installation, which was commissioned for a private lake in Yorkshire in 2013 and considers the ever increasing volume of information which invisibly surrounds us. The five sections have an internal steel structure, have a highly polished red surface and are invisibly chained together and anchored to allow the work to respond to wind and water flow. Wave is red because in the colour spectrum, red appears at this wavelength.

Rebecca Newnham was elected a Fellow of the Royal British Society of Sculptors at the end of 2016 and helps arrange Regional meetings, connecting professional artists in their localities;  Rebecca is Royal College of Art Alumni; An Artparkspace founder member, inviting creatives to express an aspect of their practice in their vehicle and meet at a specified time and very public car park, such as on the Bournemouth seafront between the piers.  In 2016 Artparkspace were invited to participate in British Art Show Fringe 08 in Southampton.  Rebecca  curates Artspace studio projects; her studio and home are transformed into an exhibition space twice since moving to the new studio. For the second event, Rebecca and other artists teamed up with Six projects and created Inside Art, a tour of 8 curated venues in the close vicinity of Southbourne. There are 2 further events planned in 2017.

In October 2016 Rebecca became a Trustee of Bournemouth Lower Gardens Committee.