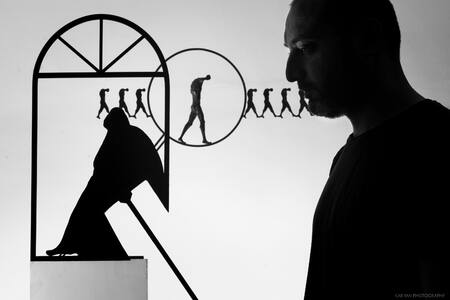 Gevorg Tadevosyan
The sculpture is a form of thinking and expression. It is the combination of line, volume, and light…
I am Gevorg Tadevosyan a sculptor from Armenia – an ancient country between Europe and Asia.
In my early adolescence, I was delighted to see how the mass of clay, wood, or bronze without any form became an artwork and got precise and speaking forms under the direction of the hands of a sculptor. Just this interest and passion became decisive in my future․ The discovery of the secrets in the world of sculpture began at the State Art College after P. Terlemezyan in Yerevan, then at the Yerevan Academy of Fine Arts.
Becoming older and getting more experience I started to understand the real meaning and the deep inside of sculpture...
At the first sight, it seems that the sculpture gives too few opportunities for creation. Only when one starts to understand and knows the secrets of the world of sculpture the opportunities become clear…
I tried to explore the infinity of sculpture. I never confine myself with the topics. The idea comes first with the play of forms, the activeness of the line, the silhouette, the light... The topic comes later, only after I find the right harmony.
The impressions I have in my life, are the main sources for my art. It can be people, books, everyday objects, cities, countries... All these impressions give food for the emergence of interesting ideas. But even the impression is decisive, in the first place are again the forms, line, silhouette, the light…
When I create, I feel stronger. During the process of artwork creation, I feel inside of me an inexhaustible source that feeds me with creativity, energy and persistence. A completed artwork takes me one more level up and makes more confident…
<br><br> tadevosyan.org https://youtube.com/watch?v=arI6V8qXQxs&feature=share https://www.youtube.com/watch?v=cl2jl0U3Iz4&feature=share