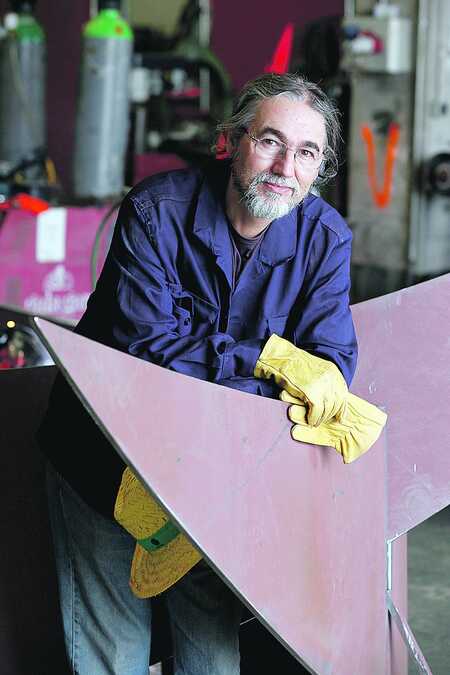 Teo. San Jose
TEO SAN JOSÉ / STATEMENT
My sculptural work is developed from the desire to create spaces for dialogue. For me, it is necessary to work from the dialogue as a form to achieve an expresión of serenity. The public and monumental work that I carry out has a strong intention to intervene in people ́s daily lives. In my case, the sculptures do not wait in the standard exhibition spaces, on the contrary, they are the ones that go out to meet their own place and its spectators. The sculpture of great dimension, allows to trascendí the human scale, picking up the notion of "symbol" and stimulating a physical relationship with the viewer. The viewer surrounds the work, crosses it, raises and lowes the head or moves away from it. If the referente point is variable, so is the work itself. This transformation without change is one of the fundamental balances that I seek in my projects.
Tension as a balance between concepts is present in all aspects of the work. The use of steel as a material exposes a weight, a solidity. The facto f curving ans stylizing its formas provides a condition of lightness. It is this relationship between elements that interests me. From a language far from representation, I look for a síntesis in the meanings. That expression and contentment shake hands.
In my work, matter not only shapes space, it also crosses it to compose new places. The planes are superimposed without losing their individual quality, to build dimensions that exceed them, where the material becomes inmaterial, and the opaque can be transparent. Emptiness and matter complement each other, changing our eyes, making new interpretations, staying always in motion.
Dynamic balance is essential to me when considering new projects. The Essentials idea that my work moves within the scope of a dynamic and peaceful visual art at the same time, becomes increasingly important. Working from this position allows me to build mental spaces where there is a heterogeneity of ideas that can go in and out, as I a mable to find them. Give intuition and subjective thought its value, create solid pieces that can be swayed by the wind, change color by light, transform according to the way we look at it.