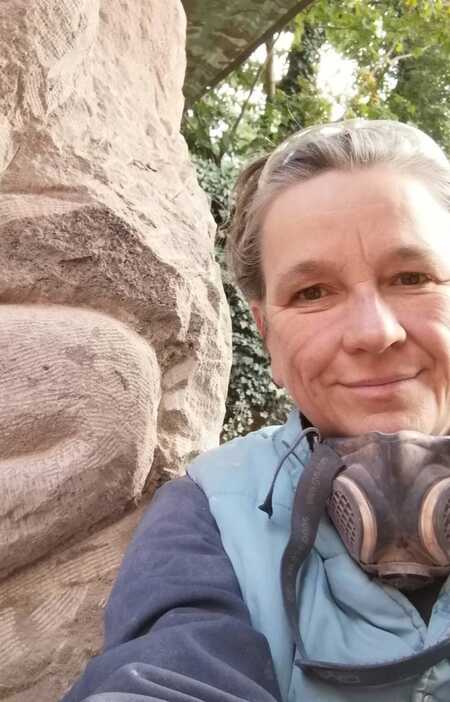 Deborah Harrison
Deborah is an award winning contemporary sculptor who specialises in stone. Her attraction to stone comes from it's ancient permanence and inner beauty. Through the technique of Carving Direct she seeks convergence between being guided by the stone's form, grain and colour and her faith. She discovered stone carving in her middle years and went on to do a years diploma in stone masonry after which she turned professional after the death of her mother in 2015.
Notable sales have been to the NHS Trust, to Sir Malcolm Evans the Chair of the United Nations Anti-Torture Subcommittee and a luxury spa in Portugal.
In the past two years she received the Sculpture Award and Guest Judges Award with the SWAC, she was the winner of the Christian Arts Festival Award, selected for the RWA 168th exhibition, a finalist for the Chaiya Arts Awards exhibited in the London South Bank's Oxo Gallery and finalist for the online Covid-19 IMPACT exhibition.
Deborah enjoys working collaboratively with organisations to raise access to the arts in the community. Her work was the basis of the Matson Sculpture festival where she gave workshops in local schools and talks to the community. Her work was part of the charity auction to raise funds for refugees.
Deborah is based at Gloucester City Works in an old shirt factory where she leads carving course for all levels of ability and experience. She welcomes commissions for indoor and outdoor sculptures, for public and private clients.