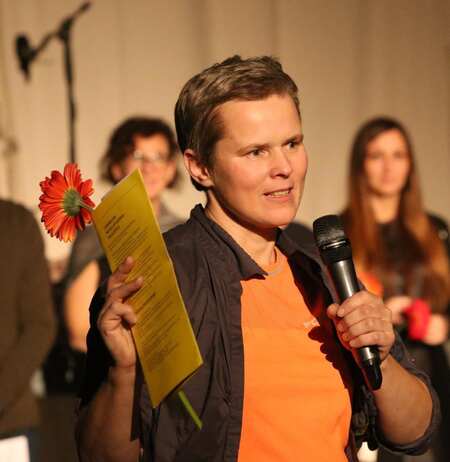 Assistant professor of sculpture department
Elo Liiv
Elo Liiv art work reflects worldview, environment and social issues, but also deeper psychoanalysis and mental states. She is dedicated to themes like social blindness or home violance, useful (ab)use, human relationships between each other and nature.
Elo Liiv: "When I look through or forgot the parameter of time, I concentrate only to the timeless main core, main essence of the human being or situation, social patterns, philosophy. It's like with monumental form you also simplify all other layers in the world you image or describe. Everything comes very clear and simple.
At the same time in good art there should be a public's mental shift, artist should compose and manipulate with audience brain and senses. I am interested in reciprocal relations in the whole world, in the ever changing sinusoids that result. In the breathing rhythm. In the heartbeat."
Elo Liiv (b. 1971) is an Estonian sculptor, installation artist and pedagogue. Being proficient in classical sculpture she has also kept pace with changes in the field, she likes to experiment with video, mapping, light and kinetics - so skillfully using the technological possibilities that modernity offers to the sculptor. Liiv has completed several monuments in Estoni and loves to create a shift in public space, compose with visuals, light. Her works reflect worldviews and social issues, as well as deeper psychoanalysis and mental states, benevolence. To promote lighting education, Liiv has supervised lightart and lighting design workshops since 2005 and has been involved in organizing light festivals in Estonia - she has been one of the main organizers of Tallinn Light Biennale (2013) and Tallinn Winter Festivals (2016, 2017), as main organizer of Tartu Valgus TAVA2016, TAVA2018 and TAVA2021.
www.eloliiv.ee
https://et.wikipedia.org/wiki/Elo_Liiv