Magazine
Sculpture and Self-Care: How art is being influenced by a trend towards personal development and self acceptance
Once deflected to the discount shelves of your local bookstore, self-help has made its way into vogue. Shifts in sociopolitical dynamics around the globe have inspired cultural "clapbacks" in the form of body positivity, social inclusivity and self-acceptance. As these changes in expression and perception become the welcomed norm, the aesthetics behind this new self-care wave have taken on physical shapes.
Self-care, self-help, and self-love are each separate, but balanced elements of an overarching trend towards self-acceptance and self-expression in contemporary society.
The general sentiment behind each is grounded in a personal desire to grow, to accept perceived flaws, and to express that acceptance publicly (and often encourage others to do so as well). It may once have been considered taboo to take a "self-care" day off of work; it's now more broadly considered a priority in the consideration of mental health.
Artists and non-artists alike are turning to creative practices in an effort to explore self-acceptance, develop self-love, and redefine self-expression. In an age where inclusivity, fluidity and boundary-pushing is common law, art is bonafide self-care. Sculpture is a ready medium for this trend. Accessible to both established artists and those seeking an expressive outlet in the name of self-love, three-dimensional art provides a tactile, tangible allusion to the artist's ego.
One such established artist is Yayoi Kusama, who currently holds the title of the world's wealthiest female artist. Kusama's prolific career began in the 1950s, alongside successful contemporaries like Donald Judd and Jackson Pollock. In the midst of burgeoning success, Kusama retreated from the demanding New York art scene and relocated to Japan in the 1970s to recover from personal health issues, including exhaustion and overstimulation.
In 1977, Kusama voluntarily admitted herself to the Seiwa Hospital for mental illness, and remains living there to this day, crediting the stability and structure of the institution as a refuge in which to heal herself through her art practice. "It doesn't matter at all for me that I work in hospital or anywhere with limited space. Every day, I'm creating new works with all my might," Kusama said in an interview with The Huffington Post.
Per her autobiography, Kusama says "I fight pain, anxiety and fear every day, and the only method I have found that relieves my illness is to keep creating art."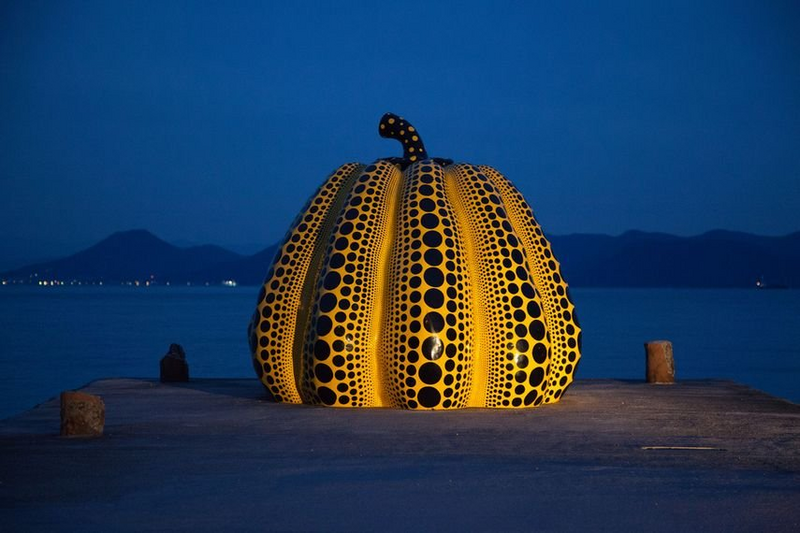 One of Kusama's most memorable works, Pumpkin (1994), amplifies a motif of self-acceptance and exploration that is present throughout her career. Kusama has referenced across decades (and mediums) the pumpkin as an alter ego, "giving off an aura of my sacred mental state", as described in her poem On Pumpkins. Drawing from personal image and childhood experience, Kusama shares her connection to the gourds as a healing symbol of the self:
"The first time I ever saw a pumpkin was when I was in elementary school and went with my grandfather to visit a big seed-harvesting ground… It immediately began speaking to me in a most animated manner. It seems that pumpkins do not inspire much respect, but I was enchanted by their charming and winsome form. What appealed to me most was the pumpkin's generous unpretentiousness." The sculptural form of Kusama's pumpkin motif more vividly expresses the self for both artist and audience.
Sculpture can also provide an outlet for exploration of material and imaginative processing , such as is the case with artists like Felice Tagliaferri, a blind Italian sculptor whose professional motto is "you are forbidden not to touch".
Frustrated with a visual gap in his ability to experience three-dimensional artworks, Tagliaferri was inspired to develop his art practice in rebellion of institutional rules about physical contact with the works on display. His subsequent works have been celebrated by patrons around the globe who have expressed appreciation at the inclusivity and experiential joy of engaging with sculpture in an accessible way. For Tagliaferri, it was a natural extension of his own means of self-care through art fabrication: "I understood I could express myself through sculpture, the images in my head, my dreams, my thoughts, my childhood memories, and I could show them to the world."
The most famous of Tagliaferri's works is Cristo Rivelato (Revealed Christ), a response to 18th century sculptor Giuseppe Sammartino's Cristo Velato (Veiled Christ) that he was unable to physically engage with on his visit to see it.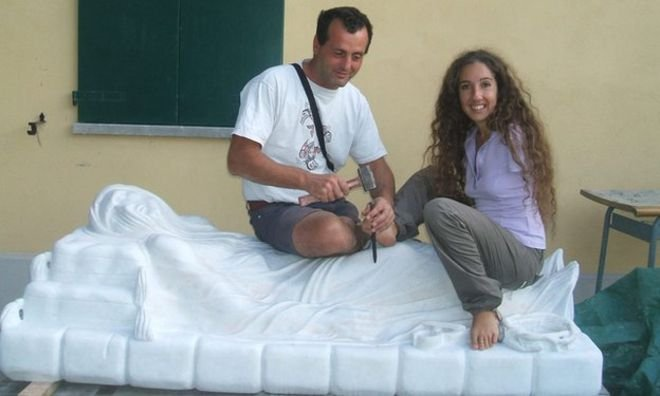 Tagliaferri's variation was intended to enable those without an ability to view sculpture to experience it in their own way, and was partially carved by disabled people, so that they could share in the creation of the piece. It has been lauded globally by blind and disabled people as a unifying, healing symbol of artistic inclusion. The ultimate reward for Tagliaferri: The Cristo Velato is now blind accessible also, as the Sansevero chapel in which it is kept has changed its "no touch" policies due to Tagliaferri's influential work.
Sculpture provides an avenue for artists to express ideals and sentiments of self-care and self-love to those who engage with their work. A contemporary evolution of self-care is the breaking down of its previous stigma, and sharing tips and more public messages of support to those who share in the interest. In an era of increased interconnectivity, the dialogue between artist and patron becomes even more personal and tangible, allowing both the artist's and the audience's experiences to inform the development of new works.
While the concept of self-care and self-love as a basis for an art practice is not phenomenal in its self-reflective state, this metamorphosis into the artist as motivator or practitioner is still relatively grass-roots—but growing.
Berlin-based artist (and trained dancer) Helga Wretman is one such example. In 2010, Wretman developed an ongoing project titled Fitness for Artists, which is essentially functions as a performance of actual group fitness classes for fellow artists in need of a physical release. Harkening to elements of Institutional Critique and Relational Aesthetics, Wretman has hosted hundreds of these dance-and-martial-arts fusion workshops in museums worldwide, with the intent to combine different elements of her practice while "helping her artist friends channel their 'creativity' by working out in a no-pressure environment", per Frieze magazine.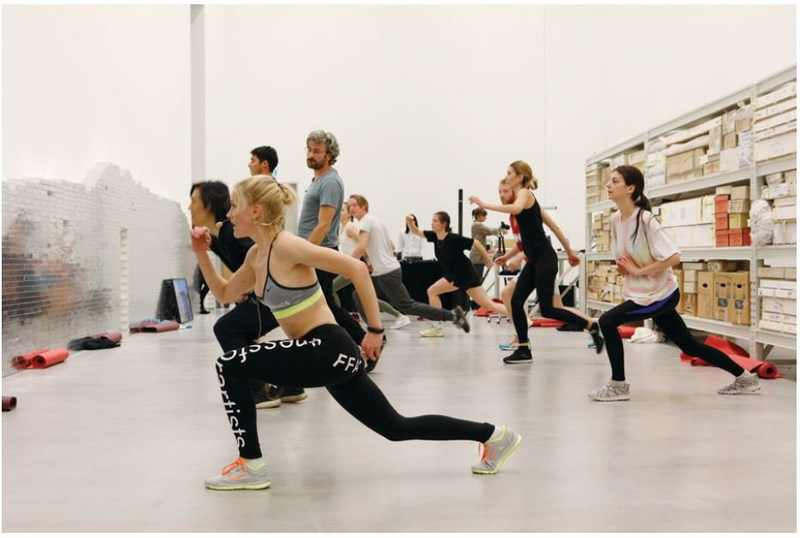 While Fitness for Artists began as a way to practice self-care through exertion, the project eventually evolved to critique societal pressures to attain higher levels of perceived personal improvement—especially in one's physique. Wretman now cautions mildly against self-centeredness, and encourages her audience to consider the impact that each person can have on one another, when we apply ourselves. Acts of selflessness, and the positive sensations they produce in us, are their own form of self-care.
Call it "Art-Imitating-Life": As the concepts of self-care, self-love, self-help and their associated human experiences become more commonly expressed, artistic practices will evolve to further the dialogue. While self-care and self-love as a sculptural practice may not be widespread (yet), there are elements of each methodology that may be enlightening or uplifting to artists at any stage of visualization or production.
Consider the following tenets of self-care and self-love, and the potential they may have to positively influence your artistic practice:
You are enough. In this very moment, you are whole, complete, and you do not need to prove yourself or your worth to anyone, not even you.
You are worthy. You are worthy of positivity, love, happiness, compassion and forgiveness. You are inherently worthy simply through your existence in this moment.
Taking time to care for yourself is important. Practicing various forms of self-care is essential to nourishing your creative spirit, and to being your best self. Recognizing and
doing this is a strength, not a weakness.
What you have to share has value to yourself and to others. Each of us has gifts — skills, knowledge and perspective. We can benefit ourselves when we acknowledge and use those gifts, and we can benefit others who may need to experience those gifts, through any medium.
In the meantime, artists know that the act of creating work is already its own form of self-care. As the rest of the world catches up to the importance of self-expression, self-acceptance and its enlightened cousins, it will be informative to see how sculpture next directs the global conversation.
Author: Chelsea McIntyre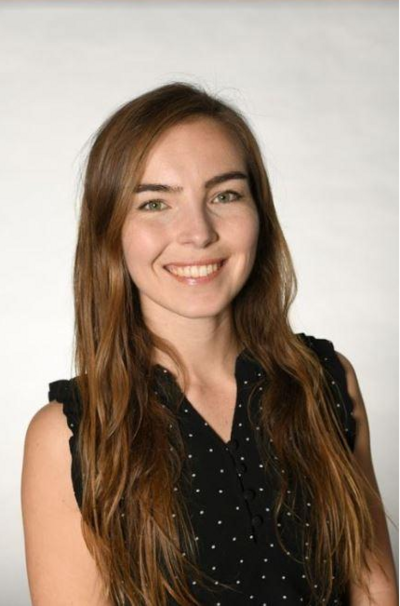 Chelsea McIntyre is a Los Angeles-based artist working in sculpture, text, performance, digital and mixed media. Her work is informed by elements of Abject Psychoanalysis, Institutional Critique, Russian Constructivism and Material Fetishism and Voyeurism. She enjoys studying the human psyche by exploring the relationship between performer and audience, often engaging the audience as
active members of each piece.
To learn more about Chelsea and her work, click here.
Cover picture: "Cristo Rivelato", Felice Tagliaferri