Magazine
Giuseppe Penone: A Tree in the Wood
Last chance to see Yorkshire Sculpture Park's extensive new exhibition by Giuseppe Penone that draws works from five decades of his career, from the late 1960's to the present day.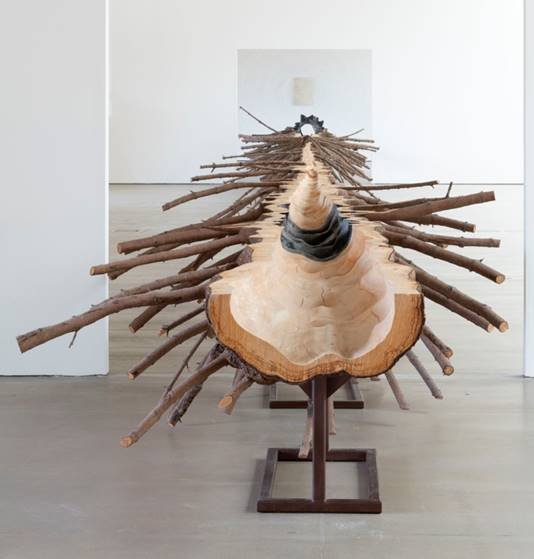 Giuseppe Penone, Matrice (2015) private collection-courtesy
the artist and Yorkshire Sculpture Park. Photo ©- Jonty Wilde
It traces his evolving and poetic investigation into the relationship between the human body, sculpture and the natural world.
As the title of the exhibition implies, many of the works displayed in the light-filled spaces of the Underground Gallery and across the historic landscape deal with one of the essential elements in Penone's work. He says that trees are "not a subject but much more, they are the substance itself of my work". This idea plays out across many different scales and forms in the exhibition. One of them is the remarkable sculpture Matrice (2015), which stands at the heart of the expansive gallery and, at 30 metres long, spans almost its entire length. The bisected trunk of a fir tree creates a new and altered sense of gravity, as its branches that once reached for the sky now root the tree to the ground. The body of the tree has been hollowed out and carefully carved to follow one of its growth rings, thereby capturing a particular moment in its life and reflecting Penone's interest in transience, the flow of time and life cycles. In the open air, nine bronze sculptures stand in dialogue with the landscape, the tallest of which, L'ombra del bronzo (2002) is an imposing 16 metres high. Overlooking the gardens, Albero folgorato (2012), a beautiful bronze cast of a lightning-struck tree, has its exposed interior lined with gold leaf that catches the sunlight. Other sculptures using trees and investigating ideas such as gravity, weight and tension correspond to an array of specimen trees and the rolling Yorkshire landscape beyond.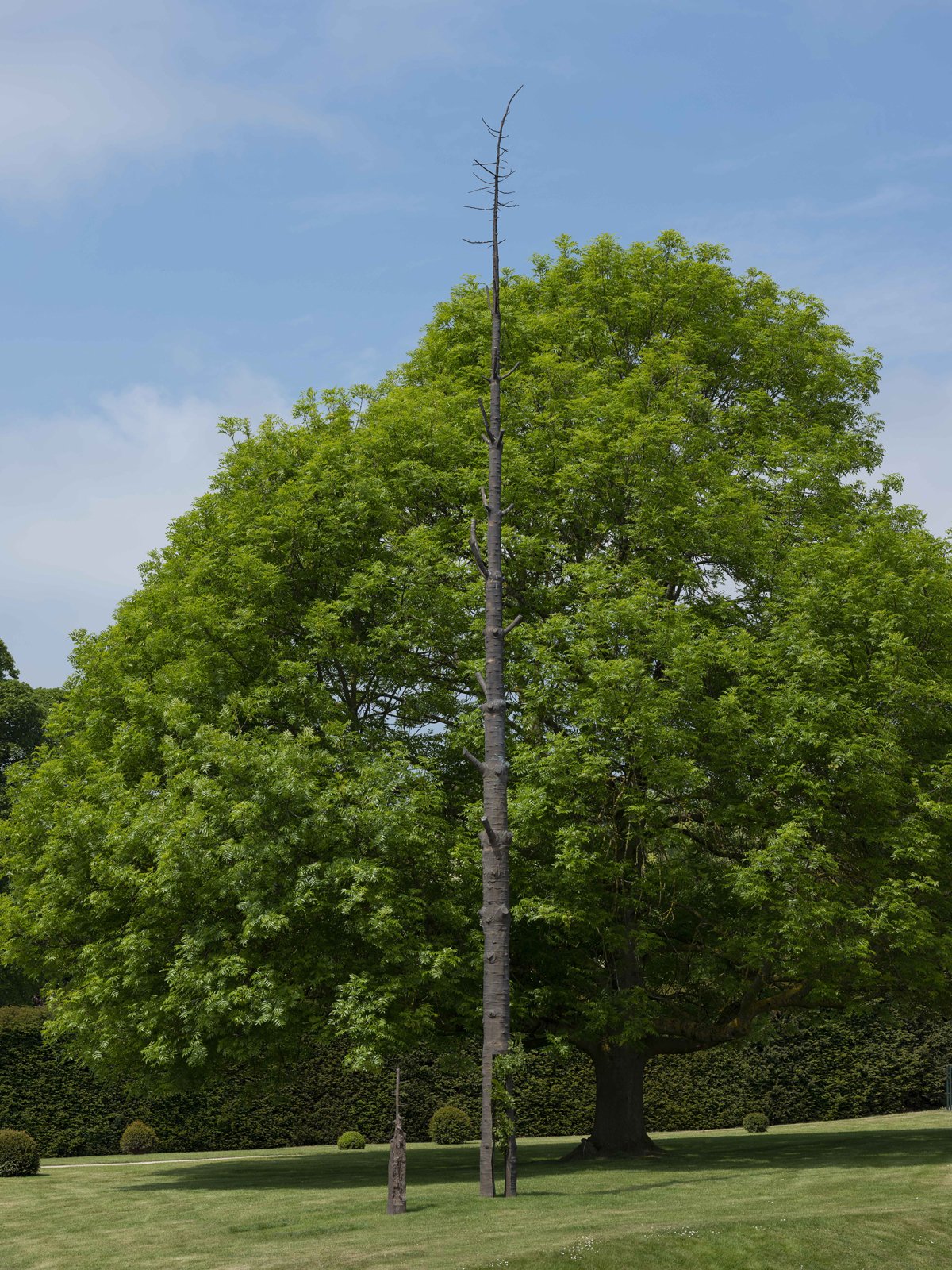 Giuseppe Penone, L'ombra del bronzo (2002)
private collection-courtesy the artist and
Yorkshire Sculpture Park. Photo ©- Jonty Wilde
Further exhibits demonstrate Penone's intuitive understanding and mastery of materials from clay, graphite marble and bronze. Moreover, visitors can see for themselves the artist's remarkable range of artistic skills. From the delicate ink drawing Propagazione (2018), to the tritych Occhi chiusi (2009) made up of a central marble panel flanked by two canvases covered with acacia thorns which create an image of the artist's closed eyelids, and to the iconic early Alpi maritime (1968) photographs.
In the final room of the Underground Gallery, films, books and resource materials help visitors of all ages explore Penone's work and to see the world through the artist's eyes. A full-colour catalogue with in-situ photos of the exhibition, plus essays by Martin Gayford and YSP Director of Programme Clare Lilley document this major project and provide insights into Penone's unique way of viewing the world.
Cover photo: Giuseppe Penone, Albero Folgorato (2012) private collection-courtesy the artist and Yorkshire Sculpture Park. Photo ©- Jonty Wilde