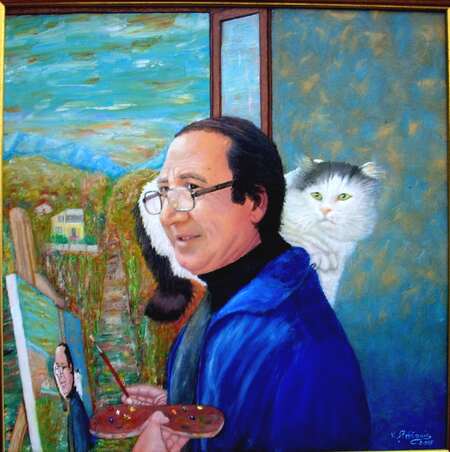 Vasile Stefanoiu
My Credo is: art must have a message that reflects the beauty of things, not beautiful things, otherwise, it's easy to make art when you have nothing to say. <br>In my sculpture, the marble resurrects, is reinvented through art, after destruction.<br>I collect marble waste from the builders of funerary monuments and sculpt them with traditional tools: chisels, drills, abrasives, etc. by manual use.<br>The same happens with wood, I select the best wood from the firewoods and condition it.<br>Direct sculpture is my sculpture technique through which i create images that lie on the border between reality and imaginary, exploring that smooth connection between authentic and artificial, sometimes suggesting movement.<br>I sculpt on all sides in the "Ronde-bosse" system because it can be seen all around.I am one of those sculptors who insist on making art in the traditional way, but without rejecting contemporary trends. In some of my sculptures I take the narrative context of some legends from the civilization of ancient Greece and place them in different contexts, suggesting movement in metamorphosis, to create completely new meanings and evoke completely different emotions, a way of seeing again in the era modern. <br>I studied the phenomenon of contemporary visual art, reading a lot, attending classes, visiting museums and art galleries in Europe and New York, drawing constantly and sculpting since childhood.<br>The two legends that I sculpted in marble: "Arachne" and "Pygmalion and Galatea" are the result of my imagination in the movement of metamorphosis, as described by the great poet Ovid.
https://stefanoiuvasile.wordpress.com/


Vasile Stefanoiu – You Tube ; https://www.facebook.com/vasilestefanoiu/; https://www.instagram.com/vasile.stefanoiu; https://www.artconnect.com/profile/vasile-stefanoiu;

I am a sculptor, a painter and an art enthusiast.