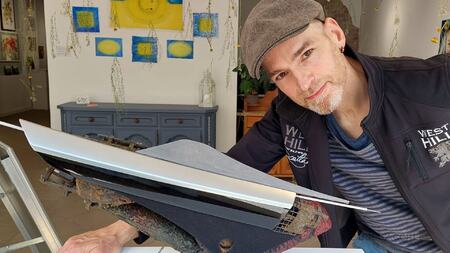 Weibach2
I am Weibach2, birth name Oliver Neumann. I am a self-taught artist currently living in Wilhelmshaven, Germany.

In 2019, Lee Bontecou's wall sculptures drew me into the world of abstract art. I've been utterly impressed by her organic objects, holes and cavities, and the synergy between nature and fiction. Yet another companion for me is Wassily Kandinsky. With him, it is the psycho-spiritual that interests me.

Oppositions, traces of wear and age, decay and imperfection are important components of my works. What is exciting is the story behind the object. What happened? What else might happen?

The fragments I build are combinations of organisms and mechanisms. Not back to nature, but with the nature that comes next towards the future.

Most of my work is produced at home or in my garden workshop. This involves the use of materials such as concrete, wood, metal, clay, textiles and paper.